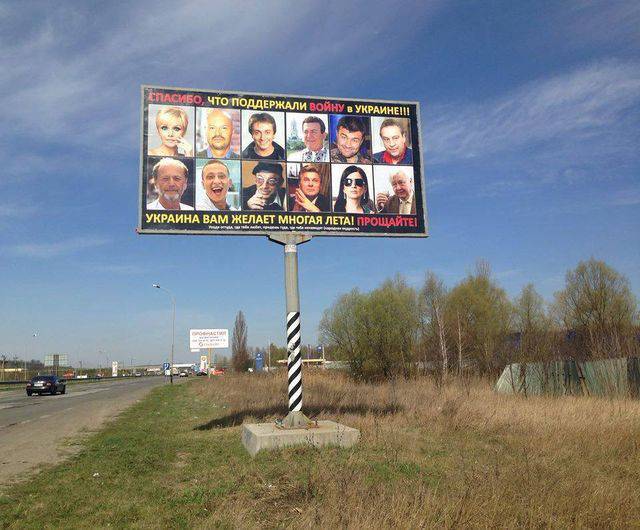 A billboard with photos of famous Russian artists who supported the actions of Russian President Vladimir Putin in the Crimea appeared in Kiev on the Novoobukhov highway, the Ukrainian edition of Segodny reported.
So, on the poster, the photo of which appeared in the Facebook Blogger Kiev group, 12 photos of famous artists are depicted. Among them are singers Lev Leshchenko and Iosif Kobzon, Valeria, actors Mikhail Boyarsky and Sergey Bezrukov, directors Oleg Tabakov and Fedor Bondarchuk, satirist Mikhail Zadornov.
The image is labeled: "Thank you for supporting the war in Ukraine !!! Ukraine wishes you many years! Farewell!".
Also, according to Interfax, citing the Kiev cinema "Magnat", Ukrainian distributors and distributors refuse to hire Russian films.
In a letter to the distributor company Interfilm-Ukraine, which is quoted by the cinema, it says: "We inform you that due to the political situation in the country, as well as for moral and ethical reasons, Interfilm-Ukraine has decided not to film rentals in May the following films:
1. "Eight". The film tells about four friends, modern "musketeers". All four recently returned from the army and went to serve in the riot police.
2. "22 minutes". The film is based on the real events of 5 in May on 2010, when marines of the Russian Navy, despite the threat of an explosion, released a Russian tanker, "Moscow University", captured in the waters of the Gulf of Aden.
3. "Kitchen in Paris". The restaurant "Claude Monet" continues to flourish, and it is not surprising that the dinner of the presidents of Russia and France was appointed here, "the Tycoon quotes a letter from the Interfilm-Ukraine company.
In March, the cinema "Magnat" refused to hire three Russian films - "Raiders" by Kirill Kuzin, "Fast Moscow - Russia" by Igor Voloshin and "The Adventurers" by Konstantin Buslov, the agency notes