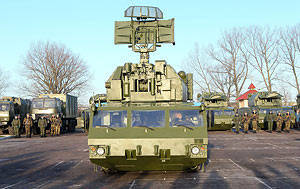 Belarus will continue to purchase the Tor-M2 anti-aircraft missile system. The commander of the Air Force and Air Defense Forces of the Armed Forces of Belarus, Major General Oleg Dvigalev, told reporters on this, BelTA has learned.
"We will continue to purchase the Tor-M2 anti-aircraft missile system. At present, a full-fledged division based on three batteries has been created in the republic. It is planned to purchase several more samples of this type of weapon before the 2020 year," the commander said.
The Tor-М2 anti-aircraft missile system (ZRK) is designed to solve the problems of air defense, it provides effective protection of military and civilian objects. The distinctive features of Tor-M2 are high maneuverability, mobility, short reaction time, automation of combat work, and effectiveness of firing at a wide class of targets (cruise missiles, adjustable aerial bombs, airplanes, helicopters, unmanned and remotely controlled percussion vehicles). The Tor-M2 SAM system, consisting of four combat vehicles, can simultaneously hit 16 targets flying from any direction at speeds up to 700 m / s at a distance of up to 12 km and altitude up to 10 km in any weather conditions, day and night. High combat effectiveness is also achieved due to a completely new algorithm of interaction between machines operating in pairs. They actively exchange combat information, they themselves distribute targets among themselves. Systems are fully automated. The combat vehicle of the complex is based on a wheeled chassis, produced at the Minsk plant of wheeled tractors.
Also, Oleg Dvigalev said that at present the coordination with the Russian side on the supply of four C-300 anti-aircraft missile divisions to Belarus is being completed. This complex allows you to perform all tasks assigned to the Air Force and Air Defense Forces. This is a very high-quality development with good capabilities. The complex is capable of simultaneously firing at six targets. It is maneuverable and can destroy targets at a distance of up to 70 km. Simulator C-300 is being procured.
For
aviation
new Yak-130 combat training aircraft will be purchased. Their deliveries are scheduled for the end of 2014-beginning of 2015. It is expected that these aircraft will significantly expand the training capabilities of the Belarusian Air Force.