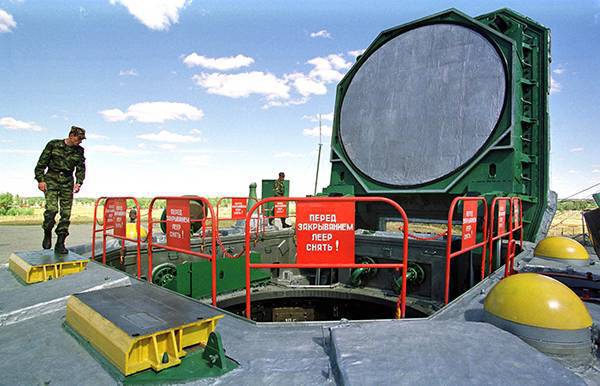 The appeals of citizens, who consider themselves the leaders of today's Ukraine, to urgently acquire their own "atomic bomb" and intercontinental rockets, are naive, but not harmless.
Public statements that Kiev should withdraw from the non-proliferation of nuclear missile technologies and regain the status of a nuclear power, did not sound yesterday. But this spring, absolutely paranoid calls have intensified.
Recall after the collapse of the USSR nuclear
weapon
It was located on the territory of the independent Belarus and Ukraine. Minsk and Kiev almost immediately agreed to transfer their dangerous arsenals to Russia. They were guided not only by some humanistic goals, but, most likely, by a natural sense of self-preservation. Bearing responsibility for such weapons before the world community was really dangerous given the highly volatile domestic political situations within countries that had, for no reason at all, been fully independent. 5 December The 1994 of the year in Budapest signed a memorandum on the nuclear-free status of Ukraine.
However, 28 August 2009, the Ternopil Regional Council appealed to the then President of Ukraine Yushchenko, Prime Minister Tymoshenko and Chairman of the Verkhovna Rada Litvin to renew the nuclear status of Ukraine and terminate the Budapest Agreement. Then it did not work out, but now nuclear-missile ambitions leaped with a new force. There was even a rumor that during the transfer of nuclear arsenals to Russia, some patriotic officers had snitched away some of the warheads and buried them until "better times." The best times seemed to have come, and it is time for the world to manifest the preserved independent nuclear power. This is what a very knowledgeable person says about this - Professor Sergey Brezkun, a professor at the Academy of Military Sciences, a corresponding member of the Academy of Geopolitical Problems:
- It is unlikely that there were real suicides in Ukraine, who risked putting themselves into a real nuclear charge. Even for the military personnel of the Soviet Army's nuclear forces, even for the KGB officers associated with military-technical support for the operation of nuclear weapons, nuclear charges have always been and still remain "black boxes", actions with which are strictly limited and do not imply familiarity with the design of the charge. There is no, there has never been and cannot be a specialist gunsmith who alone would have owned the entirety of information - scientific, engineering, production, operational, necessary for full support of a nuclear arsenal. The appearance of such a specialist (or a narrow group of specialists) is excluded by the mode of information itself, its extreme closeness and fragmentation.
The physicist knows one thing about weapons, the designer knows something else, the experimenter knows the third, the serial vendor knows the fourth ...
There is not and cannot be a universal developer and designer of a modern nuclear charge in one person. I will give this analogy. Once, one person could design and build a primitive, but still capable of flying into the sky. Can one or several of the most talented engineers design and implement a jet plane "in metal", including engines, modern construction materials, avionics, chassis and much more? For this, a whole complex of enterprises of the most diverse activities is needed. With nuclear warhead is still more difficult.
Strategic P-36М2 "Voyevoda", according to the NATO classification "Satan", entirely created in Dnepropetrovsk
Ukraine, in order to have a nuclear weapon status, it is necessary to acquire its own nuclear weapons complex. This is not an easy, costly thing, but for the Square it is simply very heavy.
Nuclear provocateurs are not dangerous because their ambitions can be realized - this is not the point. Paranoid politicians are dangerous in power even without a nuclear bomb. And this danger is quite real, if we talk about missile technologies, which Ukraine possesses in full. The world's most powerful intercontinental ballistic missiles R-36М2 "Voevoda", according to the NATO classification "Satan", were designed and built in Dnepropetrovsk, at the enterprise "Yuzhnoye". All design and technological documentation is stored there to this day. The media reported that representatives of Yuzhmash in Turkey are conducting secret negotiations with some possible business partners. And in Dnepropetrovsk itself, negotiations with representatives of China began quite officially.
Russia should not care. But in the United States a cause for concern has already appeared. Caught on the verge of default, the authorities of the Square are clutching at any straw. And if Beijing offers a concessional multi-billion loan, all the design documentation and production technologies of Satan will be handed over to the Chinese rocket engineers on a silver platter.
Those who now personify the state power in Kiev, announced their intention to completely curtail military-technical cooperation with Russia. If our country somehow survives this, then the Ukrainian developers of rocket weapons, left without work, will receive the full moral right to sell their knowledge to China, Iran and even North Korea - just to pay. And the fact that such specialists will be paid very good money is not to be doubted. And the more they pay, the more problematic for the United States the country offers a contract.
As for the most powerful strategic missile of our Strategic Missile Forces - the R-36М2 Voyevoda, without slow noise, it has been slowly replacing it with Russian-made counterparts.