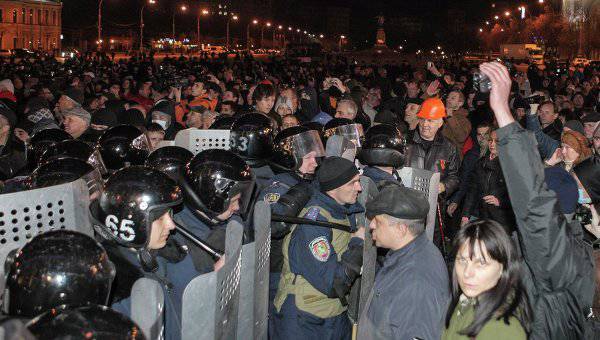 "The anti-terrorist operation has begun. The center of the city has been closed. Do not worry. We'll finish it - we will open it," Arsen Avakov, appointed by the Verkhovna Rada of the head of the Ministry of Internal Affairs of Ukraine, addressed the Kharkiv citizens.
Additional armed forces from other regions of Ukraine arrived in the eastern and southern regions, ITAR-TASS reported. "These special forces are ready to solve operational tasks without regard to local nuances," Avakov said.
In Kharkov, the police released the regional administration building without using
weapons
. 70 people were arrested.
In Kharkiv on April 7, social activists held a meeting of the "regional community" in the building of the regional administration. At this meeting, the participants expressed their distrust of the deputies of the Kharkiv Regional Council, who for two weeks could not meet in their workplaces and hold a meeting.
Local activists expressed distrust of the current Kiev authorities and announced the creation of the Kharkiv People's Republic. The decision on its creation should take effect after approval at the regional referendum.
Thousands of opponents of the new Kiev authorities were awake all night in Donetsk. On Monday, the city announced the creation of a people's republic and even created a new authority - the People's Council. Within a month, they want to hold a referendum on joining Russia.
And in Lugansk, the protesters for more than a day keep the regional administration of the Security Service of Ukraine. Local authorities turned off the light and water in the building. The entrances to the city are blocked.
The administration was also released in Nikolaev. Here, the campground outside the administration building was crushed by activists of the "Right Sector".
"All that is happening today is sabotage and provocation. The authorities must show their determination. I believe that the antiterrorist operation must be carried out and there is no need to wait for anything, since there are people in the premises of the regional state administration and the SBU dangerous criminals ", - the candidate for the presidency, the leader of the nationalist party" Svoboda "Oleg Tyagnibok, described the situation in the east of Ukraine on the ICTV channel.
In February, 2014 was the one who called for the capture of state administrations in Ukrainian cities from Maidan.