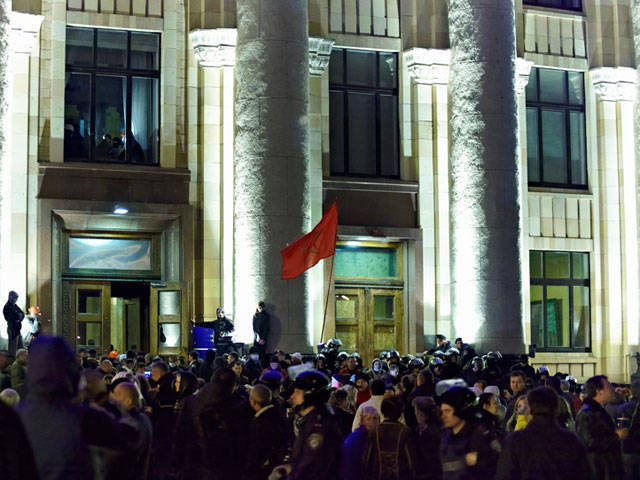 Restlessly began the night outside the regional administration building in Kharkiv, which was previously taken by participants in mass protests against the new Kiev authorities. According to ITAR-TASS, the police managed to push the demonstrators out of the building, but a fire broke out in his premises.
According to Interfax, the fire spread to the first floor of the building from the street, where heaps of garbage burned. According to updated information of the State Service of Ukraine for Emergencies, a fire occurred in two rooms on the first floor. They are trying to extinguish the fire inside the law enforcement officers. The outer walls of the building were covered with black soot because of acrid smoke rising from the flames.
In front of the building remains a few hundred people. In response to the vigorous actions of law enforcement officers, the protesters began to burn tires. Stones fly through the windows, supposedly shooting from a traumatic
weapons
. In response, the police pour water from the windows of the citizens who are forced out of the building.
Due to the large number of people fire trucks can not drive to the scene. At the same time, as Igor Lupandin, an assistant to the head of the State Administration for Emergency Situations in the Kharkiv region, said, the fire in the rooms on the ground floor was localized and almost extinguished. Later it was reported that the fire was able to cope completely. The fire was also put out, which burned at the entrance to the building.
Conflicting information also comes from Donetsk, where similar mass actions take place. On the night of April 7, protesters from the People's Militia of Donbass occupied the building of the Security Service of Ukraine. And as recently, official circles in the Ukrainian capital reported, the building was liberated as a result of the assault. Meanwhile, according to the correspondent of the Russia 24 channel Maxim Boytsov, the protesters did, in fact, leave the SBU building, but they did it themselves.
Meanwhile, the Verkhovna Rada is preparing to impose a state of emergency in eastern Ukraine. The draft ruling has already been submitted, it will be reviewed on April 8. A special regime in which the powers of the law enforcement agencies are seriously expanded, is expected to be established in the regions covered by the anti-Maid protests - Donetsk, Lugansk and Kharkiv, Dnipropetrovsk and Odessa regions.