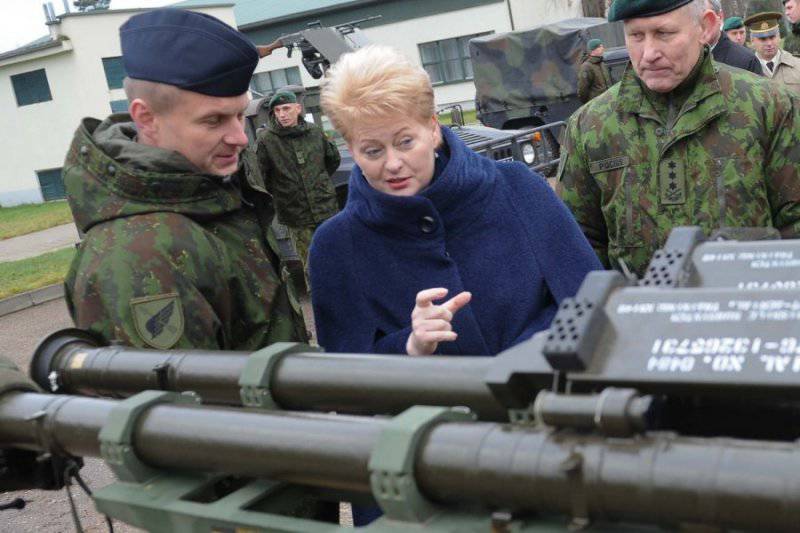 I would never have thought that I would live to see such a historic event. The well-known Dalia Grybauskaite decided to deprive Dmitry Kiselev of the medal "In memory of January 13, 1991 of the year."
As an old USSR mushroom, I witnessed those old events. That night, being the operational duty officer, I listened to everything. And as the equipment allowed, then, of course, I did not listen to "Mayak" (I confess). A lot of interesting was on the air. Even too much. I listened to two subscriptions. And to a severe reprimand.
In general, the times were still those. There was only one time program then (in 21: 00). The mouthpiece of the entire USSR. And there was also the author's program "TSN". Which came out closer to midnight. There they lit two stars, young and ambitious, Dmitry Kiselev and Tatyana Mitkova. They were ... uncanonical, so to speak.
For their reports, the first president of Lithuania awarded them with the medal "In memory of January 13". Well, for his contribution to the recognition of an independent Lithuania. So it seems.
And with one stroke of the pen Dahl decided that Kiselev was unworthy in the light of the latest events of this "highest" award. And deprived her of it. And Mitkova, being a rather peculiar person, refused herself.
God bless her with a medal. Small, in general, the value, if you think well. Have a medal of merit for the country in which the list:
1. A Russian person who has been born in this country since birth is not a citizen.
2. Russian language is not actually recognized.
3. Closing Russian schools.
4. Almost no books are published in Russian.
5. The broadcasting of Russian TV channels stops.
And this is in the so-called "developed European democratic" country! Democracy, so to speak, in action.
So depriving a reward of such a dubious page is like it is, a bunch into flour. And Mrs. Grybauskaite in this flour to the ears.
Dahl, did you want to humiliate someone? In my opinion, you have humiliated yourself. I understand that now it is terrible for you to convulse that Russians in Lithuania, following the example of Ukraine and the Crimea, will remember their pride and belonging. And take to the streets. And they will ask for help from the motherland. And Motherland, as recent events have shown, can respond. According to the full program.
Sleep well while no one will conquer you. Nobody needs you, still messing about you. And nobody will trample your great and proud armed silishki either. In order to destroy your armored formations, more fuel will have to be burned (looking in the open spaces of Lithuania for your three
tank
) I'm just silent about the rest.
Plant your democracy there as much as you like. Russian man - he will find a way out. Disable the program - rejoice. Satellites do not beat, the bank with sprats into orbit itself will not work. Yes, and the Internet cut off - weak. So who wants the truth and the Russian word - he will take everything himself. By hook or by crook, so the proverb says.
Another proverb says that a small dog is a puppy all his life. Is it possible to humiliate the whole country by such actions? In the name of the same notorious freedom and democracy? Arrange puskam dissident tricks? Constantly bark at your neighbor? Do you pretend to be the Euro Clown, capable of causing laughter with your stupid actions? So at least take a master class from Zhirinovsky, it is definitely funny for him. And you - sad.
So take your medals, Dahl. Kiselev and Mitkova have more serious awards. For services to the people and the country, which is immeasurably higher than in any table of ranks.
And Dahl, watch out for the plinth, I beg you. He's already near your head.