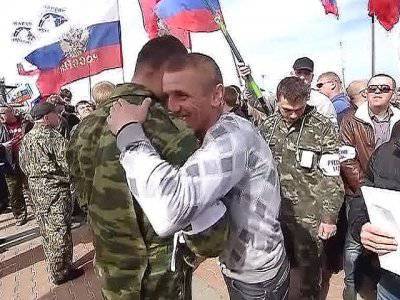 In Sevastopol, on Sunday, rewarded self-defense fighters. They received certificates and thanks from the city authorities. Thousands of volunteers stood up in February to defend the peninsula and did not let radicals into the Crimea. Now the troops are disbanded, but their defenders in Sevastopol are not forgotten.
While two sons and her husband were patrolling the streets at night, Natalya Kaminskaya hardly slept. When the formation of self-defense detachments began in February to protect against the Kiev radicals, her men were among the first to sign up.
No one can calculate how many people in February and March came to defend the city. 5 printed thousands of letters of honor, but not enough for everyone. There will be special badges, however, they risked their lives, of course, not for awards, but for the elderly, women and children, who say thank you today.
In the detachments of self-defense of Sevastopol were recorded mostly men. But there were also brave ladies. Natalia Novitskaya put 8-year-old son to bed and went on duty. Led a rapid response squad.
They all call themselves members of the "third defense of Sevastopol". And the fact that now in the city is calm, they call their main victory. Celebrated with a military band and St. George ribbons.
After the reunification of Sevastopol with Russia, the self-defense units were disbanded. A new public organization, the Sevastopol Defense Committee, was formed from their participants.
May 9 will host a naval parade now in the Russian city of Sevastopol. Self-defense fighters are not invited to it as spectators, but as participants. Sevastopol will celebrate not only the 69 anniversary of the victory in the Great Patriotic War, but also a round date - the liberation of the city from the Nazi invaders.