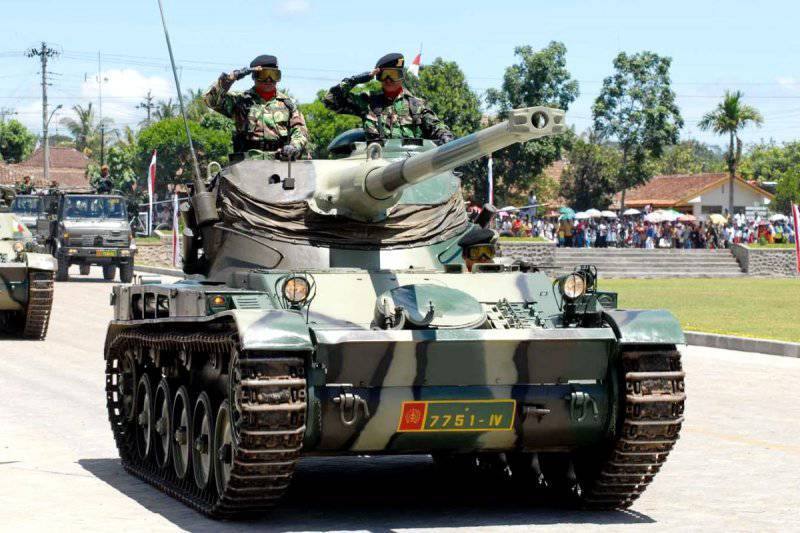 Indonesian Government Approves PT Pindad Support Plan for Modernizing Aging Lung Park
tanks
AMX-13 manufactured by the French company Nexter.
26 was told by the Deputy Defense Minister of Indonesia, Shamsuddin, during a visit to PT Pindad's facilities in Bandung, West Java, before the AMN-400 13 tanks will be upgraded in 2015-2019, depending on the budget.
According to the state news agency Antara, the AMN-23 13 tank is currently being upgraded as part of the early program. PT Pindad received a contract to upgrade the first 12 tanks in the 2011 year, although subsequent government deals did not approve.
The modernization program includes the installation of an 105-mm gun with an electronic fire control system; replacing a gasoline engine with a diesel one; new communication system; new transmission and clutch systems; strengthen body armor; interior renovation. Much of the work will be performed by local companies PT Pindad and PT Len (specializing in electronics) with the participation of foreign partners.
The number of tanks, mentioned by Shamsuddin, increases their estimated number, operated by the Armed Forces of Indonesia, by almost 100 vehicles. They were purchased in 1970-1980-ies from France and the Netherlands in several batches. Probably today only half of these tanks remain combat-ready.
Some AMX-13 aircraft in Indonesia have already been upgraded to AMX-13SM1 standard under a contract worth $ 113 million, signed in 2004 with ST Kinetics, a ground division of Singapore Technologies Engineering.