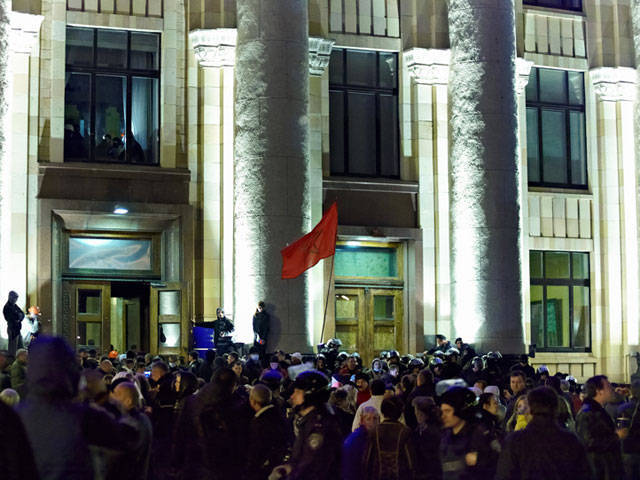 Pro-Russian protesters in Kharkov, who earlier took the regional state administration building by storm, are waiting for reinforcements from Donetsk and Lugansk, Interfax news agency reported. Help is expected to arrive within 24 hours. "We need to hold on for a day," say representatives of activists who report that they have already held talks with like-minded people in Donetsk and Lugansk.
"Our task now is to organize here: quietly, peacefully, calmly, no looting," activists say. Their representative stated that local deputies are illegitimate and others should be appointed instead. This will be done by direct voting on the square, in which all Kharkiv residents will take part.
In the building occupied by activists there are a lot of people in masks, some have helmets on their heads, eyewitnesses report. Requests to remove the mask will be regarded as a provocation, warn representatives of the protesters.
Earlier, activists hoisted the Russian flag over the state administration building. "The Kharkiv administration is seized by peaceful means!", Said an eyewitness who uploaded a video of hoisting a flag on YouTube.