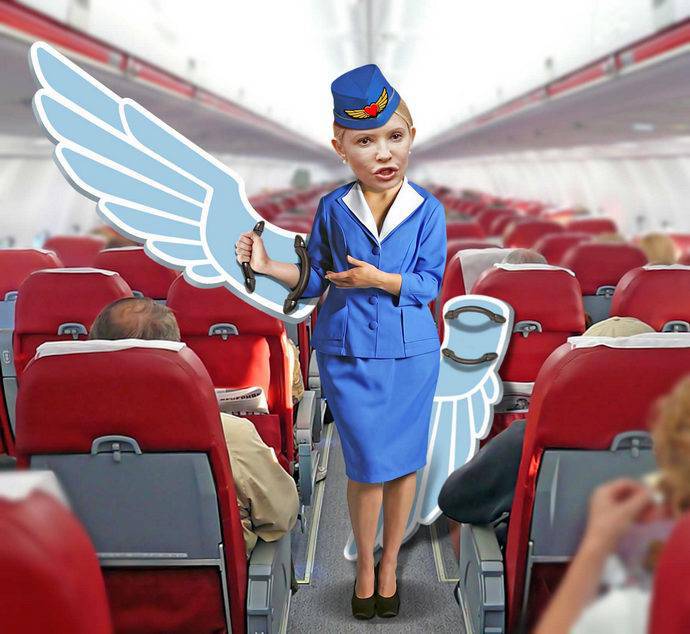 Figure by Igor KONDENKO
Well, dear, so she comes - tin ... damn you! .. life is "like in Europe"! No wonder, therefore, they froze on the Maidan ... these ... well ... ears (in!). Not in vain the country on the rack ... no ... on the rack reared.
As the head of the upper chamber of the Polish parliament, Bogdan Borusewicz, told authoritatively to Ukrainian journalists in Warsaw,
"Citizens of Ukraine should be prepared for a sharp deterioration in the standard of living due to the introduction of reforms necessary for the country"
. Yep Get ready, dear, the European bright future is getting closer and closer. And sharply get ready. And then happiness will fall on your head - well, that is, that very sharp deterioration in the standard of living - and you will not have time to rejoice.
Yes, we didn't manage to dry the ink under the agreement on political sewage disposal ... or whatever it is called? .. associations (exactly!) With Europe - and everything millions of Ukrainians dreamed about becomes dust ... pain ... yeah, come true (of course! ).
By the way, Mr. Borusewicz strictly warned, the Ukrainians got the last chance to sharply worsen their standard of living ... well, that is, to carry out the necessary reforms for the country. Reforms, why are they necessary? That's right: to make people worse off. So here. Europe then organized one revolution without a bottle for us, but now the second one. And this, the head of the Polish Senate stated resolutely, "a second and last chance." "First lost politicians. This is for Ukraine the question "to be or not to be" ... For the third time we will not support the "Orange Revolution," he categorically stressed.
But I am sure that the question "to drink or not to drink" ... no ... "to beat or not to beat" ... i.e. even "to be or not to be" is not worth it. Of course, be! Well, that is a sharp deterioration in living standards, which, as you know, in Ukraine means "reforms". Yes, we have, if the standard of living has not been lowered to the people, then it's not a reformer at all, but a complete incompetent.
Glory to Balog, with reformers now a full openwork. "I know these people and I can say that there is a tremendous determination to carry out reforms," the Polish politician assured.
This is yes. Determination is huge. Let's say: "The Cabinet of Ministers intends to increase heat tariffs for the population by 120% over 4 years," Arseny Yatsenyuk rejoiced on Shuster-Live. Very determined. Immediately obvious: the categorical reformer!
Or, another thing: "this year we will not increase the minimum living standards ... as it was on 1 in January, it will be so until the end of this year." Not only that, "prices will rise. The dollar has grown, which means that everything will grow. We forecast inflation from 12 to 14%. This is a rise in prices. "
Head! In the sense of high reformist qualities Yatsenyuk do not put a finger in his mouth. Rates - up! Prices - up! A living wage - on the spot!
"I told you that exactly in this studio such decisions will not be slammed," concluded Arseny Petrovich. Our pollitrologist rather opened up the mitten, they say, really: before it was necessary not to clap with ears - during various kinds of opposition rallies and other Maidan. But this guboshlepa ... well, that is, not Yatsenyuk, of course, but our half-litrologist ... you don't need to listen, he would only have to debase the reforms.
Arseny Petrovich won, even with family happiness, he is ready to sacrifice in the name of reforms: "It may even be that my wife will think whether to vote for me or not." But, dear, do not worry. Soon, Arseny Petrovich will have everything he needs. Well, that is, to their seats. "But a period will pass, time will pass, and everything will fall into place." That is how it will rise.
By the way ... Well, that is, not by the way, but interestingly: "Europe can supply 25 billion to Ukraine for Ukraine. a cube of gas that will be $ 100 cheaper than a Russian one. " This was also notified by Prime Minister Yatsenyuk. Very optimistic, right? Especially against the background of an increase in utility rates for 120%.
Our pollitrolog only, as always, began to blunt, they say that before people - gas is cheaper or more expensive, if in any case a sharp deterioration in living standards is coming? In whose pocket will these $ 100 go then? .. But I plugged this provocateur. He would only consider money in other people's pockets.
And in general, whoever doesn't have enough money: "We need to drink less, go in for sports!", As Arseny Petrovich advised during the presentation of his reform program to BP ...
Cheerful everyday life of our young democracy will not leave anyone indifferent. That Sashko Bily during the detention will kill himself with a second shot in the heart. That associates, "pravoseki" by the old Maidan habit to storm the Verkhovna Rada will go. By the way, this incident was sharply condemned by the EU High Representative for the Common Foreign and Security Policy Catherine Ashton: "I strongly condemn the pressure from right-wing sector activists who surrounded the building of the Verkhovna Rada of Ukraine. Such intimidation of parliament violates democratic principles and the rule of law, "she suddenly realized.
And the peasants and I fell into a stupor: after all, quite recently such actions were referred to only as "civil position expression" and "non-violent democratic protests". Ramsa, is this Ms. Ashton lured? Democratic scent lost? After all, if it were not for "intimidation of parliament" —when Democrats with bats and machine guns were driving deputies to adopt, without a bottle, speaking democratic laws — there would have been no removal of V. Yanukovych from power, or "acting. President Turchinov, "nor, finally, the government of decisive reformers headed by Arseniy Yatsenyuk.
And then here on Khreshchatyk near the restaurant with the democratic name "Mafia" the case was: "pravosek" from a firearm
weapons
injured three people, including the first deputy chairman of the KSCA. But, dear, soon everything cleared up. As reported on his Facebook page, Interior Minister Mr. Avakov, "the gunman was drunk." It makes a big difference! For he took the "pravosek" for surely for European values, which he had recently promoted on the Maidan with the same degenerate ... br-rr ... democrats, like himself, with the help of cobblestones and other democratic paraphernalia.
From the cottage of V. Medvedchuk in Transcarpathia, paintings and icons of 10 million disappeared. After the "Right Sector" removed its security without a snack, the investment company Sport-Tour, the formal owner of the recreation center, contacted the police with a statement: "During the inventory of the property of the recreation center ... a colossal material damage ... 28 paintings and 6 icons having
historical
and artistic value. "
Well, why not "without a trace"? Cottage because aesthetes ts guarded. Democratic people are drawn to art. Again, the "Right Sector" - people are stealing ... vinegar in my pile! .. believers. Now, I suppose, they pray before kidnapped ... that is, borrowed images for democracy and European values.
It is hard, it becomes hard for true lovers of democracy. So provocateurs strive to discredit these hemorrhoids ... but what the hell! .. heroes of the Maidan (exactly!). Cuddled, for example, that Mr. Lizard ... or whatever? .. Mr. Yarosh (for sure!) Drives around in cars from President Yanukovich's car park. But in the "First Sex" ... pardonte ... "Right Sector" gave these insinuators a purely concrete response: "Sorry, did the PS have to BUY cars in a revolutionary time?" - they pinned the demagogues to the wall with a simple question on the Pravosek party page in Facebook That's it! BUY cars, when they can be democratically taken from someone? Well European values ​​in the country assert!
The insinuators would have remembered that Mr. Yarosh rolls on cars from the presidential garage without having the appropriate documents (it's unlikely that V. Yanukovych wrote him a power of attorney). Say, where is the police? And where is "the law is one for all"? .. In short, if you hear something like that - drive a curious person into the neck, this is a provocateur and, it is possible, an agent of the Kremlin sent to slander the best people of the country.
Meanwhile, the presidential race is gaining momentum. Well, that is you understand in what sense - not in the sense that candidates "drive" (do not listen to our pollitrologist!) or chase a profitable chair (and these are lies!), it means the race for democracy and European values.
The other day the registration of applicants for the guarantors was completed. Who is there only not! And the mentioned Lizard ... i.e. Yarosh, who for some reason decided to samovyavyshatsya ... damn you! .. push yourself forward and not become a candidate from the "pravoseki".
Alcohol Gritsatsuev ... or Gritsatsuenko ... yeah, Anatoly Gritsenko also moved forward. But strictly for Ponte. Because I am ready to move back on the condition that he will be appointed supreme commander-in-chief ... for a second, I will clarify ... the commander-in-chief (in!). This is what ICTV said: "Now the presidential elections are not needed, but it is necessary to prepare for the defense of the state from external aggression .. if a decision is made in the near future about my appointment as supreme commander-in-chief, I will withdraw my candidacy from the elections." Big sacrifice. Especially considering the chances of Anatoly Stakanovich ... i.e. Stepanovich to win the presidential election.
And Kanalya ... i.e. Natalia Royal. The same one. Remember? Of course! Sometimes, turn on the iron - from there comes the "I May My Dream." Now Kahn ... Nata ... yes ... Natalya Yuryevna intends to love corruption ... whitewash ... defeat (disassembled!) Corruption and legalize the shadow economy. Yep She said: "My task is first of all to overcome corruption in the country, to legalize the shadow economy." If the men and I understood correctly, then with her victory, it will be possible to engage in a shady business completely legally.
From among the "regionals" there are generally several candidates. There they will break a leg with a balo-who is from the party, and who is so in itself. Tigipko was going to represent the party in the elections, but he was hired at the congress. Sergey Leonidovich, who had freaked out, complained that "we elected the wrong political council," and added that he would go to the elections anyway. The calculations and Yuriy Boyko on party support were not justified. "PR is a closed joint-stock company," he said, and went to the elections by an impostor ... br-rr ... a self-nominated candidate.
But Vitali Klitschko self-propelled. Yes. I gave way to Treple ... inaudible ... yeah, Petro Poroshenko. He stated that he had made a "weighted decision". And here you really can't argue: there is more live weight in Peter Alekseevich than in any other presidential contender.
Vitaliy himself looked after the Kiev mayor's chair. On the ugly ... that is, the mayoral election of Kiev is also a good company of candidates: Lusia Cucumber from Batkivshchyna, Ariy Nakhtigalenko from Freedom ... for a second, I will clarify ... yeah, Lesia Orobets from Batkivshchyna, Andrei Ilyenko from Freedom and others (I will not list all in order to avoid misunderstandings).
The epic association of boxing gloves and labor capital resolutely welcomed the restricted to leave Austrian Dmytro Firtash, who categorically endorsed "the decision of Vitali Klitschko to support Petro Poroshenko in the upcoming presidential elections." A mid-day TV channel Inter broadcasted an epic of combining healthy forces. Provocateurs like our pollitrologist are already trying to spread vulgar rumors, they say, in this way Firtash is trying to escape from the American zugunder, to preserve his capital acquired by righteous labor and to protect Inter from nationalization. But I do not believe in these rumors, and I do not advise you.
"48-year-old Petro Poroshenko is a major Ukrainian industrialist who supported street protests that led to the overthrow of President Viktor Yanukovych last month," Mr Poroshenko introduced the New York Times to the American public. He supported street protests - what other arguments are needed in order for an overseas philistine to have a categorically positive impression of a candidate? That's it.
"I have experience in building a new investment climate," Poroshenko assured the Americans in a commentary to The New York Times. "I know how to rule out corruption." I know how to build a judicial system. I know how to create a positive, completely new page in Ukrainian history. " That is yes. And he knows a lot about corruption, and he can build a judicial system. I remember that in 2005, at the post of Secretary of the National Security and Defense Council, Peter Alekseevich very well built judges ... Tsyts, you bastard!
Forgive generously, the half-litologist stuck with his inappropriate vulgarities. He would still recall the case of Kolesnikov, who was arrested on a false charge after a conversation in the office of the Secretary of the National Security and Defense Council. But you and I understand what Peter Alekseevich was talking about, and how he intends to steal ... damn you! .. to build a judicial system. Of course, in accordance with the best European models.
Klitschko also offered to Yulia to remove ... from ... herself ... I don't understand ... yeah, not to relieve myself, but to withdraw (that's what Vitaly suggested!) From the elections in favor of Poroshenko. But Yulia Vladimirovna believes that he supports Pyotr Alekseevich in this way, daily financing his election campaign, while sacrificing his figure. "I support Petro Poroshenko on a daily basis, I regularly buy Roshen sweets on a regular basis, my family regularly uses only this brand. I think that this is a good support, "retorted Tymoshenko and filed documents with the CEC.
1 April on the website of the CEC was published Yulina and the declaration of income. Owns a flat area of ​​59,4 square meters. And its revenues for the entire last year amounted to 180 thousand UAH. Yep Why "April Fool's CEC"? No kidding! Just coincided with the date of publication Yulina scenery ... Declaration of Happy April Fool. Yes, I read and cried. However, when I looked into Mr. Yarosh's declaration, I generally burst into tears: the family (and these are five people) for the entire 2013 year received as much as 807 hryvnia income! Others would die of hunger, and these are alive and well, and even scraped 2,5 mln. UAH in the bottom of the barrel to give Mr. Yarosh to register as a presidential candidate.
But back to Julia. At the place of registration in the dad Carlo's kenok, she does not live - she lives in the 450 mansion apt. m. in the elite area of ​​Koncha-Zaspa "Sribna Zatoka". At the same time, he has a servant - a cook and a maid, plus a person's 4 guard. The other day, Yulia arranged a tour for journalists: "We saw only the kitchen, the entrance hall and the guest room. In the bedroom, bathroom and on the second floor we were not allowed - they said that there is not cleaned. The overall impression of what he saw: expensive, tasteful, "- reported the correspondent of the newspaper" Today ". Our pollitrolog was trying to insert his five kopecks, they say, in the bedroom and bathroom, probably, even more luxury - because journalists were not allowed in there, but I promptly plugged this insinuator. Explained the same: "not removed." Apparently, Julia's maid is lazy.
But everyone was interested in the question, what kind of a mansion, in the scenery ... i.e. declaration is not specified. However, Yulia explained to her in the blue eye: "she rents a house for about 10 years". She promised to show the documents. "But I didn't show it," the Today correspondent reports. And why excessive formalism? Such an honest man like Julia, do not believe the word?
They would also ask for bills - the cost of rent, the cost of servicing and guarding (at least 6 people, plus the driver who drives Julia on important state affairs) - and how does this compare with those shameful ... br-rr ... modest income figures, stated in the tax declaration Tymoshenko? But, thank goodness, none of the journalists thought of such a provocation.
The presidency Julia is not fun for the sake of, but for the long-suffering Ukrainian people. A new order is coming ... But what does Hitler have to do with it ?! "The new order," said Yulia, "will concern everyone who today represents one or the other oligarchic associations." Which oligarchic associations are those, and which are others, this is not specified by Julia. The main thing is that she herself, of course, does not represent any oligarchic associations, no matter how much the provocateurs would try to convince the public of this. In such cases, I always refer to Yulina's tax declaration - well, which one of her oligarchs with 180 thousand UAH. annual income right? Here it is.
In addition, according to Tymoshenko, she has the moral right to run for the presidency, because she "knows best" how to overcome lawlessness - like a person who directly encountered this while in prison.
This is yes. To begin with, you declare yourself politically repressed. Then you get sick. It is especially good if the back hurts and the legs do not hold - so that they cannot be brought to court. Then ... Shit, bastard! Sorry, dear, overlooked, missed the provocation of our pollitrologa. You see in which difficult conditions Yule has to fight for the triumph of European values. On all sides, they strive to dishonor her loot ... no ... noble undertakings.
Julia did not forget about the common people either. Sculpt will. Do not sculpt to sculpt (do not listen to our pollitrologa!), And sculpt new people from Ukrainian people! According to Tymoshenko, one of the main priorities of the new government "should be education, education, fashioning a new person." Here it is.
Ready for Julia and the "Crimean breakthrough." Yep Already the vision was. That is, not even seeing, but seeing: "I have a clear vision of how to stop this aggression. But in order to put my plans into practice, to develop those doctrines that will stop the aggressor, you need to be present in power. " So directly and write: Napoleonic plans and doctrines. It remains only to get into power - and all the aggressors will be categorically defeated and turned into a shameful flight.
Julia will have such a general staff that the whole world will be envied! Tymoshenko promised that a headquarters of "professionals who represent the military intelligence of not only Ukraine, but also the world" will be created on the basis of the National Security and Defense Council. All over the world! And then, I think, and the whole universe! Who knows, maybe the Martians will try to carry out aggression against the young Ukrainian democracy, while Yulia already has the intellect ready.
The point is small - buy armored personnel carriers. But Yulin's brain has already taken this problem by storm with all the power of the intellect in it. Hochma is as follows: "I invite everyone who will run - and I will start from myself - to refuse this zombie, empty, worthless advertising ... if there is extra money for such advertising, I think it would be right to send it to the account of the Ministry of Defense and better buy a pair of armored personnel carriers or
tanks
and defend our country with this money, than use it to deceive people, "summed up Julia.
Obviously, in Yulin's understanding, election campaigning cannot be anything other than the deception of people. The men and I categorically approved the refusal of Yulia Vladimirovna to distribute our zombie, empty and, according to her own admission, useless advertising. For what they drank ...
With growing respect for you,