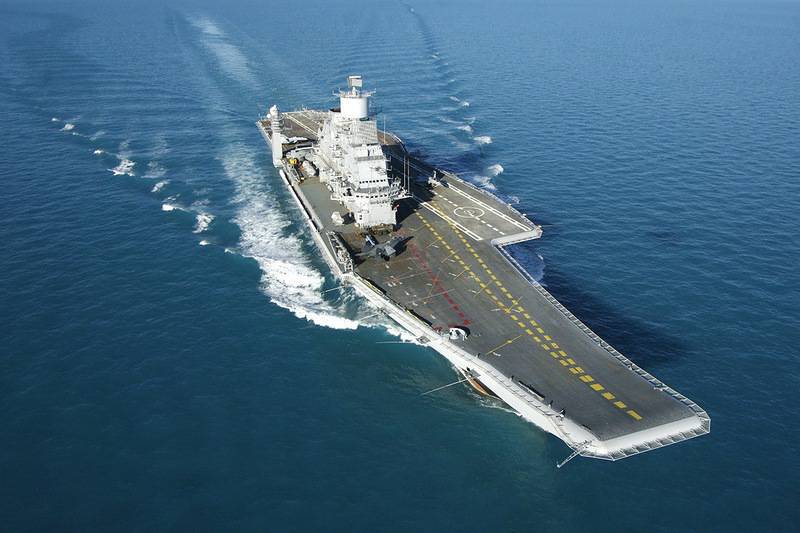 India announced it was abandoning the installation of the Vikramaditya aircraft-carrying cruiser of the Russian Kashtan anti-aircraft artillery system, media reported.
Instead, India is considering the possibility of acquiring French or Israeli systems, writes the relevant publication Strategy Page.
"Kashtan" - the Russian anti-aircraft missile artillery complex (ZRAK) "Dirk", which is designed for the defense of ships and stationary objects from high-precision
weapons
(anti-ship missiles), air targets (airplanes, helicopters), as well as for the firing of small marine and land targets. The complex has full automation of combat work from detection to destruction of the target.
Adopted in 1989, was installed on the Admiral Nakhimov and Peter the Great atomic missile cruisers, the Admiral aircraft cruiser
fleet
Soviet Union Kuznetsov "and other ships.
The aircraft carrier Vikramaditya (the former heavy aircraft-carrying cruiser Admiral Gorshkov), which was transferred to the Indian Navy in Russian Severodvinsk in November last year, arrived at the naval base of Karvar on the coast of the southern Indian state of Karnataka 8 in January.
The largest export contract in the field of military-technical cooperation in the sale and modernization of Admiral Gorshkov was concluded with India in 2004. The Russian authorities were to hand over to Vikramadity in 2008. However, the repair and modernization of the Soviet aircraft-carrying cruiser was delayed, and its deadlines shifted to the end of 2012.
At the same time, the issue price has noticeably increased: the initial amount of the contract was 1,5 billion dollars, but already in the course of the work it exceeded 2 billion dollars. The total value of the transaction, according to unofficial data, is estimated at about 2,3 billion dollars.
An official ship handover ceremony was to take place in December 2012, but a few months before that, an accident occurred during sea trials in the Barents Sea. The aircraft carrier has failed power plant.
The problems occurred when an attempt was made to give full speed to the 30 nodes - three boilers that serve the ship's steam turbines failed. As a result, the transfer of the aircraft carrier was postponed for another year and only 16 took place on November 2013 of the year.