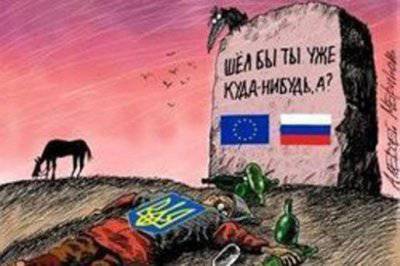 No matter how puffed up, no matter how much they show off, and no matter how much the Ukrainian "svidomye hunkers" inflate their cheeks, starting with ordinary Internet commentators and ending with Yatsenyuk and Turchinov, Ukraine's fate is not decided by them or in Kiev.
It is decided in Paris, and not even between Obama and Putin, but between Kerry and Lavrov. That is, in the terminology of Brzezinski, this secondary chess game on the global "chessboard". And Ukraine is not even a pawn (the pawn has at least some kind of subjectivity), this is a cell for which control is being fought.
Well, Putin. But not "Putin-Putin-Putin"
For some reason, all the Ukrainian "svidomye hunkers" consider it fashionable to curse the terrible Putin who is participating in this game. But for some reason, none of them scold the equally terrible Obama, with the filing and knowledge of which the situation in Ukraine has been swinging for about ten years.
Putin's reaction is a "reaction", a reciprocal action. The first "Ukrainian cell" began to play it the Americans. They invested billions in the creation of grantoedinskie networks and the preparation of "velvet revolutions", they sent instructors on coups, they conducted seminars and trainings, they provided all this with ideological, organizational and material support.
And this is one hundred percent, undeniable, reinforced concrete fact.
Russia was quite happy with the status quo - when Ukraine pursues a policy of "neither yours nor ours" or "both yours and ours" (which is about the same thing). As long as Ukraine remained a non-aligned state, actually occupying neutrality, the Russian
Tanks
only Yuriy Lutsenko could see during the next squirrel attacks. This is the second fact, confirmed by 22 years of peaceful and successful coexistence.
But when in Ukraine there are calls "Down from Moscow", "we are entering NATO", "Moscow, Russia, and knives", and Nazi collaborationists are magnified — it's surprising that Russia is worried about it, only full cretins. The deterioration of attitudes on the part of Russia in response to the deterioration of attitudes on the part of the Ukrainian establishment is natural and predictable. And if the Pekingese barks too closely at the bear, then the bear can hurt him not even from evil, but simply because of natural awkwardness. This is your third fact.
And this is Turchinov, Yatsenyuk, Pinzenyk, Gritsenko and other "Panov oppositionists" regularly ran to the American embassy for instructions or went to the United States to see and negotiate. Can you name at least one politician of this level in Ukraine, who would be as controlled by Moscow as these characters are controlled from Washington? There are none, and it was not for all 22 years of the existence of Ukraine - this is the fourth fact.
All the "unrearmed" media likes to tell us from morning to evening how Russia "ominously" influences affairs in Ukraine. But in reality, this is the United States for years blatantly and brazenly interfering in the internal affairs of Ukraine, this is the EU for years blatantly and indiscriminately interfering in the internal affairs of Ukraine. This is your fifth fact.
Inconvenient Questions
Did Russia impose criminal privatization on Ukraine? Has Russia driven Ukraine into the abyss of debt? Is this Russia zakredovyvat Ukrainian economy and imposed predatory consumer loans to the population? Did Russia conduct informational intervention, imposing its "values", its "standards", its rules, its "recommendations" and even its gay parades to Ukraine?
Have you ever seen departments for "integration with Russia" in the Ukrainian authorities? But the management of eurocapitulation is in every city or regional council. The people massively don't want to integrate anywhere (who wanted to - have been there for a long time, washing the night pots), but they are persistently shoved "into Europe". So who is manipulating Ukraine? Who is trying to get into the head of her people?
I talked a lot with adherents of the "Russian World" (as well as with Western grant eaters, for contrast). So, almost all the "Russians" are volunteer enthusiasts who not only received no money for it, but also had no, even informational, support from Russia. But all the participants of the Western grant-raising funds mastered fat budgets, often in the millions. So who actively intervenes in the internal affairs of Ukraine? Putin?
Fight interpretations stories
And I am aware that after this article I will once again be recorded in the "agents of the Kremlin." Do not care, I'm used to. We have everything that does not fit into the meager patterns of "Svidomo Husbands" are automatically recorded in "Ukrainophobia" and "Kremlin agents". Moreover, ten years ago, when I first began to engage in political and social activities, it was the same. For a certain part of the population, Russophobia is spelled out on the subcortex (as in the 1941 year, the leadership of the Third Reich prescribed it, so it remains), there the logic never appeared.
But with these horror stories about Putin, half of Ukraine is already laughing. That half of Ukraine, which still does not recognize Bandera as a hero, does not dream of Eurocapitulation and refuses to carry out the orders of the junta that has conducted an armed coup. That Ukraine, which all "non-living" media falsely call "separatist".
It's time to tell the truth. Just have TWO of Ukraine. One is the Ukraine of Bohdan Khmelnytsky, which is "Russian Land" and "Forever with Russia". And the second, Galician, has never been Ukraine. I had no relation to the Zaporizhzhya Sich, and did not take part in the liberation war of 1648. Have you ever heard that at least one native of Lviv or Ternopil participated in the campaigns of Bogdan Khmelnitsky? Or in the wars against Turkey for the conquest of the southern lands of Ukraine?
FIG there! All these centuries they have been loyal subjects of their Catholic masters - first Rzecz Pospolita, then Austria-Hungary. And when all of Ukraine as part of the USSR fought against the Nazi invaders, some also joyfully served their Western masters, working as policemen and punishers, as well as guarding concentration camps.
Two-thirds of the Nazi concentration camps were members of the OUN-UPA - this is another fact to you. And with those who exalt these nonhumans, should we have one homeland? No, my Ukraine and the Nazis are incompatible.
My people, Ukrainians, in the USSR defeated Nazism. My people, Ukrainians, in the USSR, brought man into space. And rats only all their lives shattered on the sly. And now they are trying to turn my Ukraine into their krysjatnik and gadyushnik.
Moreover, they are indignant at how someone dares to resist the transformation of Ukraine into a hotbed of Nazism. They are actively harassing dissidents, mobbing for one, as well as knocking, knocking, knocking. These are simply inborn informers who knock not for the sake of obtaining preferences, but by the nature of a vile soul. They knock on dissidents, on "suspicious", on "similar to the provocateurs" and even on their associates, as on "not enough svidomyh". The entire Ukrainian segment of the Internet is crammed with this national sport.
How was Dovlatov asking? Who wrote the four million denunciations? Who served as a guard? They wrote, they served. All these are Pavlychki, Yavorivskys, Popovichs, Brygintsy, Tyagniboki, Farion, Mikhalchishin, Ilyenko and other repaint adapters.
We are not separatists, they are splitting up a single people with their "Muscovites for knives". We are not the "agents of the Kremlin", but they are the litter of the West, the fifth column, which is fattening on grants and promoting eurocapitulation. It is they who are ruining the country, gaining loans, taking out the museum gold of the Scythians and are going to sell the last treasure of Ukraine - land.
It is not us who need to be driven out of our land, but this evil that hides faces and requires blood. It was not we who lost (or, rather, pushed away) the Crimea. It is not we who have lost the remnants of subjectivity.
Whatever the thieving and greedy Yanukovych, and with him the fate of Ukraine was not decided in Paris and Brussels.
Khmelnitsky Heritage
Returning to the topic of geopolitics and the role of Ukraine in it. As part of Poland, Ukraine has always been oppressed and plundered by the outskirts, where the "serfs" and "B.y.dl." lived. As part of Russia, Ukraine has always been an equal part of that in the Empire, that in the Union of Republics (as the Crimea will now be a subject of the federation). And for the US, we will always be just a bargaining card, like any other country, even from those whom they call "allies." And this can be seen in the example of Georgia, which the United States abandoned at the earliest opportunity.
How to distract the population from silly alarms? But the "interim government" and all their minions do not care about the fate of the people, they only think about how to sell Ukraine more profitable for themselves, loved ones. And some sell it just for the ghostly opportunity to get a Schengen visa. And at the same time they pretend to be "patriots".
If you are a supporter of an alliance with Russia, this is "separatism", then write down the main separatist of Ukraine, Zinoviy Bogdan Khmelnitsky.