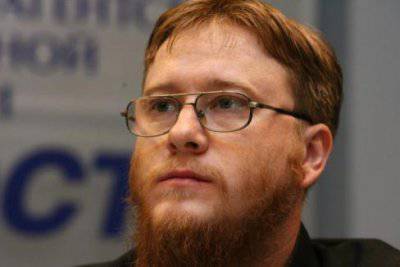 Valery Korovin, director of the Center for Geopolitical Expertise, a well-known political scientist, member of the Izborsky Club, in his last speech on the air, RSN gave very nontrivial assessments on a number of topical issues.
In particular, on the termination of cooperation between NATO and Russia, on the displacement of the world center of power, the true role of China in the current global processes, as well as on the runaway president Yanukovych. Here are the most interesting excerpts from this speech.
On suspension of cooperation with NATO
... Any cooperation between Russia and NATO means an automatic loss for us and an acquisition for NATO. Due to the fact that the Russian side always adheres to certain rules, agreements and international legislation, morality, ethics, in the end, the Americans who oversee this block do not adhere to anything. They always cheat on our side and act only in their own interests. Termination of relations with NATO means that we will cease to surrender our interests and incur colossal military losses. Finally, Russian troops, army and military strategists will be able to breathe easy. Nobody will force them anymore. This is a golden period when you can raise your head, rethink our strategy, understand who is the enemy of Russia and who is an ally, and start building a full-fledged global strategy.
About transit, Afghanistan and missile defense
... First of all, it is necessary to freeze the actions of the NATO transit point in Ulyanovsk, which did not start to work at full strength, stop NATO in Afghanistan, giving them other opportunities for evacuation from this region. They claim global control. Accordingly, they have global opportunities, and the paths are open. Please can move in any direction.
... NATO would never give Russia either legal guarantees or the keys to its missile defense system. In case they managed to build such a system, then no access and no control. In the end, when Russia declared that the time had come to start cooperating, "give us access and control," they would say "sorry, circumstances have changed, the situation has worsened, terrorist activity has increased". Russia would never have received any keys and control. The missile defense was initially aimed unilaterally at deterring a Russian nuclear retaliatory strike. This is its main function. After the unilateral US withdrawal from the ABM Treaty, after we lost all positions, we cut a huge number of our missiles, the Americans said "now is the time to start missile defense in Russia in order to be able to shoot down the last existing missiles, if they can rise from their mines. Unless they are destroyed at the time of the first preemptive strike by the coalition and NATO, the global West, missile defense is an exceptionally aggressive, disruptive, unequivocal hostile element against Russia. Now we are told that we are forced to suspend cooperation, which was not, could not be and cannot be in principle, because then the meaning of the missile defense itself is lost. Accordingly, we have not lost anything here. The West creates chimeras, which itself later destroys, claiming that this is in response to you that you are behaving incorrectly. You just need to be extremely naive people, or to be completely at ease with the processes taking place, understanding that Russia is losing nothing and, on the contrary, is gaining, since it has a legal official reason for internal mobilization, for building a sovereign defense without regard to the West. All agreements are nullified. We can develop without regard for constraints. Russia is no longer holding back. We are free to ensure our own security.
About world domination
... In recent years, the world community is tired of the American undivided unipolar domination, from the treachery and rudeness on the part of the United States, from the blood and chaos that this state brings to all parts of the world. With lust, they look at Russia as an alternative project, capable of mobilizing all anti-American forces around itself, the volume of which is growing every day, with every trick, with every next aggressive act. Here, a very successful and promising market opens up for Russia. We must openly and publicly announce the creation of an alternative unipolar globalization project, a multipolarity project, a more equitable world order in which global issues and the fate of mankind are decided by the consensus of several civilization centers, and not individually in Washington in a voluntaristic manner, not paying attention to the opinion of the rest of humanity . This should be a system in which there will be 5, 6, 7 civilizational poles, one of which should be the Eurasian civilizational pole centered in Russia. This will be a real alternative to unipolar treacherous American globalization. Here is the time to start creating a civilizational pole. Today, we have seen firsthand that
historical
situations when something really threatens us, China takes our side when voting in the UN Security Council, the UN General Assembly, and other international national structures.
About China
... China may have and should have its own interests. It would be strange if China, contrary to its interests, acted on the orders of Russia. This approach is imposed by the United States, which demands from all states of the world unquestioning obedience and following exclusively within the framework of American logic, American interests and ideas about how humanity should evolve. This perfidy is today the main repulsive factor. Because of this, American foreign policy is failing and failing. The rating of the American leader inexorably falls, while Vladimir Putin, who is simply polite and correct, giving everyone the opportunity to realize their interests in the framework of equal cooperation, gradually forms some kind of supranational free democratic alternative, giving all its members the opportunity to realize their interests. In this sense, China and India are the largest players. Here you can add all the other BRICS countries that are ready to act not on the implementation of American aggressive intentions, but on their own interests in building a fair multipolar world.
About prohibitive lists
... Here, of course, there is another side to this situation, namely that Putin's current elite was inherited from Yeltsin. All these years he has heroically fought, clearing these Augean stables from the liberal elites who think in the Western liberal key, looking to the West, keeping their money, their children, their families. For example, I don't really understand what a decent person, especially an official working for the state, does in Europe. Fly shopping? It's just a mockery and spitting at the absolute majority of the people of Russia, who barely make ends meet. Political contacts? Then who is worse for this? West closes for itself the possibility of political dialogue. Let fly to us, in the end. I do not consider this a sanction. A decent person working for the Russian state must realize all the main interests here. If it is needed in the West, let them invite and, then, provide a flight, but there's absolutely nothing more to do, so it seems to me that this is rather a blow to the "fifth column", to those liberal elites who still remain around Putin and block his actions, knit his hands, sabotage all his initiatives. It would be better if the West took them away, that is, they would let them in and not let them out. Then Putin would have sighed calmly.
... The West behaves unpredictably, simply hysterically. Doing absolutely no systemic steps, mostly to their own detriment, immediately apologizing, canceling, even more confusing. By virtue of the fact that the same Council of Europe and the European Parliament are puppet structures controlled from Washington, what can they decide in general for the benefit of Europe? Everything they do, they do for the benefit of the United States and against their interests. Having done, they splash their hands, sigh, say "what have we done." They will then repent of what they have done, but it will probably be late, and maybe not. Russian man is all-human. He forgives. We will forgive them too.
About Yanukovych
... Yanukovych has already said enough to summarize his performances. This is already drawing on a political program. It is time to start active action. Yanukovych must go to Ukraine. He is the current president, so he needs to go to the south-east of Ukraine to Novorossia, create military units there on the basis of self-defense forces, the Donbass people's militia and former Berkut employees, who today are subjected to repression and will continue to be subjected to, organize defense of the south-east borders east of Ukraine. It is necessary not to allow the holding of the Bandera elections of May 25, but to create the conditions for a referendum on the status of the regions included in Novorossia. The question must be raised whether the south-east of Ukraine wants federalization, whether it wants to remain a part of Bandera Ukraine, headed by the Kiev junta, or wants to become part of Russia. Yanukovych can be rehabilitated for the complete surrender of all positions, the collapse of the state and return to history as a person who organized the national liberation movement in the southeast, mobilized forces and moved to free Kiev from the power of the Bandera junta, which was settled with the assistance of the West. If he doesn't do it now, but continues to make some statements, they will simply stop listening to him. This genre is devaluing ...
... Yanukovych is better .... to kill himself against the wall, if he is not going to recover and return what he has ineptly surrendered and plunged Ukraine into a state of chaos, instability and bloody internal fights. What is happening today with the "Berkut" is nothing more than a political reprisal against unarmed people. They were unarmed on the Maidan at the time of the Bandera revolution. They remain unarmed now. If then they were forced to obey Yanukovych, now he is not. In this case, they should be the subject of history. They no longer hold back. We need to understand that they will not be left alone. No one guarantees their safety and their families. No one will pay any salaries and pensions. We need to start life anew, mobilize, create effective combat units and clean Kiev from the junta. We need to start with the organization of self-defense in the southeast, if they want to remain people, and not animals, who are being kicked and kicked into jail, who will be tortured, burned, cut and not given to help in hospitals, where they continue to be with the hardest wounds. If these are not animals, but people with their dignity, with the will to live, they should just stop mumbling, mooing and start the action in a forceful way, physically knocking them out, burning out all the infection ...
About Ukraine
... No Ukraine exists anymore. There are fragments of the former Ukraine. There are warlords who seized power in the territory. There are armed gangs that today began the process of property redistribution and internal squabbles among themselves. Who needs to give Yanukovych? Warlords? They can not bring anything, because they have no legal legal framework, laws, the Constitution, the current government. All that they can excite is some kind of Sharia document that Yanukovych should be judged like a ram by cutting his throat. Then where is Europe, civilization, democracy and so on? The Americans want to create an instability zone in Ukraine, in order to cut it off through Europe from contacts with Russia. But why is Europe, it is not clear. She only loses from everything that happened there. It is necessary not to ambiguously dot the "i", the accents, to say that these are gangs that should be cleaned by the forces of the "Berkut" and the legally acting president ...