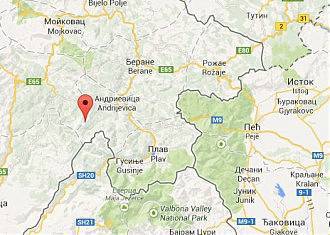 Residents of several villages under Mount Kom in the Montenegrin community of Andrijevitsy offered their lands to Russian President Vladimir Putin for the construction of a Russian military base.
Thus, the Montenegrins from the ancient Vasoyevich tribe (Vasojeviches) want to show the government of the country what they think about the entry of Montenegro into NATO. They say that the Slavic brothers are closer to them than those who had recently sowed death here, and they cannot forget the NATO bombing in neighboring Murino, where innocent people, including children, died 15 years ago.
"Russia has always been our mother. Here, for centuries, they sang "zapјevaјmo from the voice, without Russia he was not saved" (we are all singing out loud, without Russia there is no salvation). My village after the Second World War was called "Little Moscow". People from these lands suffered and died for Russia ... Therefore, I am ready to give part of my land to Vladimir Putin and the Russian brothers so that they build military bases. This will protect us from NATO, whose strategy is to enslave those who refuse to obey America, "says David Lalich from Tsetsuni to the newspaper Dan.
Milleut Dzhurkovich, chairman of the local government of the village of Krale, agrees with him, according to him, the Russians in his house are always happy and he does not mind giving up his land for the deployment of military equipment.
"I ask myself how ashamed individuals are to push us into NATO when it is known that this anti-human machine killed hundreds of innocent people in the former Yugoslavia. Therefore, we always prefer Russia, not NATO. I would like the Russians to come to Krall, to have their flag flying over military bases. I wait for them and offer my land, "declares Dzhurkovich.
"In our village, not far from the Andrijevitsa-Treshnevik-Kolasin regional highway" in 1899, the Kralsk powder warehouse was built, a military warehouse building where the
weapon
Vasoyevich troops. The building was used for this purpose until the 1912 year, until the fall of the Turkish kingdom on the Balkan Peninsula. The Russians are said to have rendered considerable assistance in the construction of this object ... Therefore, we want to cede the Kralsk powder warehouse to the Russian army, because from here they can control the border located nearby, which no one has been guarding for a long time, "says Milutin Dzhurkovich.
Zeljko Jovovic from the village of Talanovac offers his land to the Russian brothers:
- The fact that Montenegro wants to impose sanctions against Russia because of the events in the Crimea causes a grin and disappointment in all of Vasoyevich. This is shame and disgrace, as Russia, unlike NATO, is our proven age-old friend. The sun always warmed us from Russia. "My land is at their disposal, if only they want to," Jovovich says.