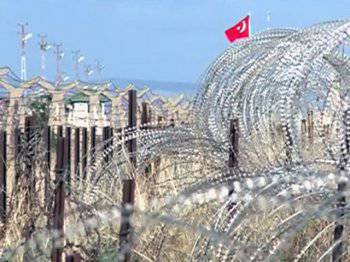 Syria and Turkey exchanged artillery strikes. Shooting at the Syrian territory, the Turkish army opened six shells fired from the Syrian border in the Turkish border province of Hatay in the Yayladagi region in the Turkish border.
It is not known who fired at Turkish territory. Information about the victims of the shooting at the Turkish frontier is also not, according to Interfax.
In March, a major scandal erupted in Turkey. The YouTube video service fell under the sanctions of the Turkish authorities, who closed direct access to it from the national Internet segment. One of the reasons for such a measure was the publication on this portal of audio recordings from a secret security meeting at which the situation in Syria was discussed. According to a number of Turkish media, participants in the meeting, judging by the records, allegedly discussed the possibility and prospects of provoking a major conflict by Syria so that Turkey could take certain military measures and, possibly, enter the territory of Syria.
Relations between Syria and Turkey, already tense, deteriorated after the 23 of March, Turkish fighters shot down an Arab Air Force aircraft. Two missiles were fired at the Syrian fighter. The plane made four raids on militant positions in the Naba el-Murr border area. Turkish Prime Minister Rajep Tayyip Erdogan stated that the pilot of the aircraft violated the airspace: he went one and a half kilometers to Turkey and did not react to the warnings. Therefore, Erdogan considered the order of the military command to destroy the Syrian aircraft natural.
And at the end of March 2014, Islamic militants executed several dozen residents of the Syrian city of Kessab on the border with Turkey. The settlement, where ethnic Armenians-Christians mostly live, is completely empty. Over the past week at the hands of extremists, at least 80 people have died here. The remaining, saving lives, fled to coastal Latakia. After 100 years, the world again speaks of the Armenian genocide. Al-Qaeda militants from the so-called Front al-Nusra and Islamic Front groups took part in the attack on Kessab.
The fact that about 1000 militants entered the city from the territory of Turkey, and received fire support from the Turkish army, requires special consideration at the UN level. The UN Security Council should condemn the slaughter in the Syrian Kesab, the Russian Foreign Ministry said.