We are not a population, we are a people!
All people live in the information space. It surrounds a person before birth, when in the womb the child begins to hear sounds. After birth, a person begins to see what surrounds him. Information about the world captures a person in his arms and does not let go until his death. It affects his behavior, thoughts, feelings, all his activities.
"Who owns the information, he owns the world."
This postulate formulated
Francis Bacon
, then repeated
Nathan Rothschild
and behind him and
Winston Churchill
. So how does it work? How do states use it? The main purpose of changing the information space in the country is not in the near future. This is the goal
a generation ahead
. Few people think about such
"distant"
prospects.
I will try to present my analysis by comparing two information spaces of one state - Russia (USSR) at different times.
Epoch One
- 1930-1970,
second era
- from 1970 to the current time. The boundary between eras is blurred, but the changes began at the turn of the 70's.
Epoch the first, the main directions of influence:
the formation of a man-creator;

the inevitability of punishment for crimes;

patriotism and friendship of nations;

the predominance of the public over the personal;

training.

Cinematography worked in each of these areas, printed (periodical) media / radio, and books were being published.
The films described how people work, overcome the difficulties of life, and achieve the goal, get pleasure from it. The relationship between the sexes was shown without vulgarity. There was no debauchery; instead, propaganda of family values ​​took place. Children's films carried not only an entertainment component, but also a moral and educational one.
Among the books dominated the classics of Russian and foreign literature. Children's adventure novels, fairy tales. A huge amount of teaching literature. A lot of political literature.
The media / radio were informed about the successes of the national economy, propaganda of the heroes of labor was conducted, it was told about the current domestic and foreign policy of the country. Information on crime was filed as follows: caught, exposed, punished. Particularly important processes were described in more detail. They printed real "stars" of their time who glorified the country for their deeds (workers, peasants, athletes, teachers, doctors, engineers, etc.). Posters called for:
learn, work, fight, strive
etc.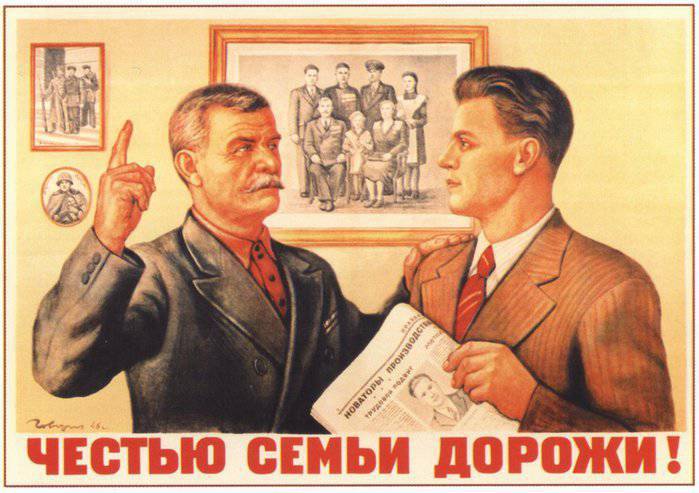 Even during the Second World War, children's films and cartoons did not cease to be produced, although here there was a natural predominance of the patriotic and military component.
The result of this information space was the creation of
population
People
as a single whole organism. Victory in the Second World War, where people demonstrated
personal heroism
for a common purpose. Creature
scientific community
top level.
The conquest of space
,
creating a nuclear shield
,
country recovery
in tight isolation from the world. In general, a generation of people was created who created almost everything that is in the country now.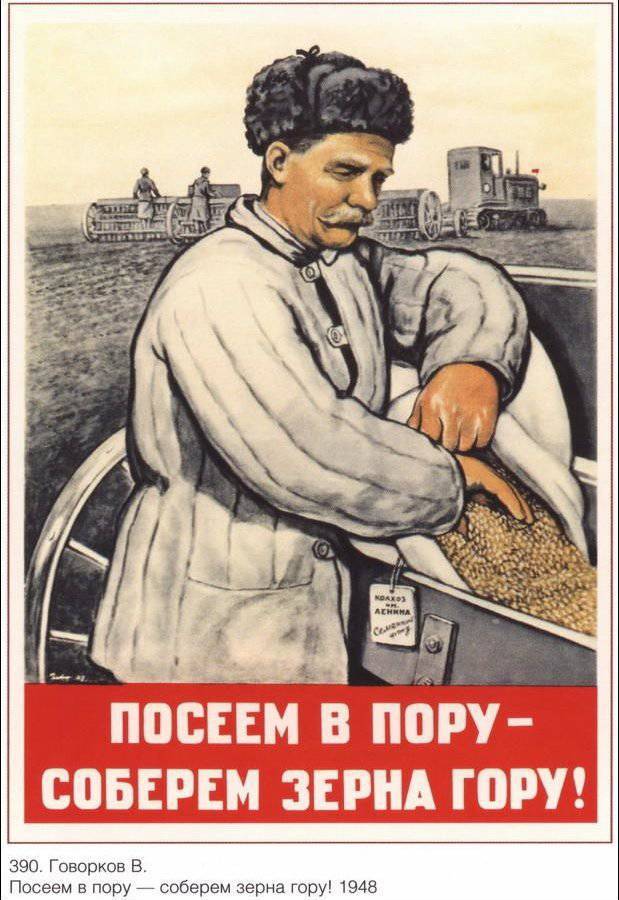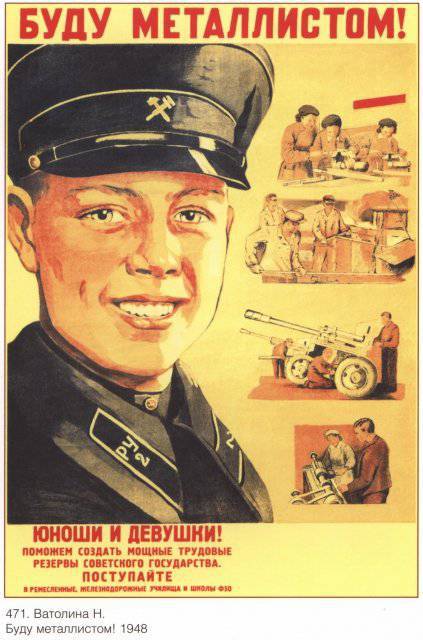 Epoch the second, the main directions of influence:
creating a human consumer;

crime reports;

stratification of society;

the predominance of the personal over the public;

entertainment.

In 1970, advertising for the Western way of life and other "charms" began to seep into cinema.
1973 year, "Ivan Vasilyevich changes profession"
: prince
Miloslavsky
sings a song at the "feast" of the king with a microphone from ... a pack of Marlboro cigarettes. Criminal bastard
Miloslavsky
not caught - he ran away, there was no punishment for the crime. Further more.
1977 year, "Office Romance"
. Careerist and "bureaucrat"
Samokhvalov
smokes again "Marlboro", in the car - the "Philips" radio tape recorder, was on foreign business trips. Everyone understands that this is a negative character. He flinches, at work he does not know what, intrigues, but he has a car, he obviously has not so much money as the average Soviet person. That is, personal "success" is obvious. This is clearly a criminal personality, but again she is not punished in any way, and even at the end there remains a "tab" in the subconscious: in order to live this way, you must be the same. And since then, the human consumer has been more and more penetrating into movies and television ... Video salons appear in all cities and towns. The entertainment orientation of cinema and TV is becoming dominant.
Books began to slowly fill with entertainment content: detectives, romance novels, outright pornography. The educational book system has collapsed.
Media / TV / Internet gradually turned into entertaining for the most part. Advertising all the necessary and unnecessary "stars". From the screens broadcast artists of dubious talent. There is a dominance of humorous programs in the almost complete absence of educational. Crimes are described in detail and often become something of a guide to action for those who think about crimes. The punishment of a criminal is rarely remembered only when it comes to high-profile crimes. Posters call for:
buy, try, take
. Entertainment everyone and in different ways so that the most active part
People
- young people - sat at home so that there was no time to be interested in education, politics or other development. To powder the brains with a mass of unnecessary information, like: "Sensation! Artist A married the journalist B for the tenth time, and artist B appeared in a new dress in a restaurant and doused herself with soup. " Ugh!
I will not describe the present time in more detail; you yourself can see everything. What became / will be the result of such an information space can be seen / assumed by ourselves. But from our
People
make
population
. And did / make it classic
"Window overtona"
.
PS
In the past few years, you can see changes in a positive way, but these changes are of a nature.
point, unsystematic
. in order to change
system
, it is necessary to change ...
Constitution
. Yes, it is her. Through the legislative procedures provided for this.
A few examples, not the main.
Article 13.
1. The Russian Federation recognizes ideological diversity.
2. No ideology can not be established as a state or mandatory.
And it would be necessary to develop a single ideology: we -
multinational people
!
Article 15.
4. Generally recognized principles and international law и international treaties Of the Russian Federation are composite part of her legal system. If the international treaty of the Russian Federation establishes other rulesthan stipulated by lawthen international treaty rules apply.
For example, if an idiot president signs a contract with another country that we should recognize homosexual marriages, then according to the current
Constitution
we will do it. Do you think we will not choose an idiot president? If a
will not walk
on elections - we will not choose,
he will be chosen by others
. If
will not be interested
and think over politics
yourself choose an idiot
. If
you will sit at home
when necessary
go to
to the street and
support
those who are real
protects your interests
, president
"Appoint"
. And aren't we
"Chosen"
Yeltsin in 1996 year?
Many
even those in power do not understand the essence and model of external influence
.
In the context of this article
Russia
did not sign
European Convention on Transfrontier Television
"Because she transfers control
supranational bodies
and according to the current
Constitution
, the management of the content of the programs will already be some "
Standing Committee
».
Constitution of Russia 1993
European Convention on Transfrontier Television
How to change the Constitution according to the law