Innovative profile - soldiers first
The NFM Group is one of the few manufacturing companies that was created by former soldiers for the soldiers, and therefore all products are based on a deep understanding and practical experience of operational needs. Typical and very fast implementation of the concept "from idea to finished product", which is found almost exclusively in Scandinavia. NFM was founded in 1996 by four soldiers from the Norwegian National Guard. Dissatisfied with the discomfort and lack of functionality of their military vests, they decided to improve them somewhat and sewed up several of their own unloading vests. When the Norwegian military heard about this project, some innovations were offered to innovators to further improve these vests. The result was a radically improved vest. NFM recently launched the GARM project. The complete GARM military clothing system is based on the concept of layers: from underwear to outerwear, for all seasons, climatic conditions and combat missions. It includes the innovative Smart Vest vest with excellent handling capabilities that reduce fatigue and injuries. GARM is part of the Norwegian program of the future soldier NORMAN. The idea of ​​this "system" is that the military have one common life cycle, one supplier, one common size table, etc. For optimal results, GARM products should work together, including a wide range of flame-resistant kits and clothing with reduced IR signatures. This approach has proven to be extremely cost effective. When the soldier and his uniform are actually placed in the center of the operational doctrine, the requirements for equipment are further oriented on the individual in order to achieve the optimum performance and success of the combat mission. Adding the GARM system to personnel equipment allows for comprehensive protection.
What carries your boat
Dockstavarvet is the developer and manufacturer of the famous speedboat landing craft CB90, commercially available from the 1991 of the year. The CB90 is arguably the most replicated ship of its kind. Many countries mention in their specifications that the boat they need must be a copy, or at least look like a CB90 FAC. When Kockums was acquired by TKMS, and other shipbuilders went bankrupt, it became clear how important it is for the entire region to maintain its own shipbuilding and identity. And as a result, such new, cost-effective, modularized companies like Pagan Boats joined the shipbuilders community. Successful companies in this area include Marine Alucraft, a manufacturer of aluminum hull patrol boats and WATERCAT M-8 high-speed landing craft carrying up to ten people with equipment; Swede Ship - a manufacturer with extensive experience in combat and patrol boats with aluminum and composite hulls, supply vessels and rescue vessels; and Umoe Mandal, a specialist in the design and manufacture of high-speed vessels and coastal solutions from modern composite materials. Companies like Marine Diesel build engines for various river and patrol boats and work with Armacraft, a successful company to develop and manufacture various marine projects.
Surma maximizes ship survivability. This small consulting firm works with the largest
fleets
and shipbuilders. What is unique, Surma begins to work with ship designers even before the start of ship construction, analyzes many aspects, from the shape and structure of the hull to the ultimate tensile strength of materials and the configuration of the ship's deck structures.
To successfully complete a combat mission, the armed forces need the right equipment. Companies such as REBS (H.Herinksen), make a wide range of lightweight, durable, convenient and safe boarding equipment and equipment for marine special forces. Vestdavit is considered one of the world leaders in the development of efficient and safe solutions for launching and returning boats and boats in difficult sea storm conditions. Ullman Dynamics designs and manufactures outboard and shock absorbing landing seats for boats and boats and ergonomic capsules for landing craft, speed inflatable boats and high-speed combat boats that protect the crew and passengers of these vessels from injury and reduce fatigue.
Projectiondesign develops and produces possibly the best and most unique deployment systems that can be used in teaching and modeling the process of building bridges and control points with augmented and virtual reality without excessive heat generation, power consumption or excessive noise and vibration. Hatteland Display is a provider of advanced technologies for specialized computer products and displays. These include the most advanced products, such as frameless touch screens, readable in bright sunlight, durable and streamlined displays and integrated computers that exceed the requirements of military standards. The connection of all systems of land and offshore platforms is a specialization of the company Milectra, producing cable and related components, such as technology Military Quick Stock.
Naval Team Denmark (NTD) is an integrated export organization established by major Danish military shipbuilding companies. She embodies the spirit of what makes Scandinavian companies successful. NTD was formed in response to the international interest generated by the innovative and trend-setting modular concept of Standard Flex and its implementation in 14 Standard Flex 300 modules.Over time, many other advanced maritime systems offered by NTD members, systems that are not directly related to application of the Standard Flex concept, but confirmed competitiveness and applicability to other types of marine vessels. It should be noted, however, that the ideal of modularity is reflected in all military shipbuilding and maritime safety programs. The participants in these programs are: Terma, Saab Danmark, Logimatic, Lyngse Marine, NORDIC DEFENCE INDUSTRIES, Odense Maritime Technology Ltd., TENCATE, TRIFIRE, DESMI, MAN Diesel & Turbo and DC Supply - a manufacturer and manufacturer of container solutions that include mobile structures and
aviation
hangars. Scania and Volvo remain leaders in the design, modernization, and delivery of engines and power transmissions for marine vessels and ground systems. There are very few defense organizations that do not have Scania or Volvo products driving their ships and vehicles.
Trucks
Scandinavians are not limited to ships when it comes to combat platforms. A small truck manufacturing company, Sisu (meaning "resolve" or "perseverance") produces off-road tactical vehicles for military use.
Her 4x4, 6x6, 8x8, and 10x10 vehicles can be found all over the world (for example, in the UN contingents), but along with Patria machines also in the Finnish army, where you will find, by the way, observation towers from Falck Schmidt and Def complete with coffee makers so that the Finnish military would feel comfortable and warm at the fighting post.
Vehicle security is provided by solutions from a variety of manufacturers of special steels, ceramic and composite armor: Composhield (patented rivets for attaching multi-layer composite panels), Exote, FY-Composites, Scanfiber, Verseidag, Tencate, HS Composites, SSAB, Akers Krutbruk, Ruuki, Komas and Millux. ExAct (Mikro-Pulssi Oy) has more than 20 years of experience in developing and supplying fire protection systems to military structures. The newest ExAct Titan system protects the crew and the car by automatically detecting and instantly extinguishing fires and explosions. Sepson has a reputation as the supplier of the most reliable and efficient, ready-made or customized military winches. Frestems has a solution that provides ballistic protection for wounded soldiers, greatly increasing their chances of survival in the event of an attack on a vehicle. Volvo Defense recently underwent a reorganization to match its specialization with market requirements. The company should soon upgrade and restart its product line. The company Dynasafe emerged as a fast-growing company in the field of protection and disposal of explosive objects (IEDs, terrorist devices, etc.) in the civil and military sectors. The company NORMECA is known all over the world, especially in areas of natural disasters, with its mobile facilities, ranging from hospitals to decontamination facilities. Its fully modular and integrated solutions can be organized on ships and serve as floating hospitals in theaters.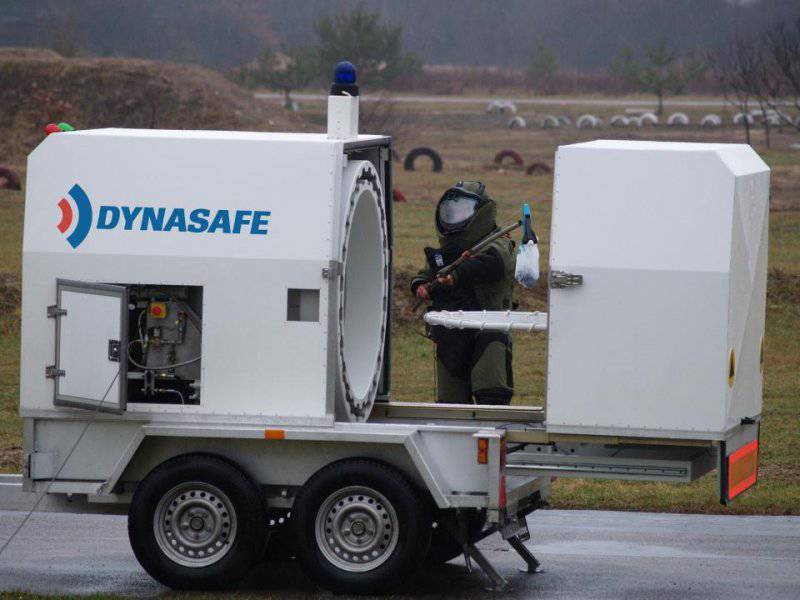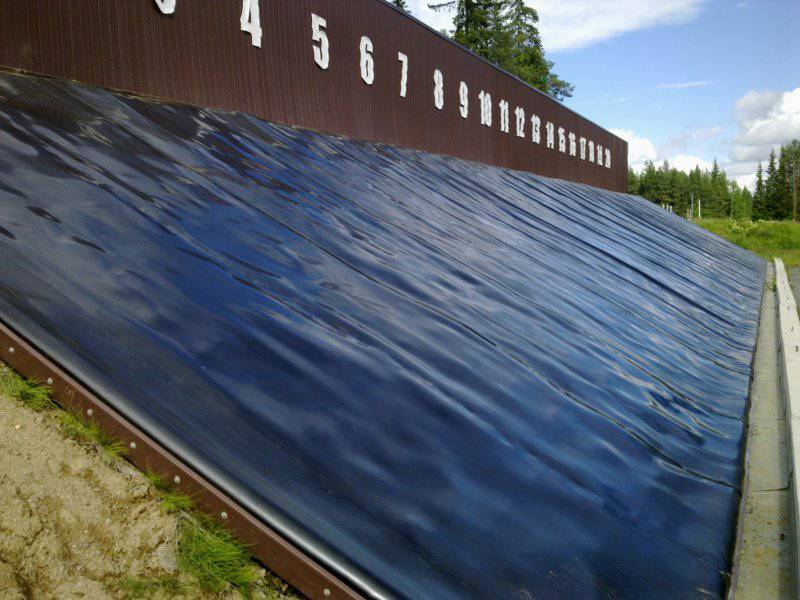 Stapp EBC is the only bullet catcher who collects bullets at open shooting ranges and keeps them encapsulated without leakage of lead and other associated toxic substances into the external environment.
Innovative profile: man and nature
STAPP Environmental Bullet Catchers (EBC) bullet traps are probably one of the best examples of how Scandinavian innovations reckon with the environment. STAPP EBC catches bullets and any harmful particles and contaminants from bullets at a combat shooting range. STAPP EBC has several configurations, including for indoor or open air, for various firearms.
weapons
that allows you to dramatically reduce the level of noise and pollution from bullets. With the new EBC compact pistol shooting range, Stapp offers several EBC configurations, such as a "room", which provides the full-scope (on 360 °) practice of military weapons. Stapp EBC comes with different colors of outer rubber coating (for example, lighter colors for hot climates), and you can also take photo and video inside the EBC for a unique combat shooting experience. Stapp EBC bullets can withstand not only extreme temperatures, but also have an incredibly low total cost of ownership, which makes them ideal for low-income organizations (civilian or military). How effective is the family of new bullets? Stapp EBC was evaluated in comparison with other bullet catchers and the US Environmental Protection Agency and the US Department of Defense recognized it as the best among other similar systems, it significantly surpassed all other bullet catchers in all parameters. Its sturdy construction of recycled and recyclable materials puts it in a completely different position compared to the more common bullet catchers. His materials prevent rebounding and significantly reduce the deafening sound of a bullet meeting a target. Consequently, this family of bullets has reached a certain gold standard in this area, perfectly protecting personnel and the environment (air, water, living creatures) from harmful pollutants associated with fire training.
Easily...
Although Saab and Kongsberg are major suppliers of combat training systems, we will look at smaller innovative companies. MSE Weibull has created an omnidirectional treadmill that allows a person to perform locomotion movements in any direction during training on simulators. The ability to move in any direction distinguishes this path from its main competitors (having only one-way traffic). Omnidirectional treadmills are used in the learning process with immersion so that the learner can move freely in the virtual space. SmartEye has developed an eye tracking system in which several cameras are used to track movement and look in real time during combat training. It is used in a number of educational applications and in security tasks, including "anti-sleep" systems (fatigue determination) for monitoring driver / pilot / steering activity. Metrik Simulation develops and manufactures versatile training tools (for example, The Street and Riot Arena for urban operations) based on the latest advances in neuroscience, stress resistance and didactics. Noptel specializes in the creation and manufacture of innovative optoelectronic products based on its own technological know-how for measuring distance, position, displacement and shape; she also launches a combat shooting simulator to simulate aiming skills. Its rangefinders are divided into two categories based on the principle of operation and the scope of the main customer. Noptel has been a subsidiary of FN Herstal since 2011.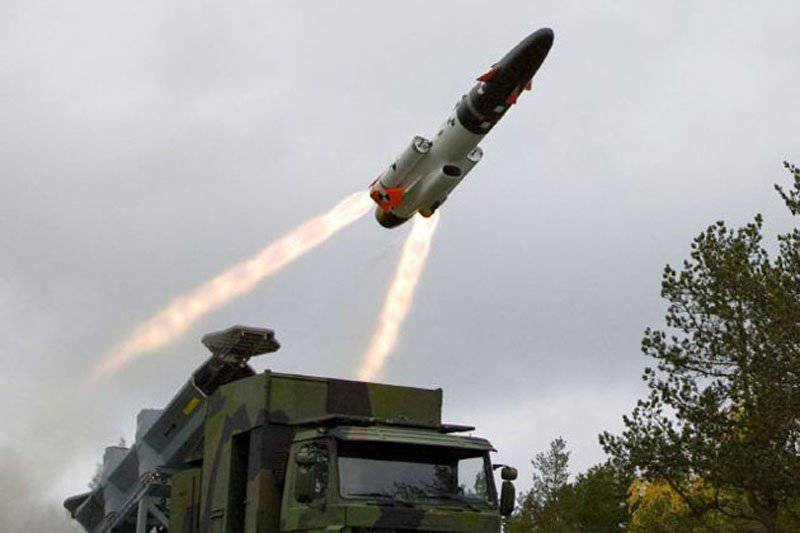 Anti-ship self-guided long-range missile RBS-15 Mk3, developed jointly by Saab Dynamics and Diehl Defense
Large polygon
The Vidsel test site is a national strategic test and assessment facility operated by the Swedish Defense Property Administration (FMV), part of the Ministry of Defense structure. If there are no applications from FMV, then Vidsel can help the Allied countries and their suppliers to conduct tests at reasonable rates. It provides significant revenue for FMV during times when defense organizations cut their budgets. This covers the cost of maintaining a test center and also adds to the database and enriches the experience in the field of air, ground and marine systems. Although other countries have state landfills, many of them are not designed or able to accept complex products and systems with the necessary level of safety and environmental friendliness. The Vidsel team is concerned about the state of the landfill, safety for all stakeholders and the state of the environment in which the work is being done and which surrounds us. Vidsel offers Europe's largest test site with a full range of services for testing aircraft and related systems. This includes verification and certification services for testing modern weapons, the integration of weapon systems, UAV tests, testing of electronic warfare systems, as well as training and evaluation of combat capabilities and close aviation support. Vidsel landfill is located in the north of Sweden in a sparsely populated area with little air traffic. Polygon Vidsel has a zone of constant ban on aviation without height limitation with the ground surface below it, the area 7200 km2. The Vidsel missile range has an area of ​​1650 km2. Plus a restricted area for unauthorized persons with an area of ​​3300 km2.
Ammunition Test Ground
The Bofors Test Center (BTC) is owned by three companies Saab Dynamics (61%), BAE Systems Bofors (30%) and Eurenco Bofors (9%). BTC has all the necessary resources for testing. The technical specifications of the center make it possible to measure, monitor and test various stages of production in order to develop the correct standards ensuring the production process. BTC can also carry out tests for operation and performance, reliability, maintainability, human-machine interface and even environmental friendliness. The main activity of the center is testing products containing explosives. BTC has a large area (approximately 200 km2) with six permanent test sites. Each site has a well-developed infrastructure, such as modern anti-shatter protection of people and equipment. Tests include measuring, photographing and analyzing, destruction of ammunition, resistance to external conditions of insensitive munitions, measures to increase service life, qualification tests, UAV tests, wind tunnel, transport classification and other special tests. Bofors has a well-developed infrastructure with a road network of a total length of 250 km, connecting test sites, laboratories, offices and other buildings. The test center covers an area of ​​approximately 30 km by 6 km. Together with the training artillery zone, which is directly adjacent to the Bofors center, the local test area is about 200 km2. BTC also has its own test site in one of the training areas of the Swedish army, which is located 300 km north of BTC. The site allows you to test objects at practical distances to 70 km and provides an operational area of ​​approximately 550 km2.
It is noteworthy that the workshops of the BTC test site have the capabilities and resources for the production and modification of test equipment and test objects, as well as the installation, dismantling and modification of objects containing explosives.
And soaring again
SAAB has undoubtedly a myriad of modular solutions in the field of military aviation, for example, this is the GRIPEN, ERIEYE fighter for early detection and guidance systems and other products. Its multi-purpose UAV SKELDAR is becoming popular in the market. A significant competition for SKELDAR is an unmanned APID 60 helicopter from Cybaero with a payload of up to 75 kg (including fuel). SCAMA has in its portfolio a complete line of delay systems (aerofinishers) for all types of aircraft, modules for safe stopping during an emergency landing, a system for protecting pilots of aviation equipment and people on the ground. Sky-Watch is a small company manufacturing bladed helicopters. Although there are already quite a lot of similar systems on the market, this modular light platform allows you to adapt it to a specific task at the lowest cost. Prox Dynamics developed the BLACK HORNET Nano, a military micro-UAV purchased by the British Army. The device measures approximately 10 x 2,5 cm and provides the fighters on the ground with local situational awareness tools. Sensonor is a developer and manufacturer of sensors for MEMS technology (microelectromechanical systems) and a market leader in such systems, which makes up the bulk of its business. The company's newest products are the gyroscopic sensors SAR100 and SIMU202.
Video description of SKELDAR medium-range drone
Someone is watching me ...
Cinside has developed and manufactures hand-held radar CPPR4 (5 meters depth / thickness; has CinSnow, HumanFinder technologies, wireless communication with PC, handheld and mobile applications). Vaisala develops and manufactures electronic measuring systems, sensors and equipment for meteorology and environmental science (environmental science) used in both commercial and military applications (flight tasks, artillery, analysis of the effects of weapons of mass destruction, etc.). Systematic has created a modular situational awareness system (SitAware) that seamlessly integrates into any existing system, as well as software packages that include messaging for the military (IRIS), radio countermeasures management (EWare) and transport aircraft loading planning (Load Planner C130). Terma supplies a variety of products and provides a wide range of services around the world, including the incredibly successful family of SCANTER radars. Terma offers also include audio solutions for aircraft, such as 3-D sound in pilot's helmets. These systems are created in strategic partnership with leading acoustic company AM3D Aalborg Denmark. The AM3D technology really improves situational awareness in the cab like never before. Copenhagen Sensor Technology offers seamless integration of optoelectronic systems into a hardened and optimized platform, as they say "it allows you to focus on a large picture." Weibel Scientific is the world leader in the Doppler radar market. Over the years, 70 has been designing, manufacturing and supplying advanced speed measurement and positioning tools worldwide.
Sea Cross Navigation System makes real-time navigation possible for a wide variety of military vessels, including submarines and underwater robots. Also worth mentioning are the major developments from the Saab Group, such as ERIEYE and other military security and surveillance systems, including 3D mapping solutions.
Wrap, I take
Many Scandinavian companies are willing and able to work with governments, main contractors and other industrial partners around the world. The spheres of their interests are diverse, from carbon nanofibers to high-quality microelectronics. FDS Nordic Symposium in Northern European countries is the only exclusive exhibition and at the same time a symposium in this unique market, giving small and large companies the opportunity to exchange ideas and demonstrate products to defense structures for their future delivery to the troops.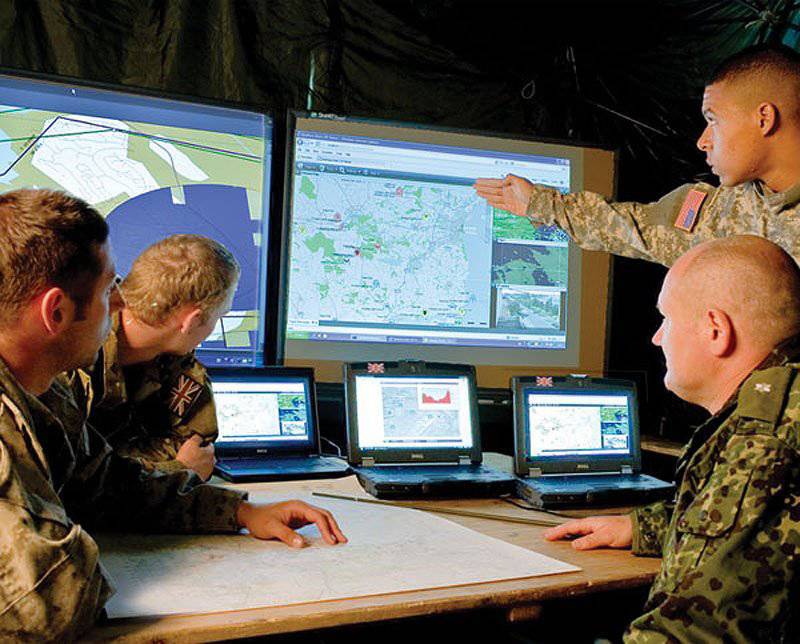 Systematic SitaWare is a ready-to-use, scalable software that provides military situational awareness from top to bottom echelons.
Materials used:
Military Technology 9 / 2013
www.dynasafe.com
www.saabgroup.com
www.millog.fi
www.nfm.no
www.f-sds.com