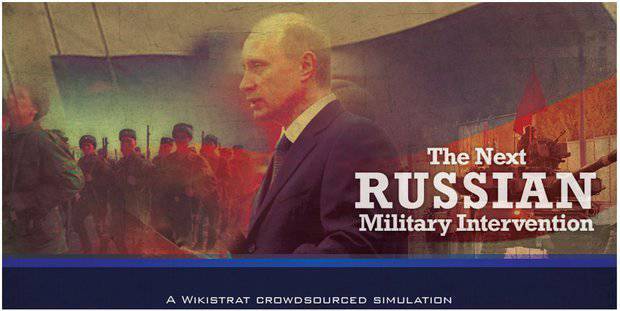 Russian President Vladimir Putin invaded the Crimea and occupied it, thereby continuing the practice of using armed intervention under the pretext of protecting ethnic Russian and Russian interests.
Although Putin's advance in Ukraine is far from complete, there are other military actions that Russia could take to expand its sphere of influence in the post-Soviet space.
Wikistrat, an organization that analyzes geopolitical and economic phenomena based on the crowdsourcing method, has calculated possible options for further developments.
In January of this year, Wikistrat experts predicted the possibility of the resignation of President Viktor Yanukovych (which happened a month later), as well as the possibility of annexing Crimea.
Some time ago, our analysts' 66 developed potential scenarios for five days, taking into account all types of intervention, from small anti-terrorist missions to massive invasions and cyber attacks.
Below are the five most likely scenarios, according to Wikistrat lead analyst Mark Galeotti.
1 script
2015: Russia responds to massive cyber attack sanctions
The EU and the US are responding to Russia's actions against Ukraine with serious economic and political sanctions. In response, and also hoping to prevent further actions by the West, Russia is taking a series of cyber attacks, participation in which is officially denied. Often, these attacks are carried out by "patriotic hackers" against Western economic and information organizations. This leads to physical damage, financial loss and communication problems in Western and allied countries.
Russia will behave carefully in order to avoid actions that could be interpreted as "armed attack" and thus lead to the operation of Article V of the NATO Treaty. In the short term, the EU's Information Security and Network Agency finds that it cannot cope with the scale of the attacks, and the US begins to ponder whether or not to use the US Cyber ​​Command, which may cause problems, because Russia will officially deny its participation.
Such actions will still lead to a Pyrrhic victory for Moscow, since it will only worsen its attitude towards it in the West and convince the West of the need to prepare more seriously for an even more serious defensive and offensive cyber conflict.
2 script
2016: Russia supports coup against Lukashenko against the background of post-election unrest in Belarus
In November 2015, President Lukashenko falsifies and wins another election in a country called "the last dictatorship in Europe." Inspired by the success of the Ukrainian Maidan, young nationally oriented protesters occupy Independence Square in Minsk. The special forces roughly disperse them, but they cannot do anything with the anti-Lukashenka movements, which are gaining strength and popularity.
Trying not to repeat the mistake with Ukrainian Yanukovych and being more and more irritated by Lukashenko, Russia agrees with international observers that there were grave violations during the elections. At the beginning of 2016, Russia uses its network of agents and military advisers to organize a coup, conspiring with senior officers of the army and security forces. Lukashenka is arrested, Russian troops are introduced into the country "for conducting joint exercises," for the suppression of loyal to the president units. In the position enters. the president.
Acknowledging violations during the elections, the EU and the US condemn the actions of Russia, accusing it of referring to Belarus as its province, and not as a sovereign state. China is seriously concerned because In recent years, Lukashenka has established close ties with him. His overthrow is thus a serious blow to Beijing's economic ambitions in Eastern Europe. Russia seriously hopes that the new leader will be able to immediately reform the economy of Belarus, making it a more valuable partner, leading the country in the wake of Russian politics as a loyal satrap. These hopes are unfounded.
3 script
2017: Using mercenaries in Somalia to validate their point of view
Russian citizens are being captured in Somalia. Instead of paying the ransom, Moscow prefers to use the mercenaries of one of its private military organizations to organize a large-scale rescue mission involving the Navy. The operation has four goals:
1) Demonstrate the capabilities of Russian mercenaries in the global market for such services;
2) Give a lesson to any force that will try to seize the Russians in the future;
3) Satisfy the nationalists in Russia itself;
4) Remind Africa of Russia as a potential ally.
Russian intelligence discovers a terrorist camp in eastern Kismayo. A group of experienced military airbags to Sudan, and then to a Russian military vessel involved in anti-piracy operations off the coast of Somalia. Under cover of night, a detachment parachuted down to the shore and attacks the camp of terrorists under cover of fire from Russian fighters. The hostages are freed, albeit at the expense of the lives of several civilians. Expressing concern over the presence of collateral victims, the international community either stays idle or remains tacitly satisfied with Russia's actions that could prevent abductions in the future.
4 script
2018: Deployment of troops in South Kazakhstan
The death of President Nursultan Nazarbayev of Kazakhstan in 2018 and the subsequent struggle to inherit his post leads to a turbulent political situation in the country. China has a wide experience of military pressure on Kazakhstan. And while Beijing is deploying large and threatening military maneuvers, Kazakhstan, considering Russia to be a lesser evil, appeals to Russia to occupy the city of Ust-Kamenogorsk to protect the Russian-speaking minority living there. The real reason is to give a signal to China that in this troubled period, the security of Kazakhstan is guaranteed by Russia. Moscow happily agrees to (re) create a military base that can later become a base of growth.
China is concerned, but can not do anything. The United States does not respond to what is happening. Kyrgyzstan, Tajikistan, Turkmenistan and Uzbekistan are nervous, but also do not officially react. Europe is caught off guard. In reality, nothing is done to condemn what is happening, because Kazakhstan itself does not seek assistance from any international organization, but, on the contrary, develops bilateral cooperation with Moscow.
5 script
2020: Blocking gas pipeline construction from Turkmenistan to Azerbaijan
By 2020, the construction of the Trans-Adriatic gas pipeline is being completed and the possibility of supplying gas to Europe from the Azerbaijani Shah Deniz field appears. Pipelines, on which gas can be supplied to Europe from Turkmenistan and Kazakhstan, are still not completed. Considering the alternatives, Turkmenistan decides to build a Trans-Caspian gas pipeline to Azerbaijan to open the way to Europe.
Moscow seriously objects to the construction of the Trans-Caspian gas pipeline, since This will create serious competition for Russian gas. Declaring that there is an environmental threat to the bottom of the Caspian Sea and that Turkmenistan is seeking to de facto establish a new sea border, Moscow will use the Caspian fleet, which does not allow builders to deliver and lay pipes. As a result, insurance companies and shipowners come to the conclusion that construction has run into too much risk and withdraws its vessels, thereby effectively stopping construction.
The EU and the US are adopting the tactics of Russia, but they cannot intervene directly due to excessive distances and logistics costs. Despite the fact that the Trans-Caspian gas pipeline is beneficial to China in the long term, at the moment it is not so important a question, because of which it would be possible to enter into conflict with Russia. On the contrary, what is happening can be used by Beijing as a precedent to justify its own actions in the South China Sea.
Expert Mark Galotti explains why Russia will act precisely in these areas, and also why the results will be exactly as described.
- Taking into account how Russia positions itself, and also taking into account its use of force to protect and develop its regional and global status, intervention by the Russian Federation seems very likely;
- The most likely intervention on the borders of Russia. This reflects the opinion of Russia itself that it has a special privileged status in Eurasia and the former USSR, and also takes into account its limited capabilities;
"Russia will gradually become increasingly aware of the limits of its capabilities and, therefore, will strive to use increasingly softer invasion tools, such as special forces and agents, whose participation in the actions it will deny.
- The most successful operations will require cooperation from the nation, against which the aggression unfolds, or will be developed very carefully, in order to lead to minimal international outrage;
- NATO is often in great difficulty, being in search of an adequate response to interventions, especially given the fact that Moscow will ensure that all interventions do not look like a direct attack. Russia will also act swiftly in order to fix the status quo convenient to it, and to do so before the alliance comes to a decision.
"Most invasions will only lead to short-term benefits for Russia, and ultimately lead to what they will create as an unpredictable and dangerous neighbor. At best, they will only postpone the inevitable processes, such as the departure from Russian hegemony in Eurasia and the growing influence of China;
- Russia's desire to conduct external intervention also creates dangerous precedents. In particular, rising China, whose political support or at least non-interference Moscow will often count on, will be able to use similar methods and rationales in the future with respect to zones of influence or the interests of Russia itself.