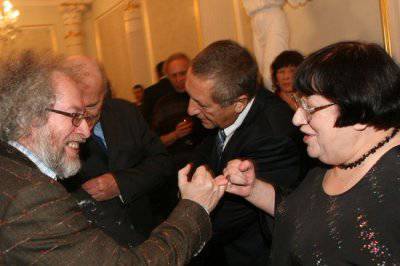 ... We from 90-s got used to the fact that Jewish organizations and the capital intelligentsia as a class follow professional fascism. And these organizations and the class, as the most affected by the world's brown contagion, are the most sensitive in recognizing this very fascism in taste, smell and color, watch out, eyes not closing.
Well, for example, Hitler gives them an example. You open blogs in the morning, and there are a lot of "we see Hitler"! Well, of course, no particular Hitler was there, but we are used to it, we understand that this is a consequence of the inescapable gravity of such a moral burden.
In general, Jewish organizations and the intelligentsia as a whole are sort of Capitoline geese, and we are used to it. Similarly, this is the case in the whole world. Or in large parts of it.
But we are also used to the fact that the intelligentsia finds the most evil fascists in the world, of course, here in Russia, mainly in the Russian people.
It was enough for a drunken idiot from some Butov, stupid Vanka, to lift up his hand with a cry of "Slavarossii!", As they attacked him immediately and in a crowd, from different sides: Shrieked Kasparov shrill and squealed and pierced this Vanka with an umbrella Alla Gerber, groaning , getting up on all fours, biting him for caviar Rubinstein and Faibisovich, he was being thrown at ritual Kameniuky with all sorts of owl and holocaust funds, according to him, this stupid Vanka, ahejakala heavy artillery of members of creative unions, his basilashvili all dull rdye Kvasha and grunting, poured from his deathbed sprinkled with dandruff martyrs of the gulag.
And what was going on in the network! With what a victorious howl drenched this abominable shortage in Toronto and Brighton Beach, with what a fierce song they beat up a cloakroom in Haifa and our people, abandoned by their fate to distant lands, beat him in Stuttgart! Similarly, Eichmann himself was caught the second time!
And I tell you, this is good! Revise is better than overlook. And this Vanek will know what you can do and what not. Or even pluck tie, which is important! And we will all be calmer. And thanks for the vigilance!
And then the thunder rumbles. In the neighboring country, our former republic, suddenly there is a shaped uprising. And on our screens, the so-called blue ones, we see how a clearly constructed crowd, striking a step, goes with torches, scattering sparks, with twisted faces, bellowing something like "Bandera come, put things in order". We see how there, in Ukraine, with enthusiasm and ecstasy "ziguyut", not jokingly, not drunk, not somehow, but to their full height, with pride and joy, boldly and openly, so that no one in Russia and I never dreamed, and Vanek did not see that Butovsky even in the cinema. See posters! Oh, these posters! And swastikas in all forms. And the calls oh-oh-oh what! And thrash people started with might and main! And already send calls to grab the kids, hands on his feet - and away from Kiev!
And in Russia - how are our ideological anti-fascists on a solid salary or not? Alas! None of these fiery people, patented fighters, outstanding anti-pogromists, spiritual children of the whole European humanism, those who, due to the declared presence of some mysterious and magical "gland of conscience", are capable of almost clairvoyance, honorable "Holokostnik" and "gulzhnik" spat. All were silent, as if "they got dollars in their mouths".
In addition to those who openly and publicly expressed all this their approval and expressed all kinds of respects. For example, the so-called rally came out on the "anti-war". Given that Russia is not going to conduct any war, the rally was simply an expression of Respect to the Maidan and its strike force — the champions of Ukrainian ethnocracy.
How to call that meeting? Where did the Moscow liberal intelligentsia, a significant part of which was represented by people falling under the Israeli "Law of Return", gathered, and they had noticeable, in addition to the "ordinary" Ukrainian yellow-Ukrainian flags, the "ensigns" of the UNA-UNSO and other flags flying over positions of Ukrainian collaborators, allies of Germany, during the Second World War? The very collaborators whose hands were for the most part exterminated the numerous Jewish population of Ukraine during the war?
What is the rally called? The question is not idle! "Mice for the cat"? Or, for example, "Rabbits for the boa"? I looked at the crowd that flowed along the boulevard, the concentration of familiar faces in which was high to indecency, and I thought at last our opposition movement appeared in a chemically pure form, without all the Russian nationalists that flashed on Bolotnaya. A whole march of sad eyes and bluish cheeks.
Note: it was not the Jews who marched there, but a special social caste, albeit largely mixed up on the Jewish substrate. "Moscow intelligentsia" is called. Among those Jews who do not belong to this caste, the reverse movement is gaining momentum - I observe how a rapprochement of Jewish intellectuals of various views is taking place on blogs. Secular and religious, right and left, assimilated and observant Jewish bloggers - from Avigdor Eskin to Mikhail Osherov - show a similar attitude to Ukrainian events, drawing closer to the point of unconditional condemnation of any manifestations of fascism.
But the caste "Moscow intelligentsia" is not involved in this movement. She is not interested in fighting fascism at all. It is not even interesting for her to fight for Jewish relatives. It is interesting to fight with Russia.
Interestingly, just shortly before, Hamas fighters from Gaza fired missiles at Israeli territory, but this didn't bring a single person to the streets. Is this a topic for protest? There is a need to protest against the attempts of the Russian people to unite or against the inevitable desire of the Russians to avoid the power of the aggressive nationalists who seized power in Kiev!
Of course, there are no other goals. Otherwise (if you start seriously fighting against any fascism, for example), the class of Moscow artists-writers-directors-photographers-psychologists-performers of the author's song will take and exclude you from their ranks. And there, you see, and with the work the problems will begin.
That is scary, much worse than some fascists, and even in another country ...