In recent years, many reviews have been published on individual Scandinavian countries. In this article, we will look at defense innovations from countries in the Nordic region.
The significance of this northern region is determined by the huge number of defense solutions developed and produced in one of the most sparsely populated areas, which, nevertheless, is the world's largest developer and exporter of defense solutions.
When studying several areas of innovation (from ammunition to world-class test sites), operational reliability, economic efficiency, ergonomics, adaptability and modularity of all new solutions from this region immediately attract attention, which makes the "Scandinavian proposal" the simplest and most meaningful choice. There is a reasonable explanation for everything here, be it a bolt of a special shape, be it a seat of a special design.
All products and solutions from this region are aimed solely at fulfilling important and necessary tasks. Nothing redundant in everything.
Like the Scandinavians themselves, everything they develop is often elegant, cost-effective, intricate, but nevertheless user-friendly, and works in harmony with the mechanical, technical or natural environment and environment. This is the key to success, which most of the rest of the world should still understand.
Scandinavian "Super Companies"
Before you pay attention to the countless innovative firms in Northern Europe, you need to briefly talk about the two largest companies in the region: Kongsberg Gruppen and Saab Group. So, we will take a snapshot of each, to show their innovative solutions and the greatest experience and knowledge.
Saab Group (Saab short for Svenska Aeroplan AB - Swedish
aviation
limited liability company) was founded in 1937 with the aim of producing a local fighter to protect the country in difficult times before the Second World War. Later, Saab was divided into several industrial areas. The Saab Group has five business areas (aviation, defense, electronic systems, security solutions [SDS], and service) that promote innovation in six regional markets (Asia Pacific, India, Europe, the Middle East and Africa, both Americas), contributing to a significant increase in long-term and short-term sales.
Aviation direction offers aviation and related subsystems, unmanned systems and components for aircraft. Aviation business is responsible for the construction of aircraft JAS 39 GRIPEN, SKELDAR, as well as assemblies and parts for Airbus, Boeing and NH90.
Dynamics Defense is an intriguing group because it offers ground weapons, rocket systems, torpedoes, sensor systems, uninhabited underwater vehicles, and signature management systems (unmasking signs). This group includes Saab Underwater Systems, Saab Barracuda (camouflage and signature management) and the newly acquired ceramic armor company Protaurius. The proposed short-range weapons include CARL GUSTAF, NLAW, AT4 / AT4 CS, STRIX and MBT LAW systems. The RBS 70NG, RBS 23 and RBS 15 rocket systems are also offered. Dynamics produces systems not only for the military, but also for civilian security.
Electronic Defense Systems manufactures airborne, ground and shipborne radars, including ERI-EYE, ARTHUR and GIRAFFE, deployed around the world. As part of this business line, various self-defense systems are also offered: false target dropping systems, sensors, jammers, and various aviation electronic equipment.
SDS security business develops systems in the defense and civilian security sectors. It offers early warning radar systems and combat information and control systems, TACTICALL, a fully integrated multi-band / multi-format programmable communication system; 9LV and 9LAND SOLDIER sPAD systems (pictured below), as well as the TRACKFIRE combat module. This business structure also includes the training and modeling division of Saab Training and Simulation, which successfully competes and defeats US companies on their own territory.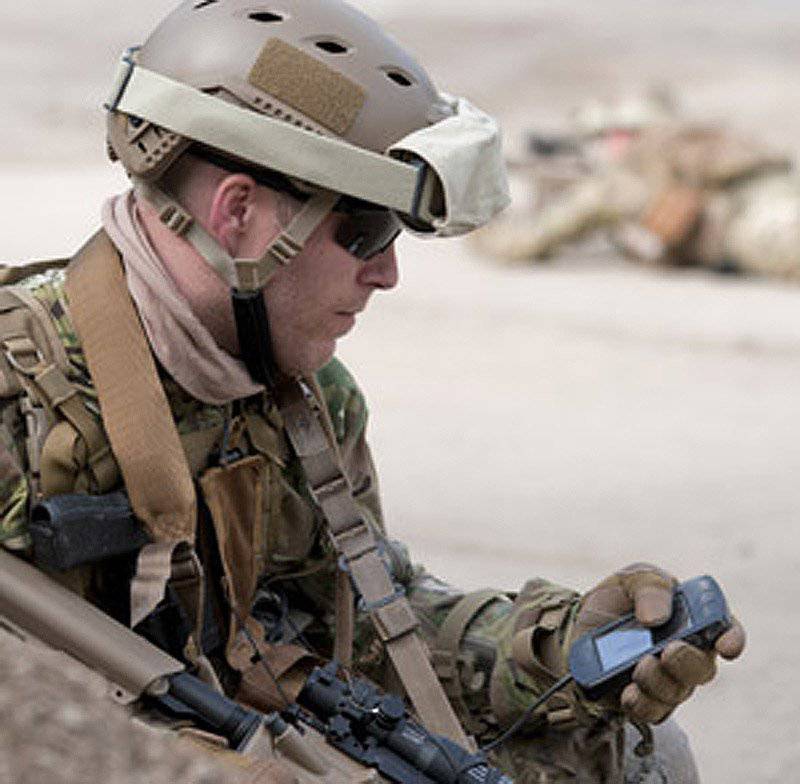 Saab 9Land Soldier sPAD
The direction of provision and service is probably the most mysterious, but perhaps the most omnipresent sphere within the whole industrial group. It offers integrated support services and solutions, field equipment (food, medicine, etc.), logistics and even regional aviation services.
The industrial group Kongsberg Gruppen dates back to 1624. The group is divided into four main areas: Defense Systems, Protech Systems, Oil & Gas Technologies and Maritime. Like Saab, Kongsberg has offices and manufacturing facilities around the world, which successfully enter markets that are closed to companies from other countries, thanks to its vast experience.
Defense Systems (defense systems) produces an impressive number of systems, which include missiles and solutions for operational control, arming, observation, training, communications.
Destination Protech Systems releases popular remote-controlled combat modules. Company modules are the most widely distributed in the world and are often considered among professionals as the most replicable of their kind.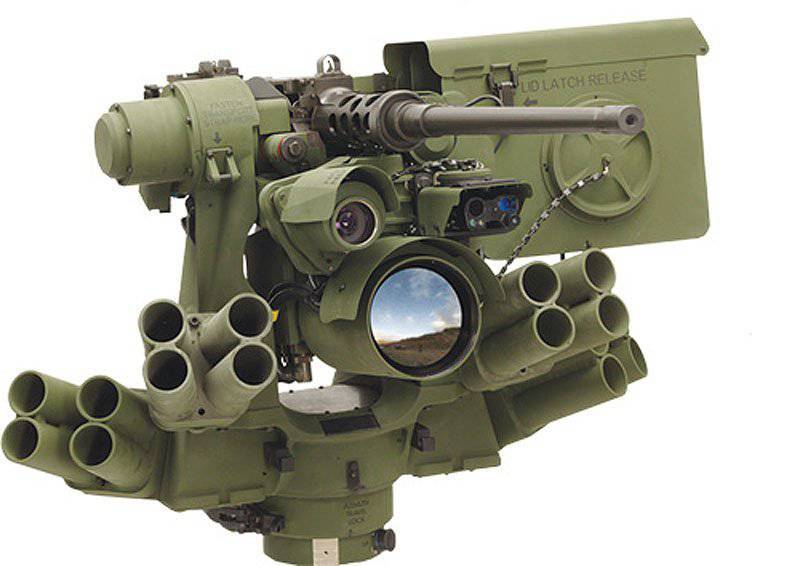 Kongsberg M151 PROTECTOR Battle Module
Video description of the PROTECTOR combat module with three additional non-lethal systems with my subtitles
Maritime (sea direction) offers radar, communications equipment, torpedoes, bridges, UAVs and ready-made underwater robots, such as HUGIN, REMUS and SEAGLIDER. In the recent joint naval exercises of underwater robots in the Gulf of Aden, almost all participants used Kongsberg submersibles. This division produces a very successful underwater system of the Kongsberg Maritime Camera System, which set the gold standard in surface and underwater photography for defense, rescue, security and coastal applications, for example, OE14-522 HD PATZ . Maritime's business direction has a developed user culture as part of its long-term after-sales service strategy.
Fire at will
At the top of the list is the Norwegian company DSG, which developed and put on stream production of the once mythical supercavity bullet. When firing from a ship at a torpedo or a swimmer's means of delivery, firing from under the water by naval special forces at an underwater or surface target, these DSG bullets hit their target with unsurpassed speed and accuracy. Some in the ranks of special forces consider it a revolutionary innovation, such as a saddle for cavalry.
A long-time manufacturer of bullets and artillery weapons, Nammo is not only widely known for its lead-free bullets, missiles, smart mortar shots, projectile explosives and unguided rockets, but it is also a leader among other organizations in decommissioning and disposing of ammunition and artillery systems. With its own production facilities in Norway, Sweden and Germany, Nammo can safely decommission ammunition and artillery systems from its modern factories that surpass any existing conventions and standards. Nammo is owned by the Norwegian state and Finnish Patria, which is more than 70% owned by the Finnish government, which makes it a very unique organization.
A few years ago, Patria developed the NEMO mortar for ground systems and speedboats. The almost postmodern form of the design with low signatures makes it very recognizable, and its accuracy and fire power make it formidable.
weapons
.
BAE Bofors is famous for its artillery systems, such as the ARCHER, which leaves no chance to its competitors like any howitzer of this type, while the 40 Mark 4 model is a ship gun with incomparable parameters. There are other, larger and faster-rate weapons systems on the market, but no one can beat the caliber and "ferocity" (speed, accuracy and distance) of the 40-mm Mark 4 gun, which is popular all over the world, including Southeast Asia and Latin America.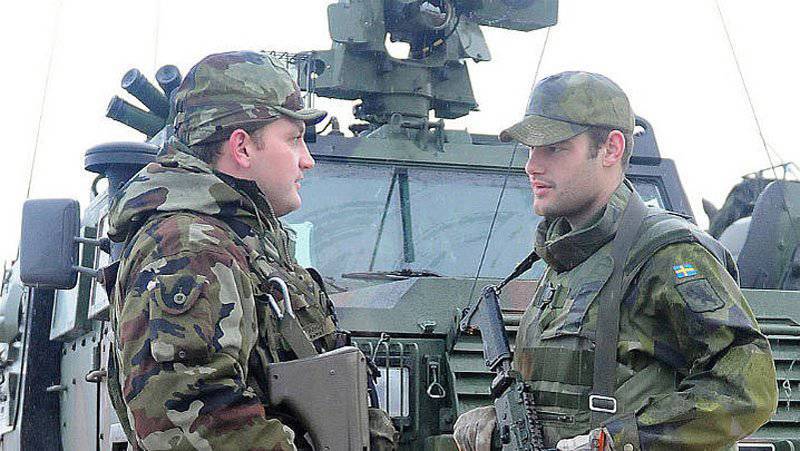 Nordic Battlegroup (NBG) is one of the 18 combat groupings of the European Union. It consists of approximately 2200 soldiers, including officers, personnel have identified six participating countries (Sweden, Finland, Norway, Ireland, Estonia and Latvia). Denmark refused to participate in all military formations. But Norway has agreed on its participation, although it is not a member of the European Union
Now can you hear me ...?
Elektrobit (EB) is known in many markets in two areas. These are excellent means of communication for vehicles and military means of communication. The Tactical Wireless IP Network from EB has proven itself well in real conditions. This network is modular, flexible and very fast, quickly and without delays organizes the exchange of information (voice and information packets) between field operational and command centers, which makes it possible to make well-thought-out and optimal solutions for successfully completing combat missions, especially when using cognitive radio technologies in military means of communication.
Invisio offers what is arguably one of the best personal communications for armed personnel, from naval commandos to a foot soldier in patrol. Invisio has successfully developed and is promoting microphone headsets with so-called maxillary conduction. She recently released the long-awaited communication system INVISIO V60. V60 is the newest, smallest and lightest radio device in the line, connecting a soldier with his squad, company and high command through short-wave and ultra-short wave and half-duplex communication. Presented almost a year ago, V60, along with the famous X5 earphone, is in great demand in Europe and Asia, and the demand for it is also growing in both Americas. Invisio has recently signed a multi-million dollar contract with the US Army.
Teleanalys company deals exclusively with secure communications. Its MINICOM-IP wireless intercom system uses the latest W-LAN networking technology to create a flexible and simple, fully duplex communication system for transmitting information and voice data. Each portable unit is automatically registered in a predetermined network and is connected by a modular principle with all other devices within the same network.
Coyot Oy and Comrod are unique companies that produce antennas and masts in the UHF, HF and VHF ranges for vehicles, ships and personnel. By coincidence, these masts can work as mufflers of improvised explosive devices, while simultaneously providing protection and communications for deployed troops.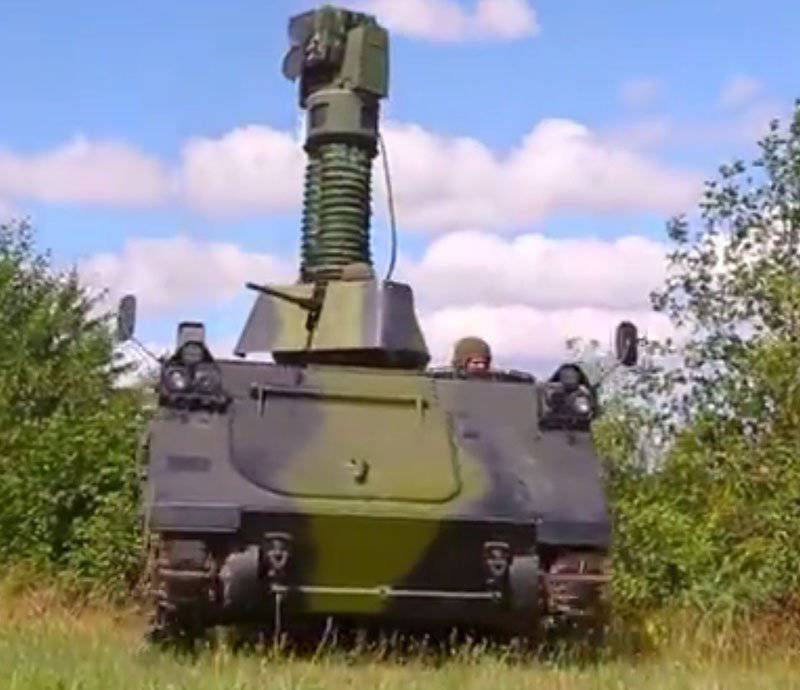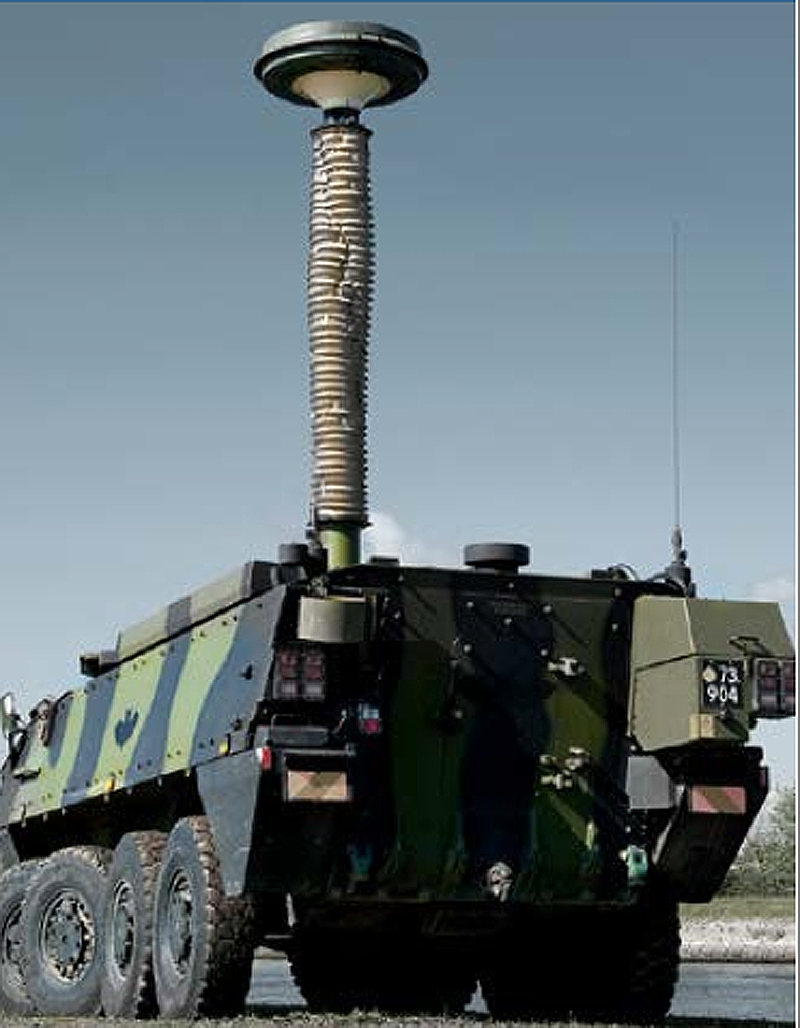 Falck-Schmidt Defense Systems develops the lightest and most durable composite masts for light (communication) and hard working conditions (TOW anti-tank missiles)
Video presentation of telescopic masts for combat vehicles from the Danish company Falck Schmidt Defense Systems with my subtitles
Falck-Schmidt Defense Systems (F-SDS) has several "arrows in its quiver." It produces the lightest and most durable masts made of composite materials for light (communication) and harsh conditions (TOW anti-tank missiles), which can remain fully extended even if the car travels at high speed. But the F-SDS innovations don't end here. In addition to its ultra-light and durable composite masts, it has in its portfolio solutions with low signatures for power supply from an external source, which run on the same fuel as the base machine. For the US market, it launches a mobile rocket launcher under the comic name "Wand in a box", located in a typical transport container. The container is armored and has a cooling system, it houses the operator's control panel and the rocket itself. In full combat readiness, it resembles a very large "Stick in the Box", hence its nickname.
Have you been served?
The market for maintenance, repair and operation is the fastest growing and sustainable sector in the defense sector. Since few states can afford to replace obsolete weapons, maintenance, repair, and modernization services are becoming increasingly relevant, profitable, popular, and innovative throughout their life cycle. In addition to Saab Services, Kongsberg, Millog and Patria, other companies are emerging on the market, such as Euromaint. Almost every company in Scandinavia has its own maintenance and service department, which can provide up to 60 percent of annual turnover. Patria, owned by the Finnish state (73,2%) and EADS (26,8%), is known not only for its armored wheeled vehicles, mortar systems and ammunition, but also no less successful services to support the life cycle of products in the field of defense, security and aviation . However, it is very successful in organizing and conducting the first training program for Russian civil pilots (and not only in Russia).
Also part of the services "logistics management - maintenance and repair - product life cycle management" is testing, optimization and determining suitability. Companies such as DA Design offer cost-effective ways to enhance systems with new solutions or to replace and modernize existing systems with modern electronics, which the company calls "solutions of the seventh sense". This means the detection and exchange of information in the air, on the ground or under water using radio waves, magnetic waves, pressure, acoustics, vibration, infrared waves and ultraviolet waves, or any combination of these methods.
Millog LISA - hawk sight for the soldier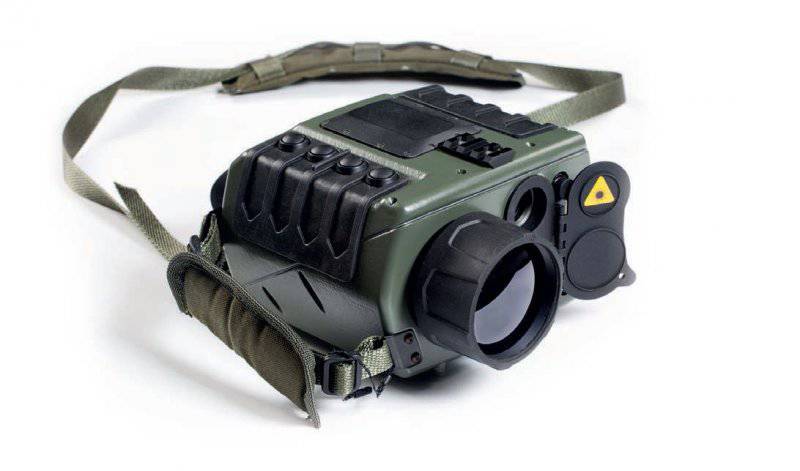 Millog LISA can be easily modified for various applications. It can also be connected to various combat and command systems, either by cable or wirelessly. In addition to its role as a transmitter of coordinates and location information, Millog LISA can operate as a receiving terminal.
Combat situations and tasks are changing rapidly. Observation carried out under the most difficult conditions must be accurate and reliable. In order to act in battle, a modern soldier needs an assistive device that will not let him down.
Millog LISA is a 24-hour sensory target detection device that is ideal for surveillance applications. The device has a direct channel for daytime conditions, an uncooled thermal imaging camera, a laser range finder, a digital compass and a GPS receiver.
Lightweight and compact device fits well with the soldiers' equipment. Millog LISA combines various functions in a single system, thereby reducing the amount of equipment that a soldier carries.
The Millog LISA device is designed for different departments with different levels of training, it was originally designed with an emphasis on ease of use.
The Millog LISA device can operate for a long time on batteries. The direct daily channel does not need power supply. Other functions consume electricity only during operation. Therefore, the batteries work long enough and are small in size, which, again, facilitates the equipment of the soldier. Millog LISA can be supplied with different types of batteries, which helps to use existing batteries and chargers.
Millog LISA is a robust device. Created and manufactured in Finland, this device was tested in extreme conditions in the Arctic, where magnetic disturbances, winter frosts, snow and ice are a good test for electronic devices. If the device could survive in the North, it could survive everywhere.
However, the most important characteristic of a fire control device is its accuracy. Millog LISA meets the most stringent requirements of the battlefield. The device is able to accurately measure the location of the target at a distance of 6 km regardless of its global location.
Millog has 70 years of experience creating and manufacturing high-quality optical devices. It is the largest manufacturer of night vision devices in Northern Europe. Millog first unveiled its new LISA device at DSEi 2013.
I spy on my little eye ...
No doubt Saab Barracuda is one of the main players when it comes to camouflage personnel and vehicles. With the introduction of the BAE System's ADAPTIV camouflage system to the market, new signature management capabilities have emerged through digital methods that mislead the best infrared sensors and surveillance systems. Polyamp is a leader in degaussing technology and has an unreleased list of customers, which makes larger companies bite their elbows with envy. Polyamp demagnetizing technology reduces the magnetic signatures of steel hulls of vessels to such a level that it becomes possible to use them in mine clearance operations.
A small company Optec works in the opposite area of ​​technology, which instead of "not to be seen" allows you to "see." It creates new technologies in the field of optoelectronics for intelligence and surveillance, including the repair and maintenance of equipment. As a system supplier, the company also specializes in the repair of lasers, telescopes and rare measuring equipment. She has extensive experience and knowledge in areas such as geodetic, optoelectronic and optical instruments.
Millog is part of the Patria group and specializes in two main areas: services and optoelectronics. Millog is Northern Europe's largest manufacturer of optoelectronics and night vision devices, which include a variety of products, from prototypes to mass production, from individual components to complete night vision devices. The company showed a new LISA target detection and reconnaissance device at DSEi. It is a lightweight, durable, accurate instrument with a simple interface, low power consumption and the ability to connect to other control systems, which has built-in GPS and wireless connectivity and other advantages.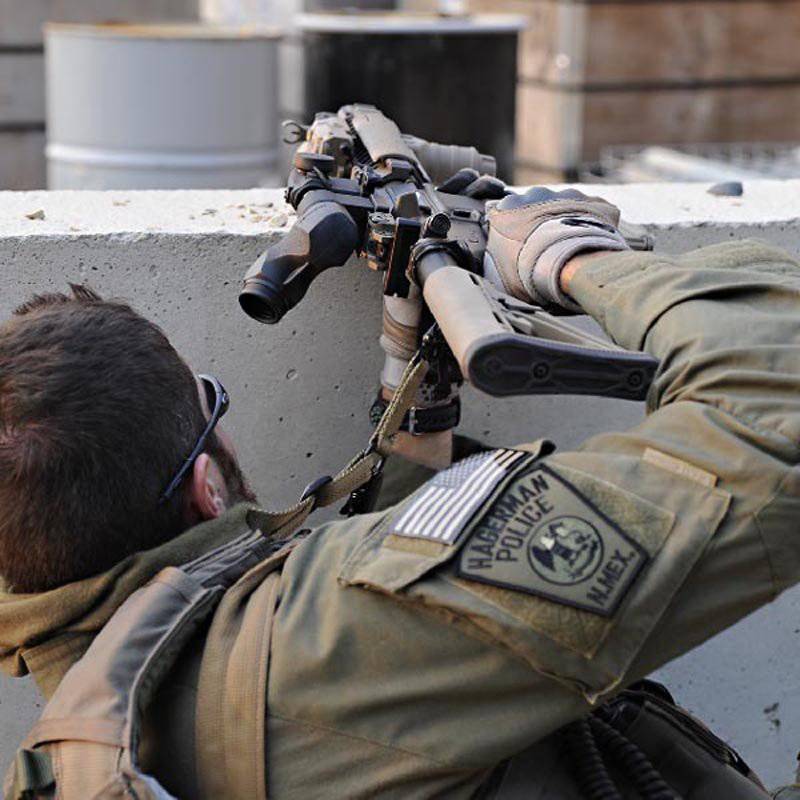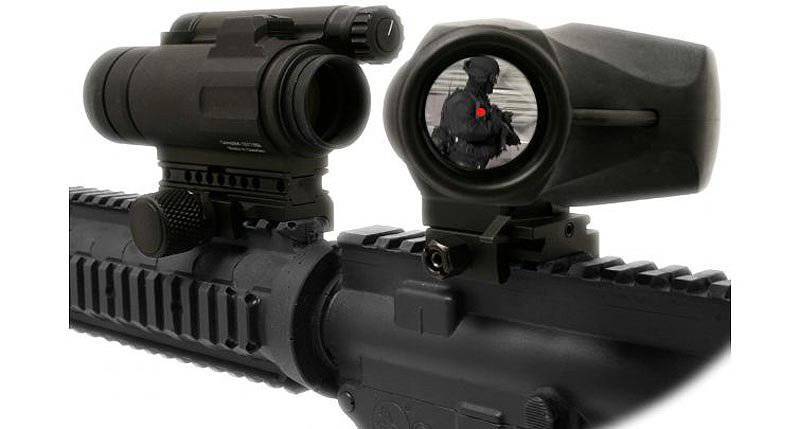 The Aimpoint CEU (Concealed Engagement Unit - a defeat device from a closed position) gives the shooter the opportunity to observe and / or destroy threats from a disguised or hidden position.
Aimpoint is the world leader in collimator optical devices for civil, police and military. The most popular model CompM2 is currently used by many armies in the world. Its advantage over laser sights is that it provides the shooter with excellent accuracy without the possibility of detection by the enemy. Aimpoint was founded in 1974 and its main products are mirror sights, especially collimator sights. Currently, it offers many families of products based on this technology, as well as additional devices, including a collimator sight for anti-tank weapons. Aimpoint received the first multi-year contract for a collimator sighting system in 1997, when the US Army bought its Aimpoint CompM2 device under the designation "M68 Close Combat Optic", which demonstrated the company's ability to penetrate and receive the favor of one of the most "closed" markets, which is a recognition of the demand company products.
Optec AS is a system supplier of surveillance and topography equipment, such as surveying, optronic and optical instruments. Of the company's products can be noted PECTEN EYECAM, which is suitable for most large binoculars and optical tubes. It allows the user to observe and simultaneously record information, transmit observation data as part of intelligence and information operations. The company also developed an adjustable tripod for marine binoculars, including the Fujinin Giant Binoculars.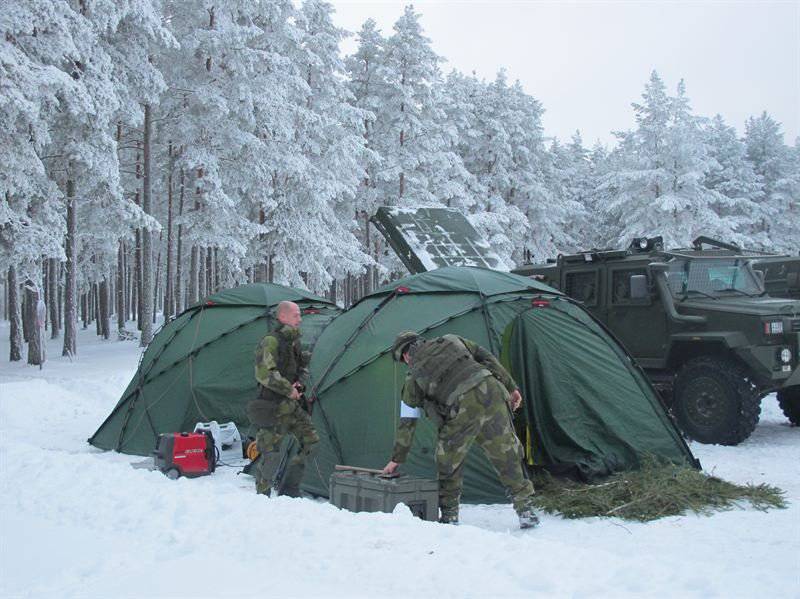 Surgical tent from Saab Services
To be continued