Sudanese President Omar al-Bashir said that all further contracts for the procurement of the Air Force will include an item on the maintenance, overhaul and overhaul of the state-owned Safat Aviation Group.
This statement, according to the Sudan Tribune, was made after Al-Bashir confirmed following the March 23 Cabinet meeting that the Ukrainian company Antonov had expressed a desire to create its official repair center in the Al-Safat industrial complex.
Currently, Safat Aviation Group carries out simple maintenance of some types of Antonov aircraft, including An-2, An-24, An-26, An-30, An-32 and An-74.
The above statement was made a year after Sudan expressed interest in purchasing a regional passenger liner An 148 / 158.
Established in 2005 year to assist the country's air force, the Safat Aviation Group was expanded in 2009 year to assemble, manufacture, develop and maintain various types of aircraft, including the K-8 Karakorum.
As one of the largest African countries with poorly developed ground infrastructure, Sudan relies on air transport as the key to the country's further development. Given the many economic and military sanctions that have adversely affected the country's defense and aerospace sector over the past 25 years, the creation of its own maintenance, manufacturing and repair facilities has been an extremely important step towards ensuring the reliability of aircraft in this region. In addition, Safat Aviation builds Russian, Ukrainian and Yugoslav helicopters and airplanes.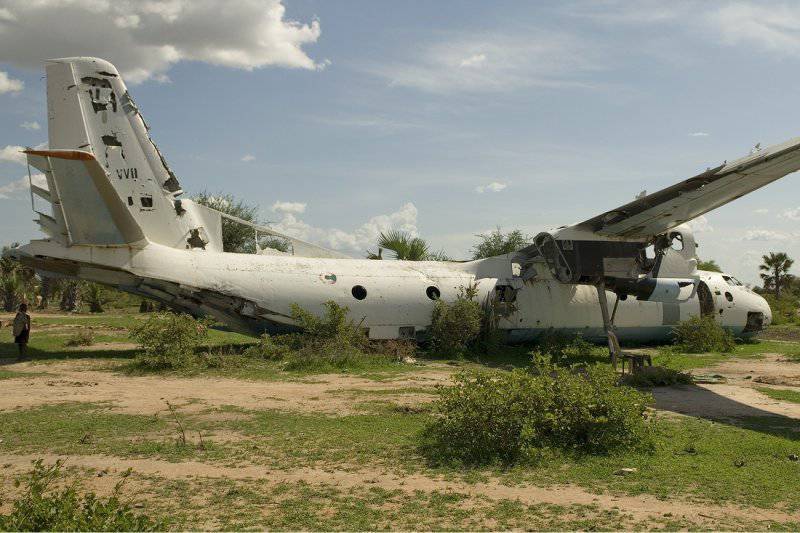 Who made a forced landing shot down by the rebels of South Sudan An-26 Air Force Sudan. Melting Tarmac Images | airliners.net
Changes in procurement rules for the Sudanese Air Force may also indicate a desire to weaken the influence of Chinese, Iranian, Russian and Ukrainian manufacturers, who have benefited from the sanctions imposed by Western countries. To date, the Sudanese Air Force has been operating several models of Antonov, Sukhoi and HAIC airplanes, as well as Mil Milano OKB helicopters.
By ensuring that some after-sales work will be handed over to a local company, Sudan is trying to protect itself from drawing the country into unreasonable or excessively expensive aircraft purchases. The UN and a number of countries, meanwhile, continue to maintain the embargo imposed against Sudan.
Al-Bashir, in addition to the statement on changing the procurement rules for the Air Force, stressed the importance of developing its own defense industry. The Sudan State Defense Industrial Corporation (Military Industry Corporation) is now engaged in the licensed assembly of several types of armored personnel carriers, the production of
weapons
and ammunition.