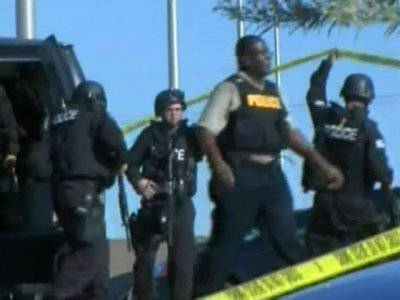 Four people were killed and, at least, 14 was injured in the shooting at the Fort Hood US Army Base. As it turned out, the fire opened a certain Ivan Lopez, a veteran of hostilities in Iraq. According to the commanders, he was diagnosed with post-traumatic stress. It was not possible to detain the assailant - he committed suicide.
Four people were killed and at least 14 was injured in the shooting at the Fort Hood Army Base in Texas. The incident itself is not related to terrorism, but was the result of a domestic quarrel. This is the official point of view voiced by representatives of the Ministry of Homeland Security.
The name of the shooter is already known, this is 34-year-old Ivan Lopez. His military rank is a specialist in the US Army, which is equivalent to a corporal. His colleagues Lopez shot from a personal
weapons
Colt pistol, then committed suicide. The base command reported that Lopez was a war veteran who suffered from "post-traumatic stress disorder" and was seen by a psychiatrist. Four of the victims are in serious condition, they receive emergency medical care.
According to the command of the military base, four of the victims are in serious condition, they are receiving urgent medical assistance. Scott & White's senior physician, Glenn Coachman, said: "We have four admissions now and two more are expected. They received gunshot wounds to the abdomen, chest and neck. We have operating theaters ready to operate immediately."
Currently, special forces of the FBI, the police and the Department of Homeland Security are working at the scene. The base itself is completely blocked, it is recommended to everyone in its territory not to leave the premises. Police representatives believe that Ivan Lopez acted alone, but the special forces officers were combing the territory of the base in search of possible accomplices.
The incident was informed by US Secretary of Defense Chuck Hagel, as well as President Barack Obama. The head of the US administration has already made an official statement: "At the moment, experts are investigating the circumstances of the incident. I want to assure everyone that we will definitely find out the reasons for what happened. Any shooting incident is a tragedy. Naturally, this incident causes sad events five years ago in Fort Hood. Now all our thoughts are about the families of the victims. We pray that they can survive this tragedy. "
The events of five years ago, which Barack Obama mentioned - one of the most notorious shooting incidents at military bases, which also happened in Fort Hood. In November 2009, an army psychiatrist, Major Nidal Hassan killed 13 and injured more than 30 people. Last year he was sentenced to death. Now the convict is in prison.