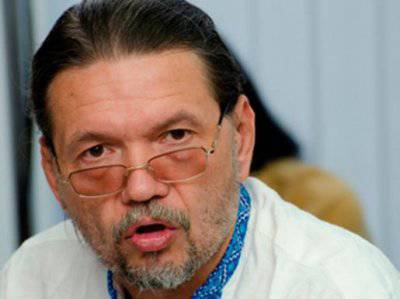 I can not understand why such intellectual giants as
Alexander Briginets or Yury Lutsenko
have not nominated themselves presidential candidates. I would, for example, specifically vote for Mr Brigints. There would be a precedent - an alternatively gifted person at the head of the state. One has only to read the real pearls of thought, which he almost every day expresses everywhere - from his Facebook page to all sorts of interviews.
"All illegal formations in Ukraine that refuse to fold
weapon
- they work for the president of Russia Vladimir Putin and in case of resistance they will be shot ...
If these are armed formations ... then, of course, they will communicate with them with force. Armed groups like "green men" in one form or another should be disarmed. Previously, this was not done, but now it will be done. If they do not comply with the laws of Ukraine, then they work for Putin. And if they resist, they will be shot. Criminals who break the law must surrender their weapons. If they do not, they will be destroyed, "he said today.
Well, right, Alexander. It would have been better, of course, if they did not take arms at all and did not turn the country into Ruin - according to the old Ukrainian custom, working for Putin. Or so that our compassionate president will decide with them
Victor Yanukovich,
who also worked for Putin, and who, it turns out, was sorry to shed blood on the Maidan. Therefore, we all will soon shed streams of tears, watching the swarming of the interim government, whose organizational, professional and moral qualities are an order of magnitude worse than even the similar indicators of the guards of the runaway president.
But no, Pan Brygintsi at that time would not be happy with the disarmament of illegal green men. And today they have already fulfilled their function and are preventing the Ukrainian people from absorbing civilizational values, and in the West not only ordinary people, but also many politicians are frankly expressing their perplexity with this magnificence of the Ukrainian "revolution." It's time for Brigintsa to see his sight.
The brigine is generally versatile gifted. Today, he still managed to appeal to the Prosecutor General's Office with a request to check the legality of the construction of the "Yanukovich Heliport" on the slopes of the Dnieper.
"I have already addressed the Prosecutor General's Office with a similar appeal, but it is clear that the prosecutor's office, which worked in the interests of the owner, is one thing, and the current prosecutor's office is quite another. Although it was clear to everyone from the very beginning that the construction was illegal. "Yanukovich's heliport is still standing", until that time, the Yanukovych's dictatorship continues. Therefore, the authorities must force the owner to dismantle the illegal construction, "the thoughtful MP ​​said.
I think that the heliport is also working for Putin.
Do not dwell on the already known achievements of the Maidan. In general, everything that was built by the bloody dictator Yanukovych, sir Briginets should be done. Starting with EURO-2012 objects and ending with the started construction projects for the Eurobasket 2015. It would be possible to go further, destroying everything that was built under the communists, to all appearances, the turn will come soon.
Also, Alexander Briginets is well versed in geopolitics. This is not to take away from him. He believes that allowing foreign troops to remain on the territory of Ukraine, which has adopted parliament, is able to defuse the situation in Ukraine by means of a small local conflict such as the Third World War.
"In fact, this is a very important decision, because it means that now NATO troops, like other Western countries, can come to Ukraine and deploy their military bases here. Moreover, given that foreign military will arrive in Ukraine with their weapons , they will be able to allow their Ukrainian colleagues to use it. Give it to us for rent. We'll shoot a little of this weapon on the metric area, and then give it back, "this is the only way Ukrainian patriot, you see, gentlemen.
As you know, a professional patriot should always have an empty head, a big heart like a pigeon's heart and tongue, like a bazaar woman selling seeds at a bus station in a district center. Pan Briginets amazingly fits this standard.
The politician Yury Vitalyevich Lutsenko is about the same level. He finally understood why there are such colossal problems with the protection of order in Ukraine, and considers it necessary to reform the police into the police, as well as borrow characters from Hollywood films. And everything will be right away.
"Without new staff to require
Avakova
a miracle is not worth it. There must be an inspector, a detective and a sheriff, and without any titles, "said the former Interior Minister, who promised to reform the police in February 2005, and didn't do anything in that regard for almost five years of his tenure. .
The sheriff is certainly wonderful, especially for the Ukrainian hinterland. It is necessary only to call the district sheriff, and the criminals will immediately scatter.
"Perhaps the first year or two will be less professionalism, but professionalism can be learned, morality - never," says Pan Lutsenko.
Oh yeah. Morality is now so much that there is no place to store. Especially if we recruit to the police (police) those very people whom Avakov or those who made Molotov cocktails yesterday and threw them at Berkut officers or soldiers of the Internal Troops cannot disarm them. After all, it was precisely from them that the so-called National Guard was recruited today, whose tactical exercises have already managed to acquire legends.
In general, it is worth noting that the violent insanity in Ukrainian politics has flourished in abundant color, in quality it has already surpassed the enchanting results of the intellectual assault of famous African reformers, but we are Ukrainians, and therefore we will go much further than these achievements.
Watching the priests Brygintsy and Lutsenko, I personally do not doubt it.