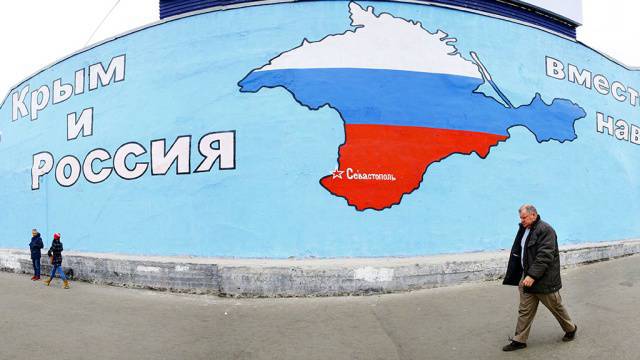 The accession of the Crimea. Advantages and disadvantages…
Pros. We have forever closed the topic of a military base in Sevastopol. The overwhelming majority of the population of the Crimea with shouts of "Hurray" and throwing their caps into the air turned out to be where all the 23 years of occupation wanted to be and where we all are. The whole world saw that Russia could not cope with
weapons
. You can not even start. We clearly saw who is a friend to Russia, who is an enemy, and who is a partner. Friend: Nicaragua. Enemies: Europe, USA, Japan, Australia, etc. These are precisely enemies, and there will be no peace for them until they destroy Russia.
Partners: China, India and a number of rather significant states. So say, regional powers. Found that there is no fraternal Ukrainian people. The people have something, but certainly not fraternal. There are a number of Ukrainians, not bad for Russia, but no more.
More pluses? And no. Delights from the sanctions and the joy of one thought that the Russian industry will begin to develop independently, ended. No serious sanctions, no development. And it would hardly be. We have no workers. Nobody hands to do. And those that are ... live their own.
The payment system of domestic production, according to Gref, can be ready in six months. But we know that in six months you can poher and larger projects.
Minuses. Oh ho ho!
The first. The whole world saw: Russians throw theirs. As always. How thrown Serbs 15 years ago. How did you betray yourself in 91? How left now Little Russia. March 2 President received permission in the event of a threat to the Russian troops in Ukraine. There is a threat, and already real, where are the troops? What if only there was no war? As in 1938 Chamberlain in Munich. We called it the betrayal of Czechoslovakia, and what is happening now? And this is WAR! The war with the Nazis, and there can be no compromise, as there was no them with Hitler in 1945.
The second one. Russia exchanged a military base for a powerful industrial center, for the ports of the Black Sea, at the Nikolaev shipyard, which will never build ships for the Black Sea
fleet
. We have lost 20 million friendly people. One can be comforted by the fact that they could be left without everything.
Third. The elite, no matter what patriotic slogans they hide behind, easily betray the people even under the mere threat of sanctions. The dollar is more important than dignity and honor!
Most of the countries and peoples of the former USSR and Eastern Europe hate us. Well, they can not love and respect the people who betrayed their country, betrayed himself.
Maybe I exaggerate? Then correct me!