1 of April, presidential candidate Yulia Tymoshenko gave a press conference at which she announced that she was not going to withdraw her candidacy in favor of Petro Poroshenko. A woman with a scythe said that she and her entire family already support Poroshenko enough to buy chocolates from his Roshen factory. At the same time, Tymoshenko noted (obviously, addressing her answer to Vitaly Klitschko, who, through the German press, suggested that the "gas princess" withdraw her candidacy in favor of a "candy" oligarch) that the choice of the president should be based on the decision and interests of the people, and not on backstage arrangements. Apparently, Tymoshenko in places not so remote, apparently, managed to forget about how she herself was in power (the Ukrainian people often had absolutely nothing to do with it) ...
In addition, Ms. Tymoshenko thought that if she stood on the captain's bridge of Ukraine, she would begin to eliminate Ukraine's dependence on Russia. Apparently, the election slogan will be "Eliminating dependence. Close the chakras. Without guarantees. You can pay by gas "...
As befits the earnestly Ukrainian candidate for the earnestly Ukrainian presidents, a woman who suddenly gets up from a wheelchair tries to instill confidence in every citizen of the country that Ukraine's fault is in all troubles of Ukraine ... no, not politicians in Kiev protecting only their own interests, but certain forces in Russia. This scathing election campaign trick, when it is declared that "a neighbor is to blame for all our troubles," has not been a decade, but there a decade - not a single century. As they say, you can't do something yourself - accuse your neighbor that he doesn't let you do it - you see, the people will take this one, forgive nonsense ...
What, in fact, dope? .. Judge for yourself.
From the press conference of Yulia Tymoshenko:
The time has come to take all steps to interrupt the entire system of Ukraine's dependence on the Russian Federation. It is precisely because Russia roughly uses all our ties in the gas, economic, humanitarian, legal, military spheres. To interrupt this dependence is our main strategic task.
Well, is it not Hochma? .. It turns out that Russia is using (and even roughly) Ukrainian connections in all areas ... And yet not a single person, unfortunately, asked the press conference of Yulia Vladimirovna what exactly (and whose personally) Russia uses Ukraine's ties, for example, in the economic or military spheres, with those debt billions that Kiev is not able to return to its creditors. Or hopeless debts - these are the "connections" that Tymoshenko is talking about. And "their rude use" in ordinary language (not in Tymoshenkovsky) is called appeals for debts to pay off ...
Apparently, such a question for those who were present at the "Tymoshenko's people" was tabooed so as not to embarrass a woman who unexpectedly quickly not only was released, but also got rid of the help of crutches and a wheelchair.
By the way, about "ties in the military sphere." Even before the press conference, Tymoshenko gave an interview to Neil Buckley from The Financial Times. In this interview, Yulia not only announced that she was going to fight the oligarchy in Ukraine (and this is said by a man whose condition, according to the most modest estimates of the American financial publications, is estimated at $ 800 million dollars; German publications talk about $ billion Bn ) the state of the candidate a- "unsympathetic" Tymoshenko), but also that the West needs to strengthen military cooperation with Kiev.
Yulia Tymoshenko:
I believe that a peaceful settlement of the conflict should have two sides. First: powerful financial sanctions against the Putin regime, but I think that today's series of sanctions is not enough. Second: the whole world should significantly strengthen the Armed Forces of Ukraine, not as a means for waging war, but as a factor of stability and deterrence.

I think that if Ukraine remains outside the systems of collective defense and security, it will remain a territory of instability, a territory of a potential military conflict on the European continent. It is very dangerous.
That is, the message from Yulia Tymoshenko is this - the West needs to urgently share material and military-technical means with the Ukrainian army in order to "show the fist of Russia." They say that some of the announced sanctions are not enough - you need to make a military scarecrow out of Ukraine, looking at which Putin should be scary ... How scary today is, I don't know, but it's ridiculous for sure.
The West, as you know, has already tried to support its Kiev "friends" in the military-technical sphere. True, instead of the requested weapons, equipment and ammunition, dry army rations were sent from Washington to Washington. The total number of dry rations - "military" aid from the United States - for the Ukrainian army was 330 thousands of units. If we take into account that the total number of the Armed Forces of Ukraine is about 165 thousand people, then it is easy to count for how long this "help" will be enough. If people are fed at least twice a day exclusively with these very dry rations (the stated caloric content of MRE (Meal, Ready-To-Eat) dry ration) is 1250 kcal - no more than 40% of the daily ration of the average fighter of the modern army) "Grub-help" of the Ukrainian army and that's enough.
But only now it turns out that not enough even for a day. Why? The fact is that as soon as the first boxes of dry rations from the United States of America began to arrive in Ukraine, several online stores with the domain ".ua" began to offer American dry snacks for sale in the public domain. Quickly, however, they got their bearings ...
This has already been reported on the "Military Review" with reference to the TV channel RT. A little more.
The average price for the American "soldering" (let's call it Tymoshenko's soldering, or Yatsenyuk's soldering ...) in the online stores of Ukraine is 10-11 US dollars). At the same time, the websites not only advertise the product, but also offer to study the food composition of each of the packs. For example, in one of the online stores (we will not give his address, in order not to create unnecessary advertising - we will give a few "screenshots") it is reported that the assortment contains all 24 types of American menu from suhpikes, and even reports about discounts ... Here are a couple menu:
Chicken with Thai sauce, boiled rice, jalapinho cheese, vegetable cracker, raisin-nut mix, coffee with vanilla aroma, hot sauce, sugar, milk powder, tea bags.
Spaghetti with spicy vegetables, cupcake, cheese, bread with vegetables, cocoa, coffee, sugar, powdered milk, red pepper, sweets.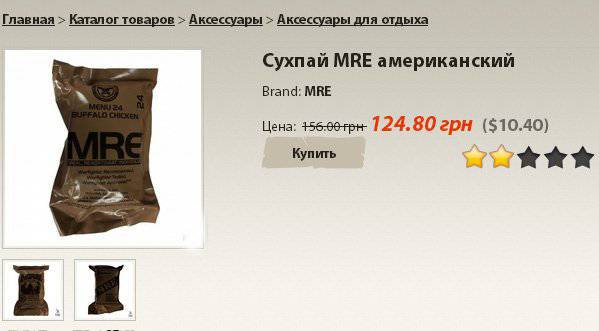 Hot sauces, spicy vegetables, red pepper - apparently, in order for the Ukrainian army to breathe fire on a potential enemy for lack of suitable military equipment ... But, judging by the brisk trade process, and the "fiery breath" the average Ukrainian fighters will not be provided with partners from NATO . Products from military warehouses go straight to retail online sales. And where the proceeds go from this sale is a separate question.
Interesting what's on site
Ministry of Defense of Ukraine
from 30 March, a note stating that "dry rations will soon be distributed over logistical support units" is "flaunting". As you can see, they distribute quickly ...
Maybe that is why the Western "partners" of Ukraine react rather coldly to the calls of the same Tymoshenko to help the Ukrainian Armed Forces in military-technical terms, to arm Ukraine. They will say: what else! - today you send a couple
tanks
at your own expense, and tomorrow these tanks "at a reasonable price" through "military logistics support" (read through online stores) will be in the personal garage of the next Ukrainian oligarch - his grandchildren will have fun).
Apparently, ladies and gentlemen, rushing to the Olympians of the Ukrainian authorities, were initially programmed to take everything that is not lying well. Gas - so gas, soldering - so soldering. And Yulia Vladimirovna is familiar with one and the other ...