28 March 2014 at the Admiralty Shipyards in St. Petersburg was removed from the workshop and launched the fourth large diesel-electric submarine of the 06361 project - HQ-185 Khanh Hoa (building number 01342) under construction for the Vietnam Navy. The boat was laid in workshop No. 12 "Admiralty Shipyards" 23 October 2012.
The construction contract for Vietnam for 2016, the year of six submarines of the 06361 project worth about 2 billion, was concluded by FSUE Rosoboronexport in December 2009 of the year. Taking into account the construction of infrastructure, supplies of weapons and other things, the total cost of work under this agreement reaches 4 billion dollars. As previously reported, the Admiralty Shipyards has completed the construction of the first three boats under this contract - HQ-182 Hà Nội (construction 01339 number), HQ-183 Ho Chi Minh (building number 01340) and HQ-184 Hai Phong (building number 01341), of which the first two have already been delivered to Vietnam, where the main boat Hà Nội officially entered the Vietnam Navy 15 January 2014 of the year.
The company is building two remaining boats for the Vietnamese
fleet
- HQ-186 Da Nang (building number 01343, laid down on July 1, 2013) and HQ-187 Ba Ria-Vung Tau (building number 01344, official laying is scheduled for 2014).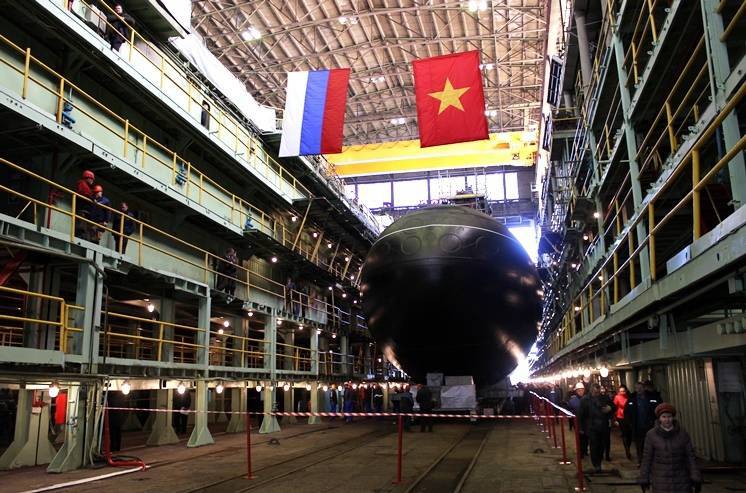 Decommissioning of the fourth large diesel-electric submarine HQ-185 Khanh Hoa of the 06361 project under construction for the Navy of Vietnam from the Admiralty Shipyards OJSC. St. Petersburg, 28.03.2014 (c) Sergey Kokov / www.shipsupply.ru