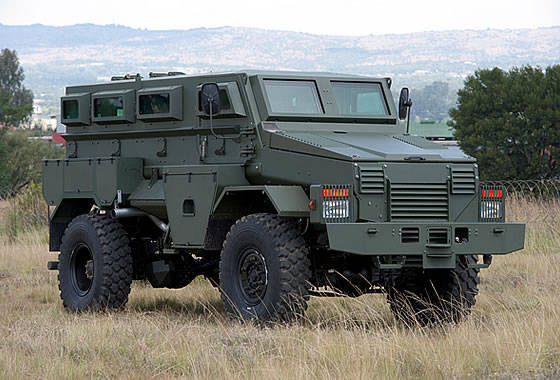 The American company Dincorp International and its partner OTT Technology Mozambique completed the assembly of 16 from 115 armored vehicles for use by the African Union peacekeeping forces in Mali.
OTT Technology Mozambique is a division of the South African company OTT Technology, which produces armored vehicles with enhanced protection from the M26 and M36 Puma mines, several other armored personnel carriers and military trucks.
According to the resource Defenseweb.co.za, 16 units. The M36 Puma 4x4 wheel formula was assembled at the plant in Matola (in the south of Mozambique) and delivered to the port of Maputo for shipment to Mali two weeks ago.
According to Ashley Burke, representative of Dincorp International, the vehicles were ordered by the US government for delivery to the UN peacekeeping forces in Mali.
Dincorp International has signed a contract worth $ 173 million with the US Department of State, which provides funds for the supply of new equipment under the AFRICAP program in Africa.
As part of an order under AFRICAP, Dincorp International is responsible for overseeing the production and delivery of 115 Puma M36 armored vehicles for the United Nations Multidisciplinary Integrated Stabilization Mission in Mali (MINUSMA). Most of the components for armored vehicles assembled in Mozambique come from South Africa.
As planned, the ordered lot of armored vehicles M36 "Puma" will be transferred to the units of the Armed Forces of seven West African countries participating in the MINUSMA mission.
The M36 Mk.5 case is made of all-welded steel armor. The armored car can be equipped with hinged armor, depending on customer requirements. Maximum combat weight - 14 t, own weight - 11,9 t, length - 6,6 m, width - 2,5 m, height - 2,7 m.
The armored vehicle is equipped with the Ashok Leyland six-cylinder water-cooled diesel engine HA 57L 165 with the power 220 hp, manual transmission ZF 6S 850 with six forward and one reverse gears and a two-speed transfer case.
The maximum speed on the highway is 100 km / h, the range of fuel (290-liter fuel tank) is 800 km. M36 is designed for transportation to 12 people.
In the standard configuration, the ballistic protection of the armored vehicle meets the requirements of the STANAG 4569 "Level.3" standard (with the exception of protection against armor-piercing 7,62x51-mm cartridges), and the protection against mines exceeds the requirements of the STANAG 4569b standard "Level.4". The case has a V-shaped bottom to increase the level of protection against mines.