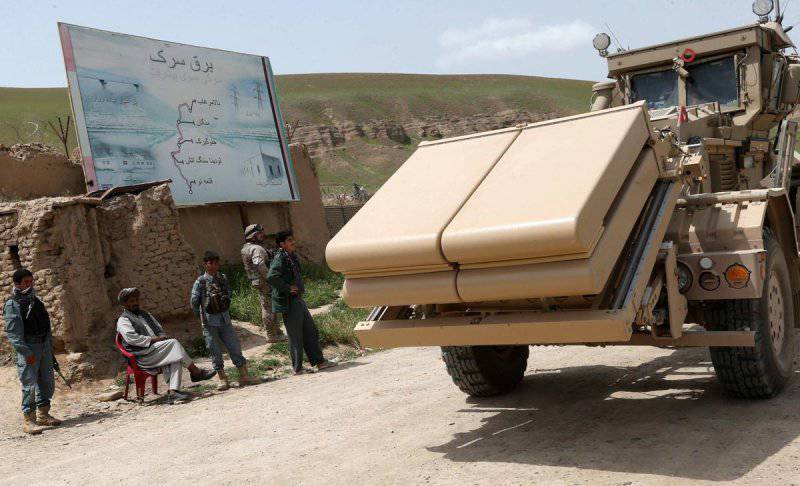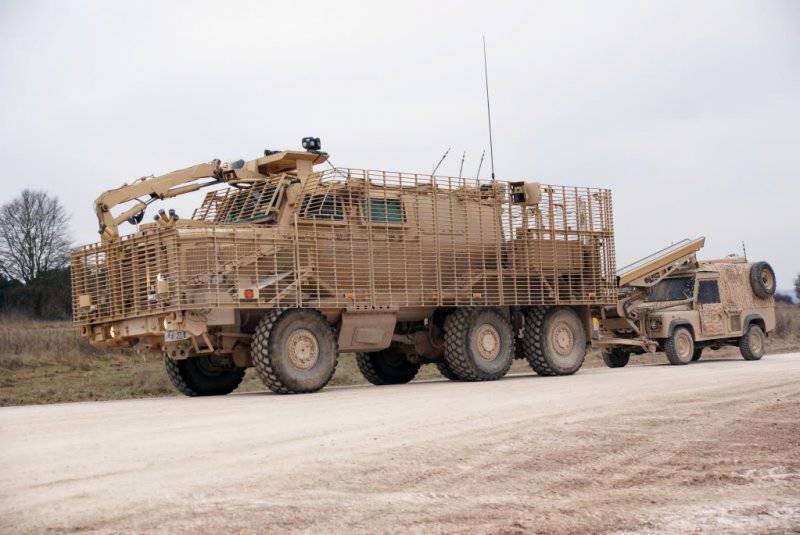 Canadian Canadian Husky Mk 3 machine (top) with a folded subsurface radar and a Buffalo machine (right) with a probing manipulator arm and a folded mast sensor unit
Ten years of military operations in the areas saturated with mines and IEDs served as the impetus for the powerful development of route clearing technologies and the creation of specialized organizations.
Operations in Iraq and Afghanistan have led to the need for rapid deployment and deployment of route-prouving and clearance (RP&C) systems.
While some advanced bases are supplied by air, it is clear that most of them are provided with ammunition, fuel, allowance and other necessary property on the ground or off-road, while as far as possible it is necessary to confuse opposition forces. Regardless, the basic requirement is to keep the local population on its side, which means that roads must be open to the free movement of civilian transport without which the restoration of the country and a return to any kind of normal life cannot occur.
The vastly superior in strength traditional "Western" contingents forced the rebels to follow the path of asymmetric responses and choose the notorious improvised explosive device (IED) as the preferred weapon. An analysis of the British casualties in Afghanistan before the start of the 2012 of the year shows that IEDs are the first cause of death and serious injuries, the number of dead 207 people. Next come the 78 dead from the rifle
weapons
, 43 from accidents, 37 deaths for unspecified reasons, 22 deaths from RPGs and 10 from suicide bombers.
As the name implies, IEDs can take virtually any form, highly popular modified artillery shells, mortar bombs, anti-tank mines (several or single) and relatively elementary packaged explosives. To trigger the VCA, a staggering number of devices were used: from tension wires and pressure plates to modified cell phones, command wires and infrared remote control. Weapon developers can benefit from the relief, which, together with other characteristics, as well as their continuous development, makes the fight against such weapons, of course, a very difficult task.
The action of the VCA is also very different, and the weapon can be so large that no machine can be fully protected. Even machines specially protected from such devices can be destroyed, as was demonstrated at the beginning of May, when a large device destroyed the British Warrior BMP and killed six soldiers in it, despite the fact that the set of protection against the VCA was installed according to the latest standard.
As a result, the concept "the best protection is prevention" was adopted. Air and other sensors can help stop the device in place, but this is not always possible, and a number of countries have now developed and deployed a number of new manual and vehicle-mounted RP&C systems to counter this evolving threat. In a number of cases, these systems were grouped into complexes for a comprehensive fight against a wide variety of IEDs in order to supplement or replace individual systems deployed at the unit level.
The situation in Australia
In December, 2011, Australia announced that it had approved the purchase of four route clearing systems along with additional Bushmaster IMV (Infantry Mobility Vehicles - Infantry Vehicle) machines manufactured by Thales Australia for the Ningaui project (Joint Project 154).
The total cost of the four systems was approximately 70 million Australian dollars (74 million US dollars). Each consists of: two protected Husky Mk 3 route clearing machines, equipped with a subsurface radar; one Husky Mk 3 with a hand-manipulator to confirm from a safe distance the fact of detection of an explosive object; two secured mobile engineering JCB HMEE backhoe loaders for repairing damaged roads and creating detours; and finally two Bushmaster PMVs with a SPARK roller mine sweep.
Presentation of the mine exploration system and IEDs based on the Husky machine (Husky) with my subtitles
After delivery, they replaced two similar systems, which were loaned to Canada at the beginning of 2012, loaned to 12 months as an interim solution, but will be returned after Canadian troops are withdrawn from the theater of operations. Three of the four systems procured for the Ningaui project are deployed in Afghanistan, and one remains in Australia for training purposes.
Husky cars are purchased from the United States under the program of sales of military equipment abroad, and other components, such as JCB HMEE, are purchased from commercial organizations.
According to the results of a series of explosive tests around 200 machines Bushmaster IMV are being upgraded in Afghanistan and Australia. This figure includes an additional order for another 101 machine in May 2011. The upgrade includes the installation of energy absorbing seats and hardened welding, which aims to reduce crew injuries in the event of an attack.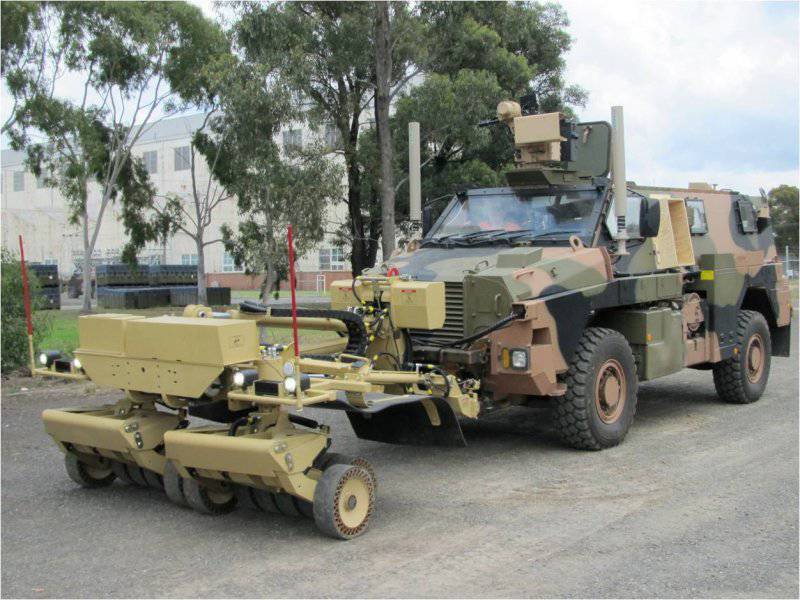 Thales' Bushmaster IMV is equipped with a SPARK front mounted roller trawl and electronic devices to combat IEDs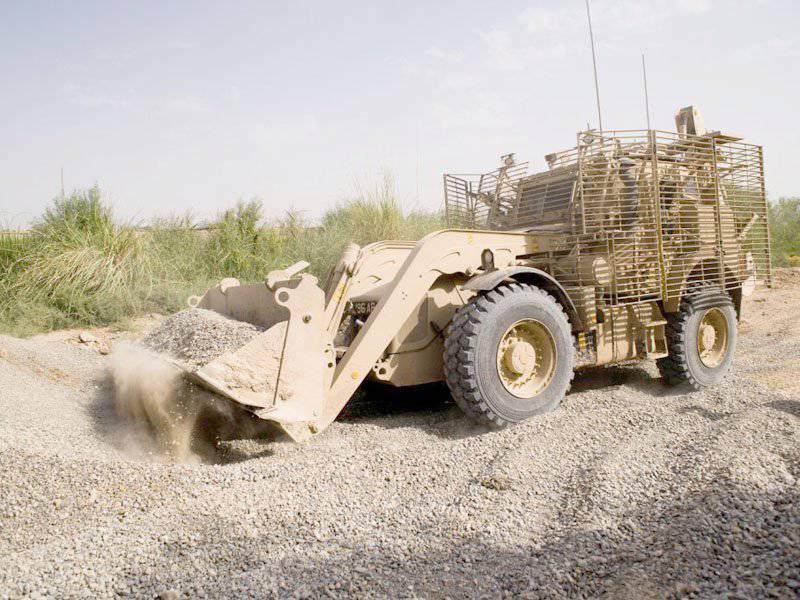 Typical JCB HMEE with a front shovel according to the British specifications is completed with a protected cabin and lattice armor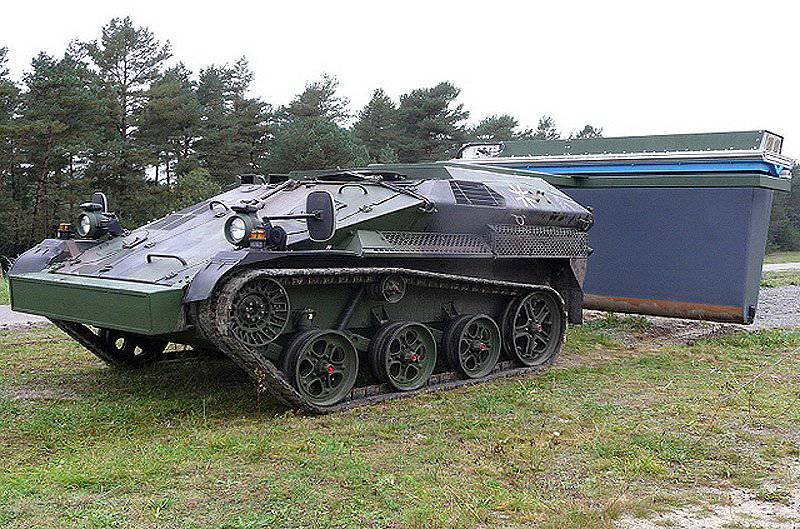 Armored personnel carrier Wiesel 1, modified for demining tasks; visible on the right touch block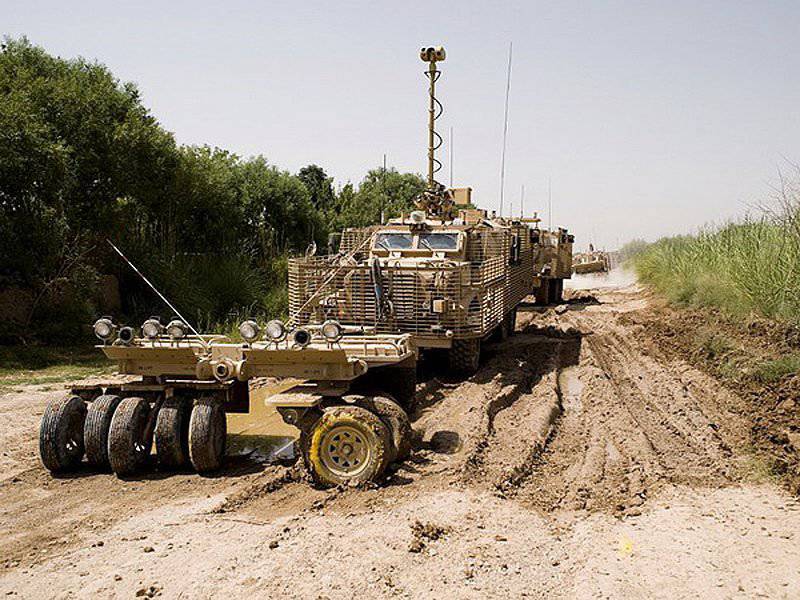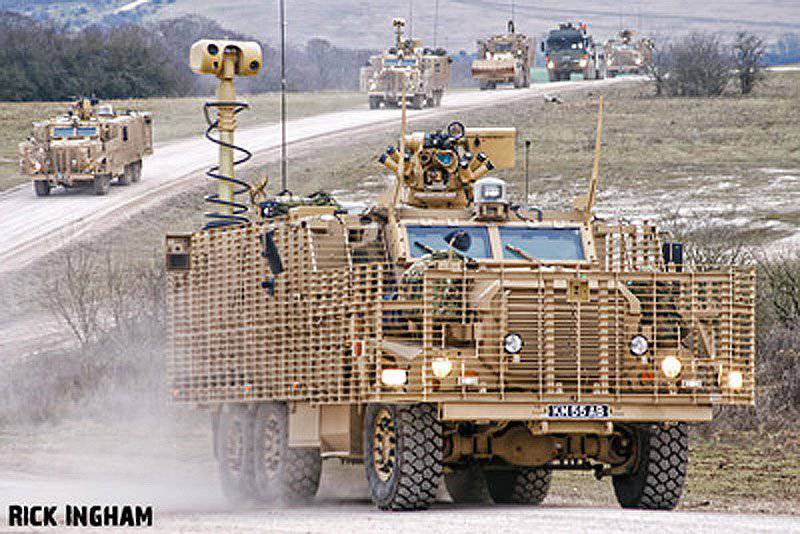 The Talisman component of the Protected Eyes program is based on the well-known Mastiff 2. In the pictures, the machine with the mast sensor unit ROTOS extended
Canadian experience
Canada first deployed its ILDS (Improved Landmine Detection System) VCA detection system in Somalia with 2001, and then a more effective EROC (Expedient Route-Opening Capability) system: the direct equivalent of an American Interim Vehicle Mounted Mine Detector IVMMD (Interim Vehicle Mounted Mine Detector) army. Major David Rathkey, director of the Canadian Army Supply Department, described the system in detail at the International Armored Vehicles 2012 armored vehicles conference.
The original project was approved in August 2006 of the year, it provides for the supply of six Husku, five Buffalo, five cars for the disposal of Cougar unexploded ordnance and the appropriate means of controlling the stages of their life cycle. According to a revised draft approved in June, 2008 of the year were additionally acquired 18 Husku, 14 Buffalo and 26 Cougar.
In the EROC system, an integrated approach is applied, it usually includes demining machines with attached control and support machines, which together perform three main tasks: detection, removal of the masking layer and neutralization of mines and VCA.
The Husky 3.2 clearance machine, created by Critical Solutions International and the DCD-Dorbyl Rolling Stock Division, is equipped with mine detectors and subsurface radars. The car tows a mines trailer and has an autonomous operator-controlled marking system that detects and marks an explosive device for neutralization. It is protected from small anti-personnel mines and, if they are detected, a trailer rolls over them and detonates them. Explosive devices can also be detonated by special detonation tugs that have a greater pressure on the ground compared to the machine towing them.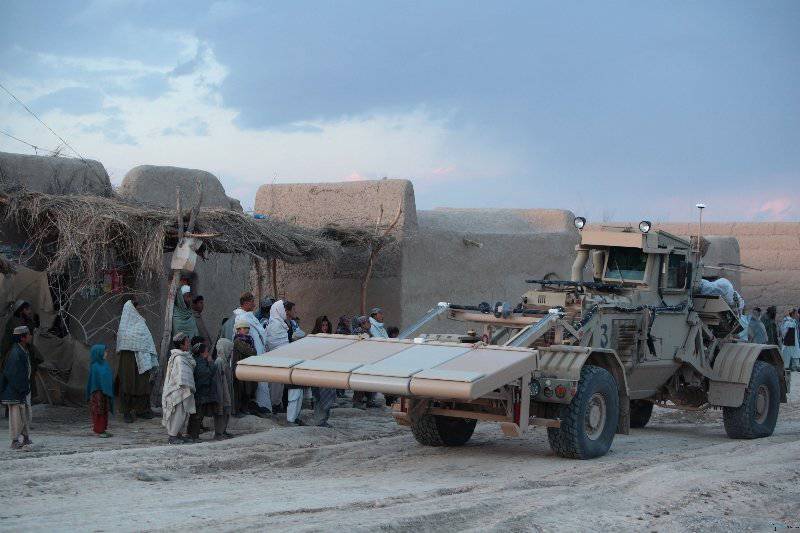 Husky wheels are separated to the maximum possible distance. The driver sits in the middle in a "well" protected compartment with bulletproof glass
Force Protection's Buffalo MRV 6x6 machine is equipped with a remote-controlled, retractable gripping arm, which is used to uncover suspicious objects and determine the type rather than the detonation of the object.
The original Buffalo A1 has a probe manipulator, while a pneumatic shovel and GyroCam touch kit are added to the A2 version. The A2 manipulator can lift objects and dig in the radius of 7 meters, it is equipped with cameras and lanterns for the crew's round-the-clock work. The fully stabilized GyroCam unit has thermal, day and infrared modules and can be raised to a height of 9 meters.
IEDs are also neutralized by the disposal team in another machine, which is the third component of the EROC. The car is based on the Cougar 6x6 MRV from Force Protection, it carries a demining team and its special robots.
Germany enters the arena
At the end of 2010, Germany received its own system when the defense procurement department entered into a contract with Rheinmetall to develop and manufacture the German road clearance system GRCP (German Route-Clearing Package).
Its development was completed, the systems were delivered to the Office in 2011 for operator training. The first operational GRCP will be deployed in Afghanistan in the second quarter of 2012.
Under the current contract, the German army will receive only seven GRCP systems, some of them will be deployed in Afghanistan, and another in Germany for training purposes. The exact amount is not called for obvious reasons.
Instead of developing and testing a new system, Germany decided to create GRCP by connecting new elements with several existing, but modernized machines.
Each GRCP system consists of 4 basic elements, the main component is a modified light tracked Wiesel 1 armored personnel carrier from Rheinmetall Landsysteme, converted to new tasks that will be performed by Remote Controlled Detection Vehicle (RCDV). The armament from the vehicle was removed and the upper part of the body was modified and equipped with a new dual-mode sensor, a subsurface radar (SPR) in combination with a metal detector (MD) to detect mines and VCA.
When running, Wiesel 1 rides backwards at maximum speed of 6 km / h with the SPM / MD deployed in a vertical position, covering the width of 2,4 m, which can be expanded to 4 m by installing an additional antenna. PPR / MD cleaned on the roof of Wiesel as unnecessary or during transportation.
A total of eight fixed joint cameras improve situational awareness around the car. They are selected through the video matrix, the images are transferred to the control machine. Information from the CPD and MD is combined and displayed on the screens for further comparison and interpretation by a specialist. A library of potentially dangerous objects, such as anti-tank mines and unexploded ordnance, will be installed to support and speed up data analysis.
When an object is detected and confirmed as a threat, the position is marked and Mini Minewolf is put forward to neutralize the threat.
RCDV is equipped with a Rheinmetall Smover wired control system that can be integrated into tracked and wheeled vehicles in order to be able to choose between directly controlled or remotely controlled operations. Mini Minewolf can be equipped with a remote-controlled hand, mine plow or dozer blade in accordance with the requirements of the task being performed.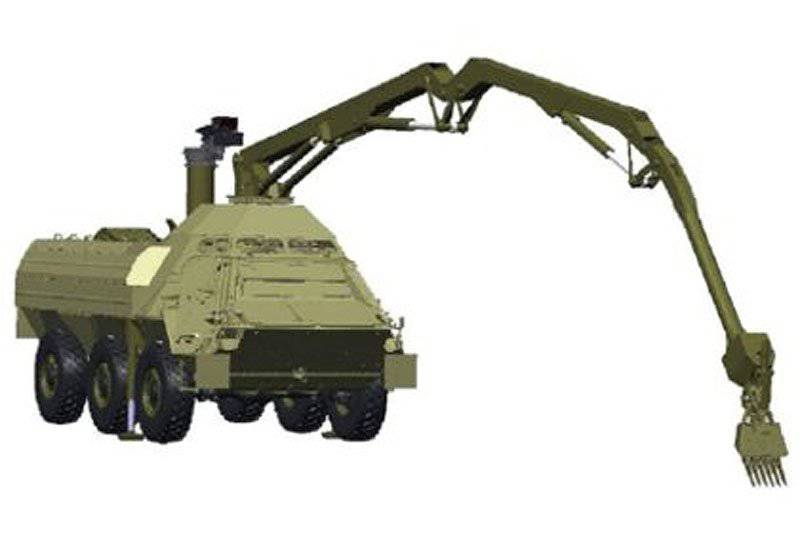 Artistic representation of the Fuchs 1A8 system with a manipulator deployed in front of the machine, modified for intelligence and identification tasks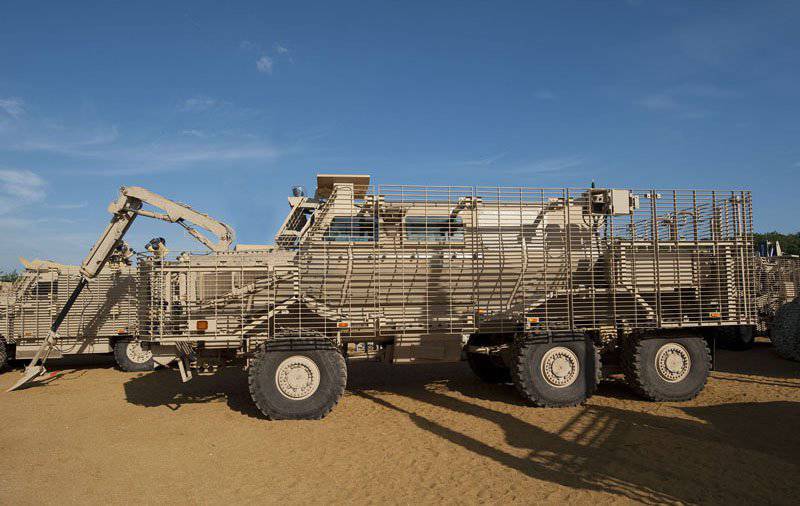 Demining machine Buffalo Rummage with trellised armor and telescopic arm in the extended position forward
All actions of Wiesel 1 and Minewolf are performed by remote control from a modified armored engineering vehicle Rheinmetall Fuchs 1A8 6x6.
Fuchs 1A8 has a number of improvements that have already been developed under an earlier contract issued by the Office of Defense Procurement, and the machines in this performance were first deployed in Afghanistan in 2008. The most important part of the upgrade is the installation of a new set of passive armor, seriously increasing the level of protection against IEDs and large anti-tank mines.
For operation at high ambient temperatures, Fuchs 1A8 has an air conditioning system plus a command and control system, upgraded brakes and suspension to cope with the increased total weight of 24 tons.
Inside, the Fuchs 1A8 machine has been modified for lamination tasks by installing two workstations. This allows the crew to monitor and control the Wiesel 1 RCDV and Mini Minewolf from a safe distance.
For self-defense, Fuchs 1A8 has a remote-controlled combat module, armed with an 12,7-mm machine gun M2 HB. In case of emergency, the developers assume that it can be used to neutralize mines and IEDs.
In accordance with another contract issued by the Directorate, Fuchs 1A8 machines will be further modified as reconnaissance and identification machines (KAI - Kampfmittelaufklarung und Identifizierung) and equipped with a new manipulator hand, which will be able to check and eliminate objects from a safe distance. Rheinmetall delivered the KAI Demonstrator to the Authority for a principled assessment where he successfully completed the tests. A contract for seven systems was signed in the middle of 2012, with deliveries scheduled for the end of 2013.
The stabilized arm of the manipulator is equipped with a specialized tool management system and various devices can be installed on it, for example, a multitool that can be used as a gripper, fork, or loosening teeth.
Detected objects can be cut with a powerful pneumatic shovel, which can also be used to remove soil or camouflage suspicious threats. It can also be equipped with an SPR / MD dual sensor for scanning shoulders. This manipulator arm can be mounted on the roof of the Fuchs 1A8 behind the cab, which also houses the sensor unit.
A hydraulic scissor arm can have a range of up to 14 m, and the potential carrying capacity is about 400 kg. Its design is such that it can be used to inspect through windows, as well as in conduits and under bridges.
The protected 15-ton supply vehicle FSA 8x8 from Rheinmetall MAN Military Vehicles is used to transport the Wiesel 1 RCDV and Mini Minewolf. It has a well-protected, bonded cab with air conditioning and a crane for loading and unloading equipment.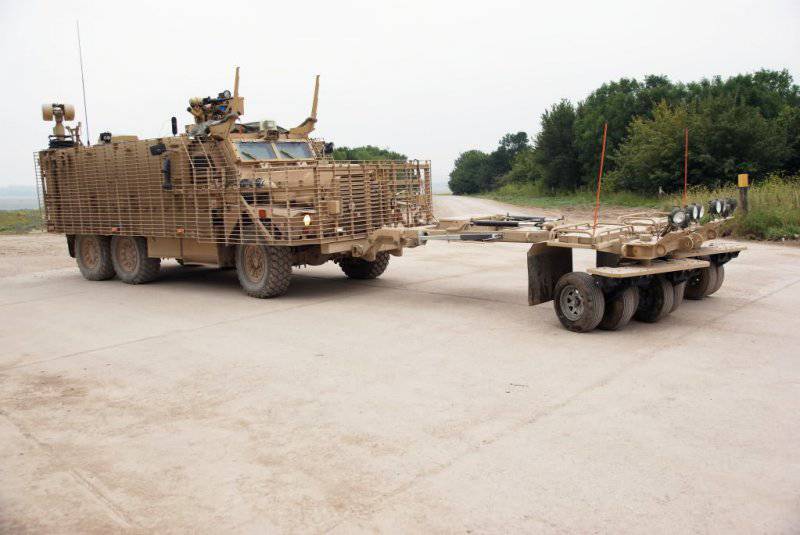 The Talisman Protected Eyes component is based on the Mastiff 2 6x6. In the photo, it is shown with lattice armor, a remote-controlled module with an 12,7-mm machine gun M2 HB and a mast sensor unit in the raised position
Touching the Talisman
The UK started its own RC&P program a little earlier than Germany. In July 2009, Thales UK received a £ 25 million ($ 39,5 million) contract from the Department of Defense and became the designated agency for the system as part of the Emergency Operations Requirements program.
Despite occasionally showing system components, such as during a DVD exhibition in 2012, the Department of Defense is very sensitive to reports about the Talisman system and rejects information about it somewhere it is possible. Thales reported that Talisman "entered service with the British army in 2010, and is used to improve the security of military convoys running along supply lines ... The feedback from the combat area system was very positive." A company representative confirmed that Thales is also currently considering the possibility of transferring "experience" to other users, which could be applied to other components, and not just to those chosen by the UK.
Talisman works in the engineering forces of the British army and is usually used to protect convoys that supply the main reserves to the forward bases. However, its flexible design allows you to apply it more widely.
As part of the organization of defense equipment and support, the Talisman program is conducted by the so-called combat support working group.
As an authorized company, Thales took as its basis the aggregate systems approach and, in this connection, development, project management, provision, installation, testing and acceptance of Talisman system equipment were carried out on Mastiff and Buffalo machines, as well as the comprehensive training package.
The installed equipment includes special equipment interconnected by electronic architecture. This allows you to combine other key subsystems, including a remotely controlled combat module, sensors, communications equipment and electronic devices to counter the VCA.
In addition to Thales Thaisman Buffalo and Mastiff modernization contracts issued to Thales, the organization of defense equipment and support issued additional contracts on key components to other companies. These include Force Protection International Incorporated (under the program of providing military assistance to foreign countries), supplying Thales protected Buffalo 6x6 and Mastiff 6x6 vehicles as part of government supplies.
The UK has supplied more than 450 protected Mastiff HPPV (Heavy Protected Patrol Vehicles) patrol cars that have proven their high survivability against a wide range of threats, although no vehicle can be 100% protected against all threats that there is a chance to meet.
JCB Defense supplies the HMEE loader, which is fully protected, and its air-conditioned cabin may have additional armor to protect against jet grenades.
It was acquired to restore routes damaged by IEDs, but can be used in a much larger number of tasks.
HMEE, delivered in large quantities to the US Army and several other countries, including Australia, Germany, New Zealand, and Sweden, are usually equipped with a front shovel and a rear backhoe.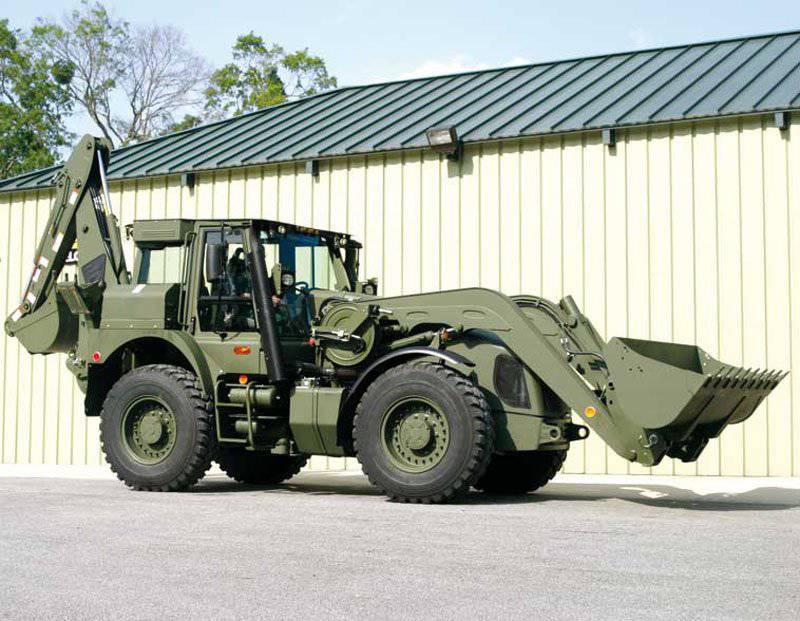 JCB HMEE
The UK's holistic approach to the Talisman system is unusual in that since automatic ground vehicles (ANA) are now commonly used to destroy (deactivate) unexploded ordnance, the Talisman system also has its own UAVs. The company supplied the micro-UAP T-Hawk, and QinetiQhas provided the proven ANA Talon.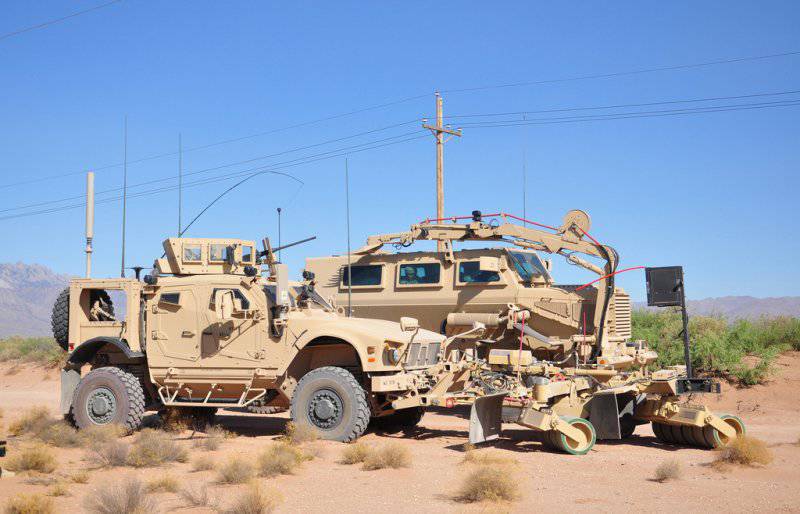 Buffalo MRAP from Force Protection is used to combat IEDs. It is equipped with a hydraulic arm, on which you can install various devices. In the foreground, M-ATV Oshkosh, equipped with several devices for neutralizing IEDs, including rollers
Additional contracts were issued for technical support of the Talisman system to companies BMT Defense, Frazer Nash, HKB Training Solutions, PA Consulting and QinetiQ.
It is clear that approximately five Talisman systems were delivered, each consisting of two modified Mastiff 2 patrol cars, two Buffalo demining machines, two JCB HMEE excavators and remotely controlled UAVs and ANAs.
The modified Mastiff 2 is called Protected Eyes and is equipped with a Thales day / night situational awareness system, a Kongsberg RCWS combat module with a M2 HB 0.50 machine gun of caliber (plus smoke grenade installations, day / night optoelectronics), a round-the-clock touch kit on a telescopic tower, and a set of telescopic bench masts in a set in a hanger plate, and a set with a telescopic bracket, in a set with a practice mask and a brace in a hanger in the set of a telescopic tower, a 24-in set with a telescopic tower, a brace and a brace, and a set of in-set in a uniform with a brace and a hanger in the set of the telescopic mast. electronic devices to combat the VCA.
The latest round-the-clock mast ROTOS (Remotely Operated Thermal Observation System) system from Thales, together with image analysis tools, provides remote near-site inspection of the terrain.
All machines are equipped with a General Dynamics UK Bowman digital communications system supplied on behalf of government agencies.
The demining machine Buffalo also has the second name Rummage and is distinguished by its situational awareness system, lattice armor and electronic devices to combat IEDs.
On the right side, in front of the machine, there is a hydraulic telescopic arm, on which various attachments can be mounted to investigate and dig out suspicious objects for subsequent neutralization.
Some vehicles deployed in Afghanistan were also equipped with roller mine sweeps through the US Army.
The unmanned component of each Talisman system consists of two T-Hawk mini-UAVs and two Talon AHAs.
The first of these is an unusual propeller in the annular radome, equipped with two cameras and used to detect IEDs on top, while the ANA Talon UGV is used to directly neutralize threats.
They are transported and deployed from the Protected Eyes machine (ANA Talon can quickly be unloaded through the ramp at the stern of the machine).
Talon is widely used by explosive ordnance disposal groups. It is equipped with a camera for near inspection, as well as a probing device for inspecting unknown devices. In turn, T-Hawk is going for 10 minutes and can immediately get to work.
Talisman is only part of the new technology, deployed by the UK to combat the increasing threat of IEDs in Afghanistan. In addition to the increased number of patrol cars and tactical support vehicles, this includes mine detectors and mine recovery kits, which are also assigned to engineering support teams.
Handheld devices
The equipment includes the omnipresent hand-held metal detector Vallon HHMD (Hand-Held Metal Detector), first deployed in September 2007, this is 12 months ahead of schedule. It was originally deployed in the task force to combat IEDs of the logistics support forces and search groups. This was followed by an additional million pound 8,8 contract issued by the NATO Maintenance and Supply Agency for additional Vallon HHMD 3600 units, as they are currently widely used by other branches of the military, including dismounted infantry. The UK has received over 30000 MEK kits for cleaning minefields.
Each MEK kit includes probes, tensioning element probes, non-metallic markers for marking mines and safe passages, Mini Cyalumes for night marking and instructions detailing the necessary preparation for emergency response. Larger MEK kits are included with vehicles.
Clearing American-Style Routes
The current task of clearing routes for American troops is mainly to combat the threat of IEDs, which is relevant in both Iraq and Afghanistan.
These devices were designed to receive the greatest coalition losses in both theaters today, although IEDs in Iraq are often more technologically advanced than in Afghanistan, where they are simpler but usually have larger explosive charges. About 80 percent are made at home from legally manufactured components.
Frank Larkin, the deputy director of the organization for combating improvised explosive devices, recently used hand-held devices to detect pressure plates and command wires, as well as service dogs, which he considers to be the most important component in the search and destruction of IEDs, to find such weapons. For years, the military used dogs for two purposes, for guarding and attacking, as well as for detecting objects, but in 2005, special search dogs, specially trained dogs "without a leash", were introduced to search for explosives and IEDs as part of infantry patrols. Similarly, the Marine Corps received dogs to search for IEDs, which were initially trained to work in the Iraqi province of Al-Anbar, but the project has changed the requirements for the physical condition of dogs and their sense of smell since then.
As for the more technological side of the search for IEDs, the American army uses heavy equipment, such as the Husky mine exploration system based on the Husky HMDS (Husky-Mounted Detection System) machine, which is mainly used by sappers to clear routes. The machines move at a speed of 15-50 km / h and use a subsurface radar (SPR), such as the MDS system from NIITEK, to identify mines and various types of VCA.
The US Army and Air Force also use a small number of 18-tonne jib mine-sweep systems (Area Mine Clearance System-Medium Flail) (photo below) which use chains to punch conventional soil to a depth of 250 mm and sandy soil to a depth of 400 mm for detonation of anti-tank and anti-personnel mines.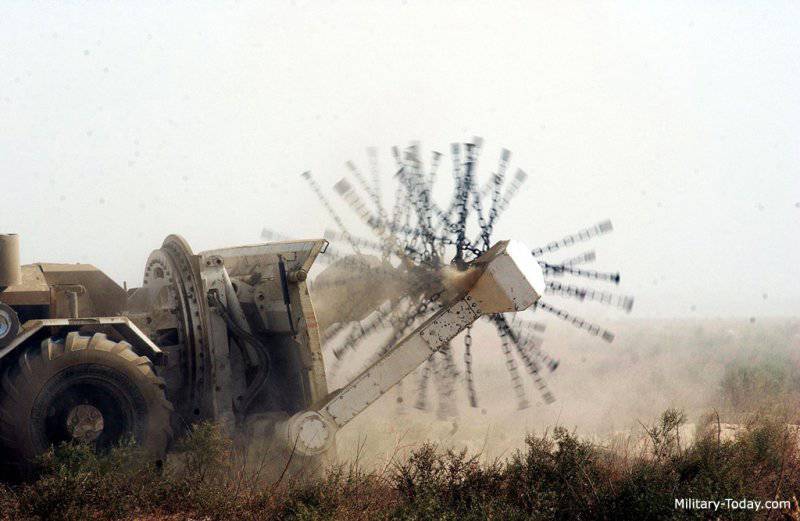 The systems are supplied by the Danish manufacturer Hydrema, and are based on its 910MCV2 demining system, which includes armor protection against 14-mm ammunition. The operator's cabin is located as far as possible from the demining zone, sources in the army say.
For medium-armored vehicles, mainly used for the transport of personnel, army engineering units clarify the needs that officials expect in the Directorate for the disposal of unexploded ordnance can be met by refining the MRAP category, which has tens of thousands of pieces on the balance of the Ministry of Defense .
Unexploded ordnance disposal units may receive these platforms during the 2014 year, and army sappers are already expecting to see their first deployed unit based on the converted MRAP in the 2013 year.
Depending on the final requirements, the MRAP variant can be used as a base platform for EOD machines (destruction (deactivation) of unexploded ordnance), and the original equipment manufacturer is requested to potentially modify the platform for EOD tasks. Modifications, among other things, may include the addition of a manipulator probe that ensures safe operation over a distance of more than 8 meters when using probing and earth-moving tools to retrieve objects that can then be identified by a metal detector or video camera.
For a more detailed inspection, demining personnel may use AN / PSS-14 manual systems that use a metal detector and a CPD. As they say in the army, these detectors use "a set of modern microprocessors and programs to achieve a high detection probability (above 95 percent)" for large and small metal and non-metal anti-tank and anti-personnel mines.
In addition to traditional explosion-proof suits wearable by specialists who work in close proximity to devices, the Pentagon is deploying new armored suits in Afghanistan to protect the lower body and pelvis of specialists.
According to the army supply, more than 15000 sets of outer clothing with pelvic protection have been sent to Afghanistan in recent years.
Demining teams and other military personnel, often at risk of undermining IEDs, should be provided with both types of protection. Underwear is mainly a bicycle shorts with kevlar threads on the inside of the thigh and in the groin, which protect the wearer when undermining a mine or IED from fragments. Kevlar outerwear weighs about 0,5 kg, it is heavier and limits mobility, but offers better protection.
Materials used:
Jane's International Defense Review March 2013
www.niitek.com
www.rheinmetall-defence.com
www.thalesgroup.com