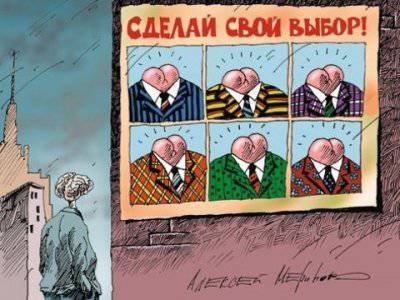 ... I sometimes do not understand the expectations. For example, now I do not understand the expectations from the Ukrainian "presidential elections."
Is that what the people of Ukraine and other interested powers are going to learn from this wonderful freak show, during which the population, in the absence of a legitimate de jure and any de facto authorities, will, so to speak, exercise their voting rights?
With all that, there is not only incomprehensible - who, how and for whom should he vote in a rapidly changing, so to speak, international situation. They even have the feeling that the election commissions are in some confusion. For stupidly do not know "how to count." For they do not receive any intelligible "signal."
In principle, for this evergreen Ukrainian TV show about permanent elections and before, the most different sides had the most unexpected questions up to the "third round".
But earlier it somehow worked and at least someone obeyed. Let crooked and askew, but still. And now?!
The main question is: who is there during all this beauty, the order will follow, with the absolute to crystal transparency of the ruin, which we have the honor to observe, so to speak, "in the grassroots internal affairs bodies"? No, something is moving up above, and. Minister Avakov, won, someone shoots from time to time and generally does not get off the TV screens. But what happens "below," "on the ground," can be imagined. Even according to "reports from the field": there, excuse me, they are shooting ...
... This is what I am leading to: Ukraine is a territory with failed government bodies, a territory that, in fact, has just lost one of its regions and is in a state of sluggish civil war. By the way, judging by the number of actual victims (how many and what was "executed under the guise", and simply came down from unplanned heart attacks, in general, I'm afraid no one counted), is not in the "cold phase".
Moreover, the Ukrainian society is clearly split into two almost equal parts, and everyone knows that no choice of one of the parties will be accepted by the opposite side under any circumstances.
Well, and again: why then all this, I'm sorry, a sudden cafeteria with bizarre participants of the variety show - from the just-fledged Kichi Mrs. Julia to the "chocolate hare" Poroshenko, through "like Dobkin" and Darth Vader and to Yarosh with Rabinovich? Well, the right word, well, stop it is a tent.
Don't you understand that it doesn't even matter here who will be chosen? But whoever you choose, it will still be illegitimate in the eyes of at least half of its own population.
And in general, by the way, the level of disruption in the state machine of a given territory is quite understandable in terms of the level of the host of a given territory. And the level of the army is understandable in terms of weapons. Which even the "Russian invaders" refused to grab the fucking mother, because the disposal of this rusty nepodimichogo will be more expensive than its transportation to the previous owners, and even it is impossible to use it even in polygon shooting as a target: it will not reach the polygons.
And why should we think that in the civil services of Ukraine everything is somehow different and better?
... And the Ukrainians once again propose to cure this whole thing with a presidential election.
What to say. This is about how to offer a choice of aspirin, activated carbon and paracetamol to a person with broken arms and a knife in the belly.
If he does not bend, then later such treatment will be remembered and he will be grateful for it accordingly.