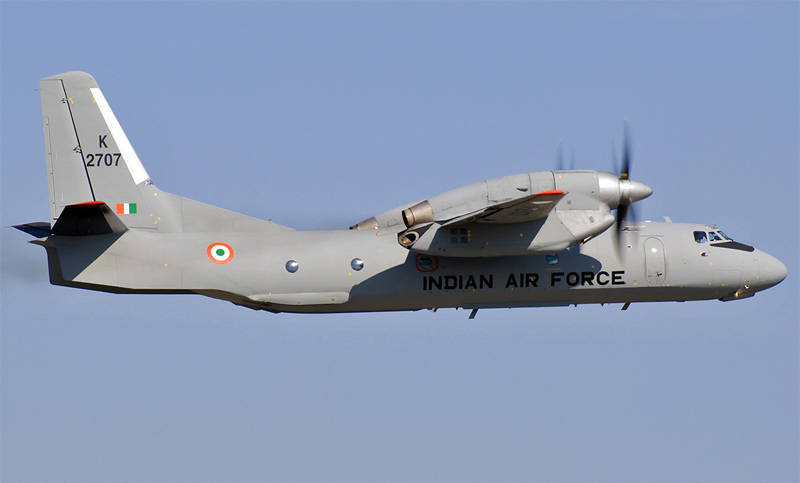 The seventh batch of upgraded An-32 transport aircraft in the number of 5 units was transferred to the Indian Air Force. This correspondent ARMS-TASS over the phone said the representative of the ASTC "Antonov".
The transfer of the aircraft to the Indian side was attended by representatives of the State Corporation "Ukroboronprom", the state enterprise "Zavod 410 GA" and the GHVP "Spetstechnoexport". The aircraft were upgraded at production facilities in Kiev as part of the contract concluded at 2009, and have now departed from Kiev to Kanpur (India).
The contract for the amount of about 400 million dollars for the repair and upgrading of X-NUMX An-105 Indian Air Force was signed in July 32 between the Air Force of the Ministry of Defense of India and the Specialized Export Industrial Unit, a subsidiary of Ukrspetsexport.
According to the terms of the contract, which is the largest in
stories
Ukrainian-Indian bilateral military-technical cooperation, 40 aircraft were to be modernized in Ukraine, and the remaining 65 aircraft - at the Indian Air Force BRD-1 aircraft plant in Kanpur. The executors of the contract are SE Antonov and SE 410 Civil
aviation
».
As part of the deep modernization of the Indian machines installed modern equipment of Ukrainian and foreign production. In particular, this equipment for the prevention of collisions of aircraft in the air, early warning of collisions with the ground, satellite navigation system, aircraft range finders, upgraded radio altimeters, a new radar with two multifunctional indicators, new oxygen equipment, improved crew seats.
The upgraded An-32 will be able to land on the II category of the ICAO. At the same time, fuel consumption and the mass of an empty modernized aircraft will be significantly lower compared to the base case.
In addition, in accordance with the 2009-year 3 contract concluded with the Indian Air Force in December for the amount of 110 million, Motor Sich, Zaporizhia, is upgrading the AI-20 engines of Indian An-32.
As specified in the Antonov State Enterprise, as of today Ukraine has been modernized and handed over to the customer by seven lots of 35 planes from 40, which must be modernized in Ukraine.
The first 10 upgraded aircraft transferred to the customer in 2011 year, even on 10 machines - in 2012 and 2013 years. The next five An-32 7-party aircraft were sent to India in March of this year. The transfer of the final batch of aircraft, the modernization of which is carried out in Ukraine, is scheduled for the summer of this year.