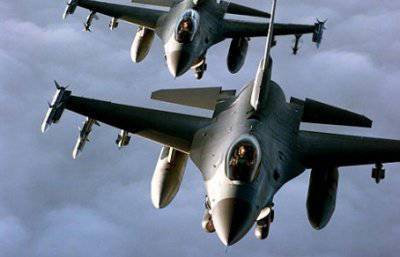 The countries of the North Atlantic Alliance (NATO) will begin today the Frisian Flag-2014 air force exercise. The maneuvers involving 50 order aircraft from 9 states will be held at the Leeuwarden air base in the Netherlands and will end on April 11. This is reported by ITAR-TASS with reference to the Ministry of Defense of Belgium and the Netherlands.
The maneuvers are planned in nature and are aimed at working out complex operations. "During the exercise, tasks based on the real NATO campaigns in Serbia, Afghanistan and Libya will be worked out," the Dutch Defense Ministry reported.
Massive flights will be made over the North Sea. They plan to use F-16 fighters from Belgium, the Netherlands, Norway, Denmark and Portugal, Eurofighter Typhoon Germany and Spain, as well as Finland's F-18. Their crews will have to interact with NATO AWAKS long-range radar detection and reconnaissance aircraft.
Frisian Flag maneuvers this year are being held in parallel with the European Defense Agency's EART-14 aircraft refueling exercises with the participation of German and Italian
aviation
.