After the Ukrainian Navy lost the main part of the ship during the Russian military invasion of Crimea (as part of the Ukrainian
fleet
only the frigate U 130 Getman Sagaidachny and ten small auxiliary vessels and boats remained), the United States decided to provide emergency assistance in restoring the combat potential of the Ukrainian Navy, considering the latter as an important factor in countering the Kremlin's ambitions in the Black Sea region. According to the American naval portal
navygreenhorn.com
, The US Navy urgently prepared and began to implement a decision on the quick transfer to Ukraine free of charge for use as patrol ships of two former lighthouse tenders from the US Coast Guard, which are on conservation of the US Navy reserve in Sesun Bay (California) - WLB 307 Planetree and WLB 395 Iris.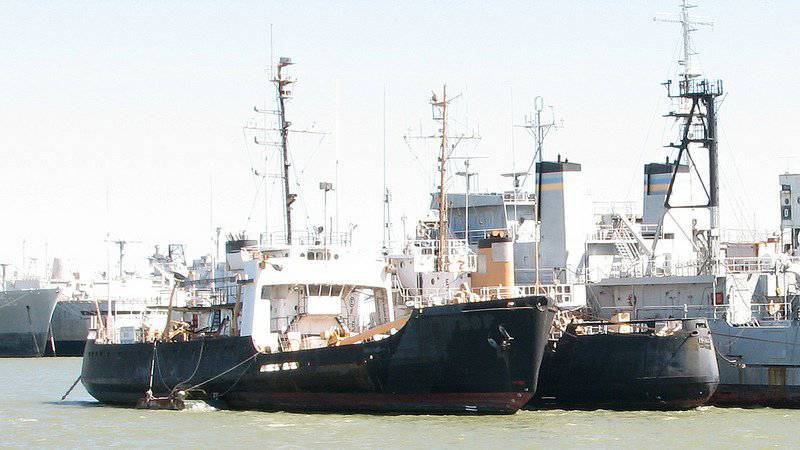 Former US Coast Guard lighthouse tenders WLB 307 Planetree (near) and WLB 395 Iris on conservation at the US Navy Reserve Fleet in Sassun Bay, California. 15.09.2007 (c) Jack Shell
Both of these vessels were built in 1943-1944 years and belong to the large family of 1000-ton "180-foot" lighthouse ships of the US Coast Guard, built during the Second World War (Planetree refers to the series "B", and Iris - to the series WITH"). The ships of this family were withdrawn from the US Coast Guard in 1990-2000-s, some of which were then transferred in order of assistance for use as patrol ships to other countries (in particular, Nigeria, Ghana, Dominican Republic, El Salvador and Estonia). Planetree and Iris, after being written off from the Coast Guard in 1999 and 1997, respectively, were transferred to the reserve fleet of the US Navy and have since been preserved in Sesun Bay awaiting further participation.
Now their urgent re-entry has begun with the aim of transferring the Ukrainian Navy. Ukrainian flags are expected to be hoisted on both ships in San Francisco "in the next three to four months", after which the ships will be killed in Odessa, where they will be armed - while allegedly equipment and weapons will be used (30-mm artillery AK-630) from the unfinished rocket cruiser Ukraine (former Admiral of the Lobov fleet) project 11641 located in Nikolaev. According to the portal, referring to the data of the Ukrainian military attache in Washington, there are already documents from Kiev about assigning names to both units, "Getman Mazepa" and "Getman Baida-Vishnevetsky", respectively.
As commander Giuseppe Rosetti (Giuseppe "Gyp" Rosetti), head of the US Navy's program for assisting Ukraine, told the source, "these excellent ships will raise the potential of the Ukrainian Navy to a new level and will become reliable guards of freedom on the Black Sea for a long time." Rosetti did not rule out that further units could be transferred to Ukraine from the US Navy and Coast Guard reserves - in particular, Cape and Point types 1950-1960-type patrol boats. The "review" is also a few miraculously survived LST-type tank landing ships of military construction. "We are now" vacuuming "the composition of our reserve fleet not only in Sassun Bay, but also in other conservation sites, trying to determine what we can give to the Ukrainians," said Rosetti.
At the same time, an unnamed high-ranking American naval officer in an interview with the portal indicated expressed doubt that the Ukrainian Navy would have enough trained personnel to receive and master such large ships as Planetree and Iris in a relatively short time.