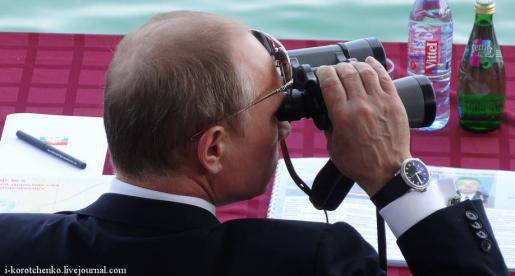 So, the congresses of the main political forces took place, candidates for the presidency were nominated. Surely you have already become acquainted with the epic lists of candidates for the throne, these knights of freedom and democracy, who are ready to put their lives for their friends - even in the sharply truncated format of powers and responsibilities that are laid to the president in the new structure of the Ukrainian government.
The election campaign has not started yet, and so many pompous promises have already been piled up that, fulfilled the dream sellers, at least a hundredth of the plans, we will live in the best place on the planet.
Others, not hardened by years of political struggle, Maidan, rallies, revolutions, overthrows, early elections, people could lose their heads from continuous amazement, and we are holding onto nothing. Here, Lutsenko, pardoned in the toga of an unbending fighter for happiness, is drumming from the tribune, which, they say, only Tymoshenko defeats oligarchs and corruption, and that only such idealists like Yulia can defeat the ruin. People are applauding passionately, some are crying, some have contractions ...
That Tymoshenko herself, entering in the company sweet pathos, promises to break the head of the oligarchy and eradicate corruption, drive out the invaders and make our army the strongest in the world. And the people are right swimming in delight, as if no one knew anything about Yulia Vladimirovna and
history
her exploits for the benefit of the Ukrainians. Are they erased?
But tastelessly pathetic Petro Poroshenko with the same tricks, roaring threats to all the same oligarchs and all the same corruption, the old regime, which throbbed / raped the country's economy, with curses totalitarianism. He will not allow the privatization of Ukraine by a handful of oligarchic families. The texts of Poroshenko, the nestling of the Kuchma nest, the minister of economy in the government of Azarov, do not differ from the Yulin family except for the peculiarities of articulation on the move. He says "absolutely and chitko," she is "apsalutic and reading," otherwise the two fighters against the oligarchy are indistinguishable as two dollar bills.
Tyagnibok announced that Svoboda
Tanks
will pass on Red Square. The eyes of his associates were blurred by anticipation. A good, adult plan, as it is fashionable to say, a realistic roadmap for the president of Ukraine.
The entire list of patriotic candidates cleans themselves under the radicals, they are all twinned, everyone greets the legalized fashionable Bandera greeting and roars about the same thing. Lyashko - with a pitchfork, this is his zest.
Regionals go to run in a column. Four. Three is for a unitary state, but Dobkin wins the primaries — he is flowery, hinting at the idea of ​​a federative Ukraine with an Aesop language. He is courageous because he was released to the congress from under house arrest.
All promise to return the Crimea, including Dobkin's regional, everyone swears to provide us with a good life and decent life, transfer from Russian to Ukrainian, radiate optimism and determination, but all their tricks from the arsenal of old tired, but swirling circus poodles have long been chewed and spat out by us.
However, Darth Alekseevich Vader is on the list, his entree can be funny. But now, exactly at that moment, I learned that Zoryan Shkiryak was going to be the president. Thank you, Zoryan. You will tell us where your 2,5 million devalued hryvnias are for bail and at least two times as much for the election campaign? Who are these generous sponsors who could just invite you to the corporate party and mock from the free, and here they shared their joy with us.
In general, 2 is a month of awesome fun election campaign, during which gas and other utility excesses will rise, hryvnia will fall and prices will rise, and at the same time candidates who wish to make us happy will be littering with watermarks and paper converting them in the air, PR against each other and tons of agitation paper.
In this election campaign, which will unfold for possession of an ephemeral prize in the form of the position of a wedding general, one more person will be invisibly present. This is a chapter, as it is now fashionable to express themselves in professional-patriotic circles, a neighboring state, and this state is not Poland and not Romania — these are named after.
Putin, a terrible demon, always with us. If it were not there, they would have invented it. External enemy, classic pugalka for any divided people, a country with internal conflict. He is called to unite us in a single impulse of indignation, hatred for an aggressive stranger and patriotism. We all love Ukraine, regardless of political views, well, and so as not to quarrel, here's your enemy.
In principle, there is nothing new in this technology. An unstable object, torn apart by centrifugal forces and internal contradictions, can be held using an external binding force field. So against the arrogant neighbor unites the family, all the rest of the time preparing for a divorce and division of property.
But with Putin everything is more complicated. For it is not often the case that an external enemy in all sociological polls, whoever conducts them, has a higher rating in a foreign country than any domestic politician. And Putin, alas, has. Why? Actually, this topic could form the basis of a dozen dissertations on psychology, political science, sociology and other respected sciences, but I will try here - in the most simplified scheme.
In this story, several factors came together with some kind of mystical harmony - the infantilism of our large, but still young people in their independence, the centuries-old connection between Russians and Ukrainians and the relations between us in the format of hate / love, a strict authoritarian leader of a huge empire that is always near and it always stings our imagination by the very fact of existence. The constant desire to prove conditionally to the elder brother our own self, our differences from it, allowing us to feel like a separate people, the eternal desire to show a fig, to arrange a holiday of disobedience, an illustration to the thesis "Ukraine is not Russia".
Putin is well suited for the role of not even the older brother - the despot father, who, using Freudian clues, at the same time evokes adoration, fear and hatred, as something native and external, as a controller, a tyrant, a bearer of a moral imperative, a boss with the right to punish and pardon. Our infantilism, coupled with narcissism, proprietary Ukrainian egocentrism, which dictates such an attitude towards the world, as if the whole planet are concerned exclusively with Ukraine's good or with machinations about it — all of this implies the presence of an adult in the world's picture. An adult who can praise and punish us, whom we fear and whom we revere, although we don't want to admit to ourselves.
The more mature and self-sufficient the people are, the less they are interested in "what princess Marya Alekseevna will say." The British do not suffer for the most part by their anti-Semitism, according to the well-known formula, because they do not consider themselves to be more stupid than Jews. We are constantly concerned about what the evil goblin Kiselev will say, how the State Duma will gloat, how the wonderful Russian opposition will support us, what kind of picture the gloating Russian channels will show.
The whole story with the Maidan is constantly accompanied by this concern. None of the gestures does not happen without a forecast - is it good for the Russians or not, what their television channels will show, what picture we have prepared for them, whether Putin will be happy or annoyed. But if revolutionaries are sure that they are right, then what difference does it make to them that the Russians will say - another people with another president? Today, it looks as if the naughty children smashed the vase again, set the cat's tail on fire, and blocked the sewer with chicken bones, and the only argument that they give is an assessment of their behavior by their neighbors. Not
"It's not possible because it's stupid, rude and ridiculous," and "It'sn't possible because neighbors will laugh and gloat."
Any movement of our rebels, our radicals is estimated solely from one point of view - is it beneficial for Putin or not. It is undoubtedly Putin's hirelings and his mad little sparrows. Miroshnichenko, Benyuk, Ilyenko - his emissaries. But if so, why did you vote for IN Freedom? Right Sector - FSB officers. They storm Rada - Putin's order. Abandoned the assault - Putin gave the go-ahead to retreat. Or not, Lyashko scared that Putin would think, and their channels will show, and bastard Kiselev will scoff. Yarosh covers Ukraine with horror in front of thugs with
weapons
? Putin ordered. But Yarosh is running for the presidency, and I am sure that his result in the consolidated elections will stun us, as in 2012, the percentages of the Pyhnibok party. Requires Fahrion to strengthen the Ukrainization of the South-East - Putin gave the order. But Fahrion won the elections in his Lviv district with the result in almost 100%. The hands of the Kremlin distorted the election results?
If Putin uses our own punctures and failures, then who is to blame for us? He is a tough, pragmatic and cold leader of his state, and he acts in the interests of his country, his empire, which he has been consistently building, and he doesn't care that you sulk and groan like children, whom his parents took for shameful. And these children are constantly sentenced - enough to teach us, we are already big, we have nothing to indicate.
If the Russian TV channels show a bumpy Lutsenko, spitting into the face of an officer, or Muzychko, dragging the prosecutor for a tie, or Lyashko, who is stewing, with a fork, then there is one of two things - or we do not care what the Russian viewers think about this, and we continue to as we see fit, or their opinion is critically important to us, and then we become good. Option - we behave like normal responsible people, just because it is right, I still do not consider, alas. But while Putin and Russia are sitting nail in our minds, it's ridiculous to talk about independence and adulthood.
Today, Putin is the central figure of our common national neurosis, our obsession and damnation. Our harsh superego, which is so convenient to hate and secretly adore at the same time, our effigy of the chief, who is so sweet to beat, our tough controller and the arrogant Karabas Barabas, who are so accustomed to fear and so want to strangle.
Is he guilty? Not. Our delusions of grandeur against the background of an inferiority complex are to blame, our fundamental lack of maturity, vanity, vulnerable self-esteem and unwillingness to part with children's reactions to a tough reality. And doesn't it demean us?
At the same time - look - you never worry about what Europe will say, whether our US performances will like it. By default, it is believed that the US and the EU are always in awe of our revolutions, the rushing of Molotov cocktails, the curses in the Rada, the antics of our leaders and the roar of our crowd. And what if you are not delighted, but simply close your eyes - out of mercenary motives or arrogance? Things that the old Europe and the New World consider unacceptable for themselves seem to us to be allowed, as indulged naughty alien children who are not allowed to make a remark. So the Baltic countries are allowed processions of local collaborators with swastikas - as the satirist said, there is an abyss, but you can go there.
I do not know of a single political force in our country that would not have suspected of working for Putin, not a single event that would not be interpreted in terms of benefits / disadvantages for Putin, not a single politician who would not want to build his own provincial PR, kicking and exposing Putin and Russia at the same time. Nor would he have been called his secret agent and puppet.
I do not see in the annoying exposure and demonization of the president of another country, whatever it may be, no patriotism, but only infantile egocentrism, neurotic obsessive self-admiration, repression of one's own problems, ignoring reality and further inflow into childhood.
The congresses of the parties showed that the groundhog day is still with us, our neuroses, our complexes, our children's gullibility, together with the eternal suspicion have not gone away. Tymoshenko and Poroshenko, Tyagnibok and Lyashko Vlegkuyu turn on the crowd with the same chewed formulas like fighting against oligarchy and corruption, and in the studio of Shuster Yatsenyuk telling little Ukrainians that they will have to eat shit, but he knows where he has a lot of it gets 98% of support . Because we have to withstand the evil Putin and his aggression, of course, yeah.
Isn't it better to just keep your back straight because it's beautiful?