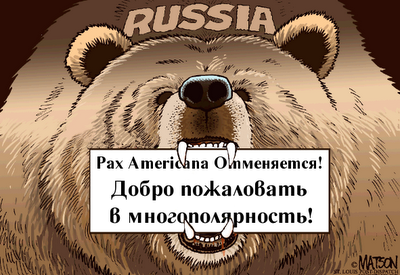 In fact, when Barack Obama speaks of the Russian Federation as "only a regional power", he shouldn't be offended at all, as our numerous deputies, political scientists, and others that are right-wing do so , or leozashchitniki.
If only because this is true truth, and the truth, as is known, is not offended.
Russia is really a regional power at the moment. But not at all because she does not have the power to "wipe at the global project": what-what, but we have enough foolishness, including nuclear and ballistic. It's just that Russia now not only doesn't have its own п global over-project '(which, for example, was the проект communist' project), but also - perhaps temporarily - there is neither need, nor, most importantly, the desire to create such a project.
Everything is simple, and you do not need to "read between the lines". We have talked a lot about this directly: Russia believes that the future, at least in the current twenty-first century, belongs to a "multipolar world" of regional and cultural diversity.
Which, in the first place, does not at all imply that hasty, sometimes violent and not very, we will speak directly, successful "globalization". And, secondly, - moreover, any "global overproject", similar to the "Anglo-Saxon" now being implemented, - from this onward, is a hostile enemy to this multi-polar and multi-structured future.
That's all.
And the fact that we, if necessary, are fully capable of "setting the lawn in front of the White House with our poplars" does not even contradict our desire.
Well yes.
Are able.
It is.
This is just not in our plans, sorry. The plans that we - and this was the most terrible surprise for the "free Western world" after the "Crimean events" - no longer intend to coordinate with anyone.
Agree - intend. Agree - no.
Because at that moment, when the Russian tricolor was officially raised over Simferopol and Sevastopol, we turned into a "regional power". And thus, a little bit, they "turned down" the American "global over-project", showing to the whole world that, forgive, it no longer works in this territory. And, by the way, that is why China began to look at these events with such interest and "understanding". And this is just, and not "missed, Russians in Crimea", and this is the main miscalculation of the American special services and other "British analysts". China basically never supported any "separatist sentiments," and they were confident that this would be the case - and only this way - this time as well. Just because it is perhaps the main condition for the survival of the Celestial Empire in the context of "globalism": they are completely lacking in trouble with their Uighurs and other Tibetans.
But here - something else happened: the Russian Federation did not try to play with the crooks by their rules and their marked cards, but simply changed the rules of the same "global" game. And this, excuse me, is a completely different alignment, in which even China itself is not so necessary to "play by civilized rules." And now the same Tibetans no longer need to "ask for help from Washington," and in one way or another (they are peaceful, unfortunately, not always) "negotiate" exclusively with their own "regional power" - the People's Republic of China. Because (everything at least goes to this), from now on, she and only she will be responsible for the processes taking place in her region: and this, girls, is the "multi-polar world" about which we have been talking to you for so long.
Welcome to him.