According to a report on web site forums.airbase.ru, 26 in March 2014, at JSC Sredne-Nevsky Shipbuilding Plant ("SNSP"), in St. Petersburg, was taken out of the extension plant to the open area on the eve of preparations for launching the hull of the head minesweeper under construction for the Russian Navy of the new generation of the 12700 project (cipher "Alexandrite") "Alexander Obukhov" (building number 521). The ship was named in honor of the Soviet Baltic cutter Hero of the Soviet Union A.A. Obukhov (1917-2009).
The construction for the Russian Navy of the head base minesweeper of the new generation of the 12700 project developed by the St. Petersburg-based TsMKB Almaz OJSC (the chief designer is O. Korobkov) is carried out at SNSZ from 2002 of the year. The ship was officially laid down at SNSZ 22 September 2011 of the year. The minesweeper (total displacement of about 800 tons) has the world's largest ship hull made of monolithic fiberglass, formed by vacuum infusion. The hull formation in the matrix was completed in December 2012 of the year.
It should be noted that the construction of the head minesweeper of the project 12700 continues to go with significant delays - in 2011, the launching of the ship was planned for the end of 2012, and later the deadline was called mid-2013. The plant also announced its intention to start serial production of minesweepers of the modified project 2013 for the Russian Navy in 12702, which has still not begun. The development of the elements of the 12700 mine clearance complex of the project 2006 has been carried out since 02668 on the test naval minesweeper "Vice Admiral Zakharyin" of project XNUMX of the Black Sea
fleet
.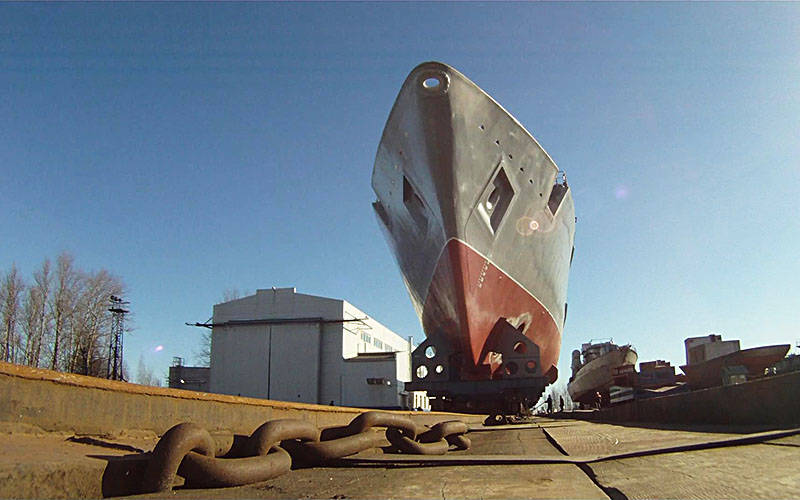 The hull of the main mine-sweeper of the 12700 project "Alexander Obukhov", which is under construction for the Russian Navy of the main mine-sweeper of the 26.03.2014 project, was taken out of the outfitting workshop of JSC Sredne-Nevsky Shipbuilding Plant St. Petersburg, XNUMX (c) bepxom / forums.airbase.ru