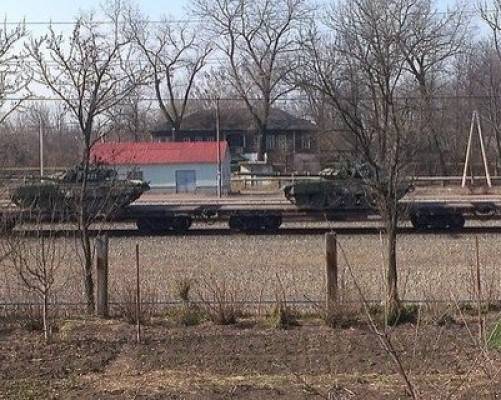 Tragicomic paintings can now be seen near the Bryansk section of the Russian-Ukrainian border, near the New Yurkovichi checkpoint. The Ukrainian military is pushing here
Tanks
, and some drag on ropes.
Local resident Denis told "Bryansk
news
":
- Ukrainians are "annealed", as much as ridiculous. Delivered here five tanks. And three of them pulled the other two - apparently, did not start. They dug them, everything seems to be normal, but in the end one caught fire.
Under Bandera rampant abroad, Russia is worried about its security. Tanks, armored personnel carriers, infantry fighting vehicles, fuel trucks, projectile vehicles, communications centers, etc. were delivered to the border.
"We don't have exact information about what is happening," said Denis. - But, as we understand, everything is going to strengthen the border. Part of the equipment sent to the "Three Sisters". In Klimov, many military men appeared, trainloads came. But none of the townspeople knows the details. They tried to speak with the soldiers, but they did not even say a word. Novozybkov is also full of military personnel, before this was not. They are here only for the second day and while they are just unloading. They say that the Ukrainians, too, strengthen the border. Local residents terribly worried about all this turmoil. Nobody explains anything, because people are worried from the unknown. Tymoshenko, Yatsenyuk and others with their fucking "Right Sector" until the end of the collapse of the already already routed country, they are trying to embroil the people in a meaningless war. It is worth thinking. How many statements were there that the Ukrainians achieved freedom, independence, that they would live in Europe, unlike "quilted jackets and slaves", that NATO would help, but in fact the country was impoverished and forced to beg from the whole world. So I was in Ukraine this summer with my grandmother. She was simply amazed: she is a hero of labor, but her pension is worthless.