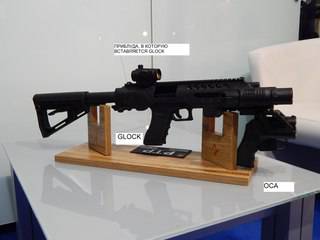 Russian and Israeli gunsmiths have created a universal platform for combining non-lethal complex "OCA" and conventional firearms
weapons
family "Glock". This platform allows you to expand the combat capabilities of the personnel of special forces. About this correspondent. ARMS-TASS was informed by the head of the department of the Federal Research and Production Center "Institute of Applied Chemistry" OJSC for foreign economic activity, marketing and sales of civilian products and pyrotechnics Artem Muranov.
According to him, the created PTP platform (Pistol Tactical Platform) provides for additional use in the barrel part of the "OCA" pistol. Israeli experts have made for the "Wasps" a special bracket based on a "picatinny" strap for attaching a pistol to the lower part of the forearm of the main combat weapons used by special forces. At present, tests of the created platform are being conducted, the results of which will make a decision on its production.
Israeli experts emphasize the high efficiency of the light-noise cartridge of the "OCA" pistol, which makes it possible to effectively disable criminals during assault operations.
The first delivery of "Wasps" to Israel took place in 2011, after which marketing activities and an analysis of the possibilities for improving the pistol were carried out. Then the Israeli side acquired another wasp party to transfer to the country's ministry of defense, which should conduct the official tests necessary to put the pistol into service with the units of the Israel Defense Forces.
In the photo: Universal platform for the unification of the non-lethal complex "OCA" and conventional firearms of the Glock family / Photo by JSC "Federal Scientific-Practical Practical Center" Research Institute of Applied Chemistry "