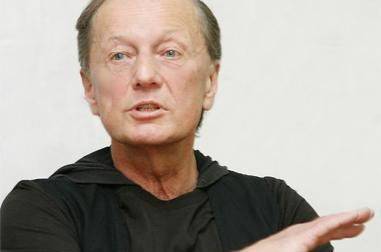 Sometimes I receive such interesting materials that I really want to share. I wrote a lot about the West and Western democracy. And I am pleased that many today pay attention that "Zadornov warned." But there are people who know better than me what is happening in the same America, Europe ... It seems to me that it is interesting to read not a "professional satirist" who has already been harassed by many, but those who know the situation from the inside and can share their impressions.
Maxim Faldin, co-founder of the online supermarket Wikimart.ru
Stanford students measure the attractiveness of Russia by the number of Russians who return home. Every year, two or three people from Russia come to Stanford Business School. And as much end. How many leave back? Until 2004, almost no one returned. The sun, clean air, smiling people around, the rule of law and true democracy did not let go. But now the situation has changed dramatically: everyone began to return. In addition to rare and very special exceptions.
I graduated from Stanford in 2009 year. And immediately flew to Moscow - 48 hours after receiving a diploma. Why? In Russia, it is interesting. Highly. And it is good. Recently - very good.
During my years in business school, regularly flying from sunny California to bustling Moscow, every time I felt as if I was transferring from a Toyota Prius to a Porsche Cayenne Turbo — changing an ecologically clean and inexpensive paradise for impotent people to a machine that could cause ecstasy even from a Tibetan monk . And I really liked it.
First, you see, Russia is a country of enormous opportunities for self-realization. In America, you are a small screw in a large mechanism or a large screw in a well-functioning machine. Size does not matter: your place is predetermined. You are always mediocrity, because you are not born there, because you don't know much, you don't feel, you have a funny accent - there's a lot more. In Russia, the Stanford graduate is the elite, whatever he does. Like you hundreds, maybe a couple of thousand in the whole country.
Secondly, I noticed that all emigrants are unhappy. I have never met a harmonious happy expat. And I saw hundreds, if not thousands. They all ran away from themselves, not from the country. However, most of them are in the denial - in a state of depreciating denial, as psychologists say. They write nasty things about Russia, predict a quick death for the economy, a prison for President Vladimir Putin and "pity" everyone who remains. The unfortunate people fled from their internal problems, which in many respects had nothing to do with the country. But they did not become happier. They just became more strangers, especially for themselves.
Thirdly, Russia is beautiful. There are at least two things that I don't get tired to admire: culture and women. Some will call nature, but I disagree. Too much traveled the world not to know that Russian nature is a nightmare, and the weather is the worst in the world! But what theaters, what girls! It all depends on the priorities ...
Fourthly, I live in Moscow and love this city. Moscow has never been as beautiful as this year. Have you walked along the Boulevard Ring this winter? It is wonderful! Did you notice how beautiful March 8 spring was? This need to think more and talk!
Starting from 2005, the city improved every year, and when the beekeeper was driven off in a cap, Moscow was radically transformed. And now it is very good. At least me and my family.
Fifth, emigration is from a past life. Today, if you are not a politician or a public servant, countries are secondary. For a creative person, with inner harmony, it is much more important than what to do, and not the place in which to live. It should be so interesting to live, to capture the spirit every day: sports, prospects at work, books, acquaintances, novels, achievements, plans. And there is no time to think about the Crimea, elections, and all sorts of nonsense.
Sixth, democracy, developed countries, "everything is by the rules" is not always good. I say tougher: it is not always more freedom. After all, this is about personal freedom and how you define it. Do you think democracy is good? Remember this when you are forced to pay half the annual salary for an innocent comment about abortion or religion. Lack of corruption - cool? Think again after you have spent half a day in the precinct, instead of a three-minute conversation with the DPS, explaining why you gave it backwards on the freeway. Are there polite people? Have you seen the women on the streets of San Francisco ?! I hope no. Do they live longer? And who told you that this concerns immigrants? Unhappy people do not live long.
I want to add. For example, Norway today is proud to have suspended cooperation with the Ministry of Defense of Russia. And now take a look at life in Norway. Yes, they live a satisfying and well-off. But the state en masse takes away children from perfectly normal parents. You can lose a child, including for the totality of such "crimes" as: you went out for a walk with him after 8 evenings, swaddled not on a special changing table, fed you not with what was prescribed ... And if you slapped the pope, or if you raised vote…
And in Sweden? An acquaintance of a journalist who lives in Stockholm told me that he wanted to take away an 7-year-old daughter after she refused to eat candy at school, saying that she had a post. The next day, a commission from the guardianship authorities came to their house, opened a case for him. The investigation lasted a year! Thank God, he managed to defend his child.
In Finland, schools hold gay meetings. Children ask questions, gay people answer. "How did you manage to become such a hero? Share your experience, please! "They give flowers, as we once gave to veterans.
By the way, Breivik is also a child in the past. Here such Breivikov and brings Europe today.
The poetess Margarita Sosnitskaya wrote a wonderful article for the magazine "Youth". I will quote her words: "Russian people are synonymous with conscience. Pure or black is another matter. Russian and conscience are inseparable concepts. In foreign languages, the word "conscience" itself ... NO! How can we talk about some understanding of Russian, if there is no one of the basic concepts about us. Or how can Russian be subjected to psychoanalysis according to Freud? This is putting on a Cinderella's bear paw. The comparison is elegant, on the verge of a fairy tale. But in reality, everything looks uglier and nastier. And most importantly - it hurts. And not a shoe. He is neither cold nor hot. And the bear ?! But it all starts with the Russian language. And the language ends. The language is the prelate. "