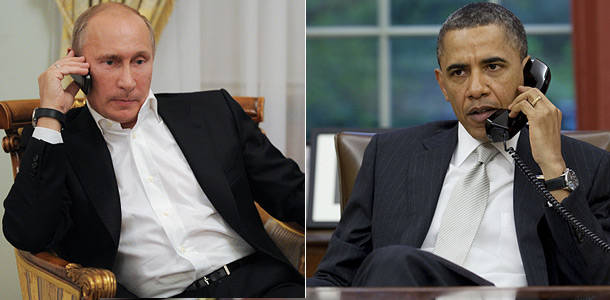 On Saturday night, Vladimir Putin and Barack Obama discussed by telephone the situation in Ukraine. The presidential press service reports that Vladimir Putin expressed concern that there is a real rampant of radicalism on Ukrainian territory. In turn, Barack Obama noted that he was worried about the increased concentration of Russian troops in areas bordering on Ukraine, to which the Russian president noted: several Western (including NATO) commissions did not record any special activity and concentration of Russian troops besides were announced earlier (we are talking about exercises).
NATO commissions have arrived seven times in the past month to inspect the Russian regions bordering Ukraine. None of these commissions announced that they had recorded any increased activity of Russian troops in these territories. No
tank
armada, about which the Ukrainian and Western media write, on the border with Ukraine, Russia does not hold. And no inflatable horror stories
decorated in the form of a tank
, also western controllers are not detected.
Barack Obama during a telephone conversation with Vladimir Putin asked the Russian president to provide specific materials related to the way Russia intends to conduct the process of de-escalation of the conflict. At the same time, Vladimir Putin told Obama that the US should pay attention to the fact that today the Ukrainian authorities are blockading the territory of the Pridnestrovskaia Moldavskaia Respublika, and said that such a policy is simply unacceptable today.
Obama said that the new Ukrainian authorities are keeping a low profile and are trying to do everything to ensure that the situation in Ukraine returns to normal. He called on Russia to support this process.
The press service of the White House said that President Obama spoke in favor of a diplomatic resolution of the conflict, while adding that the US diplomatic norms are going to hold on only if Russia withdraws its troops from the Ukrainian borders.
The telephone conversation between the two presidents took place against the background of mutual sanctions, which the United States and Russia have imposed on each other today. Russia's latest response to US sanctions for the moment is the availability of a list of Western officials, whose names have not been disclosed, and for which entry into the territory of the Russian Federation is closed.