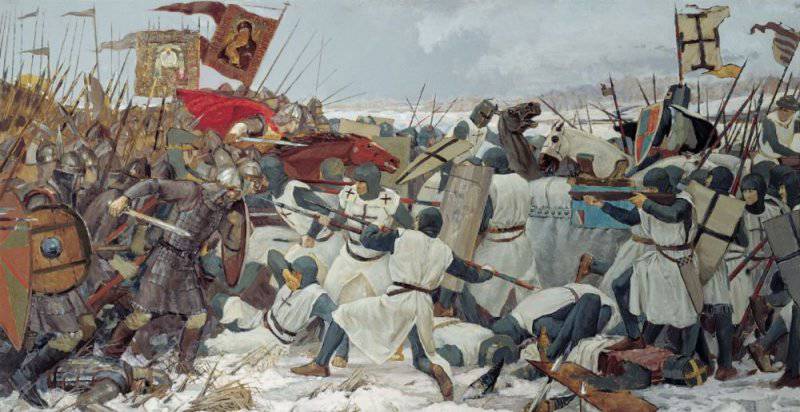 \
In Russia, the upbringing of children was surrounded by a large number of beliefs, rituals and traditions. But, as now, parents did everything possible to protect their children, give them a good upbringing and teach them literacy. Different and views on discipline. To modern man, they may seem strange, inappropriate, and even at times wild, but still arouse great interest.
In ancient times, tribes of Eastern Slavs engaged in cattle breeding, farming, crafts and hunting lived on the territory of the Dnieper region. For more than one century, they had to wage numerous wars against nomads (Alans, Huns, Bulgarians, and Avars).
It is quite obvious that the conditions in which these tribes lived had a considerable influence on the development of peculiar forms of upbringing.
It should be noted that in Russia, all male residents from birth were considered men. Of course, there were also specially trained knights who devoted their whole lives to war, but all the males also owned military skills.
In ancient times, maturation began much earlier than in the modern world. Already in 15-16 years, the young man was considered old enough to start an independent life and even get married. If the young man came from among the tillers of the soil, the whole community built a house for him, if he was a boyar, he went to military service, and the prince received the city in which the boyar lived in his administration.
The first stage in the development of a man is an initiation, a kind of transition from infancy to the state of a child. It took place in the 2-3 of the year. At this time, the child was trimmed and put on a horse. It should be noted that these customs were present in all social strata. It was even thought that by the way the boy first mounted a horse, one can judge how good a warrior he will be in the future. This stage was very important from a psychological point of view, because it created a special mood among the boys, laid the fundamental principles. The boys should have understood that they are real advocates of their family, clan, Russia.
Note that the basis of the education of a warrior in Russia was the education of the Spirit. And since in those years there were no special schools, they were replaced by tradition, practice, and apprenticeship.
From early childhood, boys were taught to
arms
. Already in 12 years every young man had a 2 sword. This meant that over the next nine years they should perfectly master combat techniques and become real warriors and defenders. In addition, until a certain age is reached, until the young man has a beard, the older ones did not perceive him as an adviser at all.
The Slavs were very popular in those games that basically had certain elements of work activity. It should be noted that the East Slavic peoples had the first skills of focused training. In particular, parents taught their children archery, horseback riding, swimming, javelin throwing, wrestling and many other physical exercises. A special place in the upbringing of the younger generation was played by games and hunting. And that was a logical explanation. The fact is that in those days hunting was one of the main branches of the economy. And in the process of hunting, young men acquired such vital qualities as endurance, strength, dexterity, decisiveness and courage, because the struggle was almost equal. Namely, these qualities were necessary for the young (and adult) male population, who formed military detachments. By the way, only the one who managed to get a bear was considered a real warrior.
In addition, the physical education of future soldiers was carried out in the process of games associated with various kinds of religious rites. As a rule, the components of these games were not only songs and dances, but also competitions in jumping, running, wrestling, archery, throwing darts and spears, as well as fist-fight competitions.
These exercises carried a great educational value. They contributed to the development of the younger generation of skills, habits to overcome difficulties, fostered a sense of collectivism, courage and independence.
According to the testimonies of contemporaries, the Slavs were brave people who possessed great physical strength, and they owned weapons no worse, if not better than the Romans.
When, at the turn of the eighth and ninth centuries, the first state, Kievan Rus, emerged on the territory of the Eastern Slavs, interest in physical training only increased, because at that time wars were commonplace, and the army was recruited from the people's militia.
If we talk about the preparation of princes and nobles, it should be noted that to some extent it had an organized character. Neither the prince nor his squad could not imagine their life without military campaigns. That is why, if the common people among the most common types of physical training were wrestling, fist fights, various kinds of entertainment and games of "physical culture" orientation, then the nobles held a special place archery, horseback riding and hunting. Even feasts of feudal lords were accompanied by a kind of knightly tournaments - long fun and jumps, shooting at targets from bows. Thus, after analyzing the chronicles and epics, it can be concluded that the fun of the Russian knights-warriors were like training and were constituent elements of the military-physical training.
Among the popular forms of physical exercise, it is necessary to note the fistfights, which have become widespread. There were several types of fist fights: single (one on one) and group (wall to wall). Already in those times there were certain unwritten rules of fist fights, which were reflected in proverbs and sayings (for example, "do not beat the dead"). And the lakes or rivers covered with ice very often became an arena for fistfights.
At the same time, the physical education of the feudal lords consisted of a variety of games and entertainment, which contributed to hardening and physical development. The most widespread are ball games, skiing and sledding. Also widely used skis, which are often used in military affairs. In those days, even there were special ski units that were called "ski army".
A great role in the education of real warriors played and practice. In those days, Russia often fought with neighboring states, civil wars were not uncommon. Therefore, those who survived after them received a truly unique lesson that they could not get in any school.
However, the development and spread of popular forms of exercise was hindered by religion, which viewed folk entertainment and physical exercise as a manifestation of paganism. They were supported by the church and the authorities, who imposed special bans on games and amusements, threatening with corporal punishment for violating these bans. However, neither the government nor the church measures that were directed against popular physical games and exercises could not affect the people's desire for health and physical improvement.
Thus, a boy in ancient Russia was brought up by a warrior and a protector with the help of mental attitudes, traditions, folk games and constant practice.
Materials used:
http://30school.ru/referaty/fizicheskaya-kultura/fizicheskoe-vospitanie-na-rusi.html
http://www.zrd.spb.ru/news/2011-02/news-0645.htm
http://3rm.info/index.php?newsid=35012