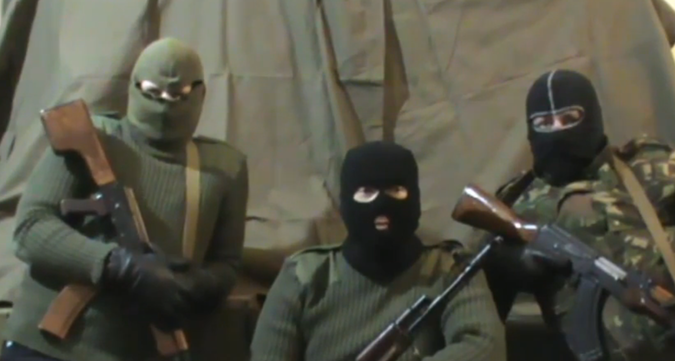 The video, in which three armed people in masks who call themselves representatives of the United People's Southeast of Ukraine, are urging residents not to join any parties and associations that appeared on the Internet on March 28.
"Their goal (the parties) is to split and weaken our forces. We should not allow this to happen," the warriors say.
"Today, the so-called power outlaws the South-East, declaring us separatists. We, in turn, declare them separatists. They sign the Association Agreement, without asking Ukraine if it wants to the EU. They raise tariffs and disconnect TV channels. ", - they note.
Activists see as a way out of the current situation "the unification of regions into a federation, republic or autonomy" and "the return of the legitimate president".
The appeal ends with an appeal to the citizens of Ukraine to go to the rally on Sunday: "During this time we rallied more than ever and became even stronger. Only together we will be able to resist the destruction of the industrial Southeast."
"We are for law and order. This is our land," concludes the warriors.
Earlier, the special correspondent of KP Dmitry Steshin, who was able to talk with the authors of the video, told Reedus that, on the one hand, "the emergence of partisan detachments in the South-East is the only sensible response of the population, the instinct of self-preservation," but an explosion, sabotage, battle, and everything will roll uphill down the hill, into the bloody quagmire of the dormant inter-ethnic — Russian-Ukrainian — civil strife. "
The activists themselves claim that they would not want such a future, but are ready for any actions of the Kiev authorities - up to armed confrontation.