From time to time in this or that language of the world such terms appear that due to certain circumstances lose their original meaning, acquiring completely different shades. It seems that today in the world a similar process is underway with regard to the word "eagle".
Apparently, trying for their readers to reveal the essence of the notion "Ukrainian" Berkut ", British journalists of The Daily Mail newspaper on the Internet unexpectedly came across information that" Berkut "is not only a division, now banned in Ukraine, but Also, near Moscow, a military sports club for children and teenagers. And here, as they say, Ostap suffered ...
The British edition, apparently, fell under the magical effect of this word, and decided to present its readers with a real hot "sensation." In its publication
"The Daily Mail"
reports that not far from Moscow, in the city of Zhukovsky, Russian President Vladimir Putin created almost a "putjugend" - armed formations consisting of children, which experienced military instructors allegedly regularly give combat
weapon
and forced to execute military orders, not taking into account the peculiarities of tender age. The boys are given such loads, from which they literally lose consciousness ... The publication claims that the Moscow-based "Berkut" is a whole guard consisting of youths who are ready at any moment to fulfill their task.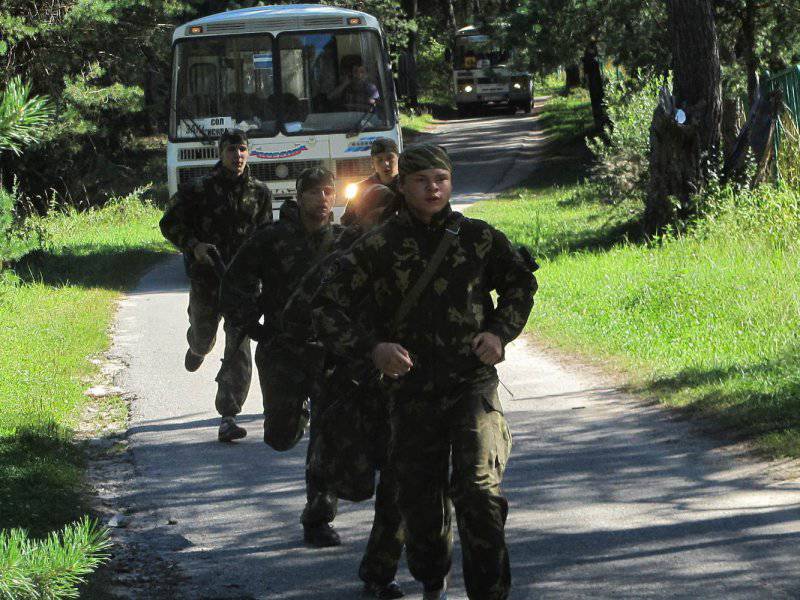 When this publication "The Daily Mail" became available in the Russian-language version, then representatives of the military-sports youth club "Berkut", figuratively speaking, the hair on their heads stood on end. Such a slapstick with a touch of blatant disinformation they couldn't imagine, how couldn't they have imagined why this club became interested in Mujah Albion.
In fact, everything is simple. The British and other Western publications in the same series are completely unimportant of what Russian children are doing. It is important for them to snatch a frame in which the 14-year-old boy runs with a mock-up (that they are mock-ups, British journalists delicately keep silent) of a machine gun in military uniform, digs a trench on a dedicated range, masters the technical characteristics of Russian weapons. All these shots can then be signed with formidable comments in the style of "Russia puts children under its gun". And with such comments, the Western media kill two birds with one stone: firstly, the reader's interest rises, and secondly, the average person once again begins in his memory to restore the image of the main enemy of civilization, namely the image of "militarist" Russia.
No one cares that the pre-conscription patriotic training of young people today on voluntary grounds is conducted both in Great Britain, and in the USA, and in Germany.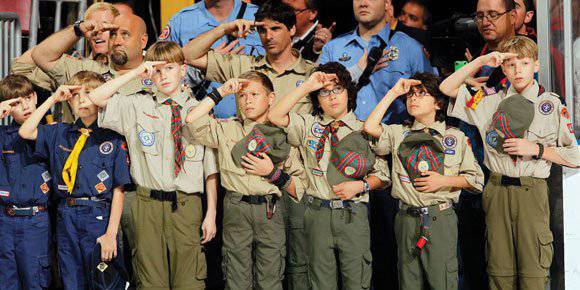 Journalists are not going to mention this in their material for the simple reason that it can reduce the degree of heat of the material prepared by them, and that readers will simply wag one hand at such messages about Putin's death battalions, twirling their fingers at their temples, turning such a gesture to the authors of the publication.
Of course, the West today is in dire need of making in every possible way a sort of monster that "scratches its claws" out of Russia, wanting to swallow up the "democratic" world. And here "Putin's battalions" and "child soldiers", "and the blood-filled eyes of the Russians" emerge. Now, if in this Moscow Region detachment, children together raising the Russian tricolor and studying
stories
Fatherland read textbooks on gay education, printed under license from Western "pedagogical" associations, then - yes. For London, New York, Paris, this would be a balm for the soul. If instead of military-patriotic centers for gay marriage, centers for the promotion of same-sex marriages were opened, this would be a celebration of the heart for The Daily Mail and similar publications ...
It is terrible to even imagine how the Western press will now redraw the presidential decree No. 172 of 24 in March 2014 of the Year "On the All-Russian sports complex" Ready for Labor and Defense "(TRP)." Not otherwise, the revival of the GTO system in Russia will be called the general mobilization of the civilian population, from young to old, in order to launch a series of "nuclear strikes with the support of infantry from women and children" to all progressive humanity. And yet there are those citizens in the West who are ready to swallow this disinformational crap with pleasure ...
Interestingly, Western publications in a strange way ignore the very peculiar lessons of patriotism in some EU countries. For example, they did not cover a visit to one of the Latvian kindergartens by representatives of the so-called "patriotic" organization "Latvian Soldier", dressed in a uniform similar to the shape of the Waffen-SS legionnaires, with a demonstration of Wehrmacht military weapons to three-five years old children. It is worth recalling that in the "lesson of patriotism" kids were shown grenades, machine guns, machine guns as "toys." The police of Latvia then did not see anything reprehensible in such a "lesson". Western media too ...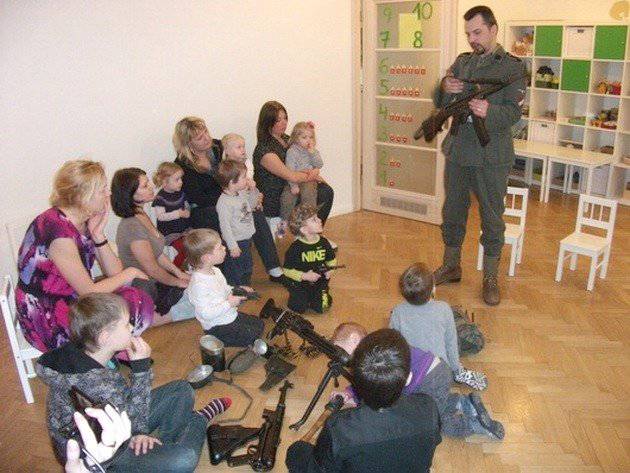 Guided by the logic of The Daily Mail, we can assume that soon a photo of a Russian child in a New Year cosmonaut suit with comments by British journalists may appear on the front page of this edition, Putin is preparing a children's space grouping to strike Europe from above ...