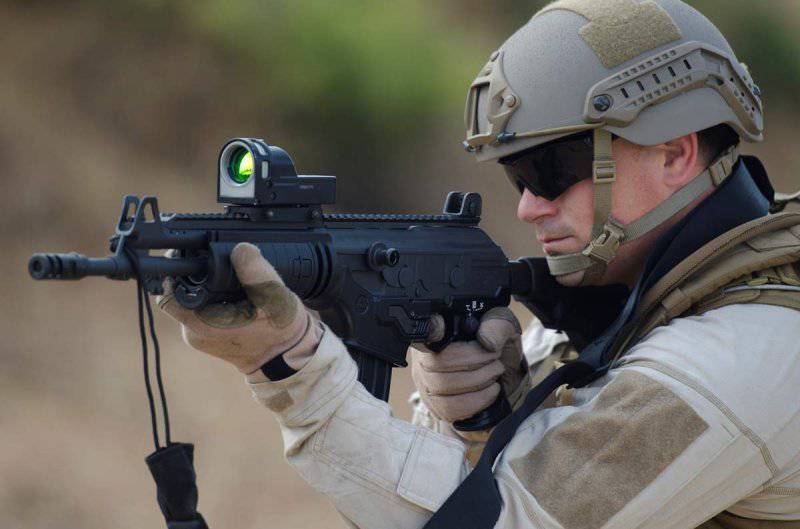 The Chilean Army chose the Galil ACE assault rifle manufactured by Israel Vepon Industries IWI (Israel Weapon Industries) under the patron 5,56x45 mm as the standard infantry
weapons
. This was reported by a representative of the Ministry of Defense of Chile during the international aerospace salon "FIDAE-2014" (FIDAE-2014). According to him, as a result of the decision to purchase "Galil ACI", the program "Project Titanio" was closed (Project Titanio), launched in 2007. According to her, it was supposed to choose a single assault rifle to equip the ground forces and the marine corps of Chile.
Earlier, a commission consisting of members of the two above-mentioned arms and types of troops conducted an assessment of various weapons, but the terms of reference and preferences of the military differed significantly. Representatives of the marines sought to obtain an assault rifle that would function for a long time in extreme sea, desert and semi-arctic conditions. The ground forces preferred the SJ-556 rifle (SG 556) of the Swiss company Zig-Sauer (SIG Sauer), since other models of weapons from this manufacturer — in particular, the SJ-510 rifle (SG 510) and SJ-540 (SG 540) - purchased earlier and produced at the FAMAE Chilean state-owned enterprise (Fábricas y Maestranzas del Ejército). Since the representatives of the ground forces and marines did not reach consensus, the latter left the program " The Titanio Project "at 2011. The Navy (Navy) chose to order the Scar-El assault rifles (SCAR-L) ve Belgian company "Ef-Herstal" (FN Herstal).
At the same time, in 2010, the company "Famae", fulfilling the order of the land forces of Chile, began the licensed release of a trial batch of "SJ-556". However, the operation of these weapons in the Atacama Desert, located in the north of the country, was considered unsatisfactory, with the result that the search for new standard small arms was resumed. According to a number of sources, Israeli rifles will be assembled by Famae in Chile. Part of the details of the weapon will be Chilean production. Representatives of Israel Vepon Industries refused to comment on the situation with the possible supply of their products in Chile.
Earlier, in the 1980's. models of rifles "Galil" were acquired by the Air Force and the special forces of Chile. This weapon is still in service.
Assault rifles of the "Galil" family are in service with various armed forces and law enforcement agencies of Latin American states in the basic version of "AYR" (AR), as well as in an improved "ACC". Licensed production of "Galil es-I" established by the Colombian company Indumil (INDUMIL).