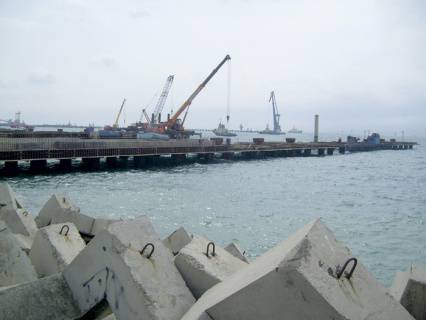 Russian Defense Minister Army General Sergei Shoigu on Tuesday checked the construction of the Novorossiysk Naval Base of the Black Sea
fleet
(Black Sea Fleet).
The federal target program (FTP) of creating a base system for the Black Sea Fleet on the territory of the Russian Federation for the period 2005 – 2020 was planned to be implemented in two stages. At the first - before 2011 of the year - to expand the Novorossiysk naval base in Tsemessky bay in the water area of ​​Geoport.
The government decided to jointly deploy scientific and military ships in Geoport in December 1992. But 22, the builders trampled on the spot. Our newspaper wrote about this more than six years ago ("Novorossiysk does not accept", "NVO", 14.09.07). Therefore, the reunification of the Crimea with Russia was a real gift for Russian sailors, now they do not have to wrestle with where to keep warships. Nevertheless, it is too late to abandon the expansion of the Novorossiysk base, which had a rear status in the Soviet Navy, since the main work on the Federal Program has already been completed.
At the second stage of the implementation of the federal target program, it was planned to build a second base south of Novorossiysk - in Gelendzhik or Tuapse. But the second stage, apparently, was forgotten, and all the forces were thrown into Novorossiysk. Last year, facilities were commissioned that allow new ships and submarines to be received. The life support system was reconstructed. Construction work was scheduled for completion in 2016.
Shoigu heard the command of the Southern Military District and the leadership of Spetsstroy on the implementation of the instructions given to them during the trip in May 2013 of the year, and on the reconstruction and construction of the infrastructure of the Vityazevo airport. "Thanks to the set momentum, we managed to eliminate the lag in the construction of a number of naval base facilities in Novorossiysk," noted Shoigu and set the task "to maintain the set pace of work." The Minister of Defense demanded to complete the construction of the mooring front and the Western pier ahead of schedule in 2015, the press service of the military reported to ITAR-TASS.