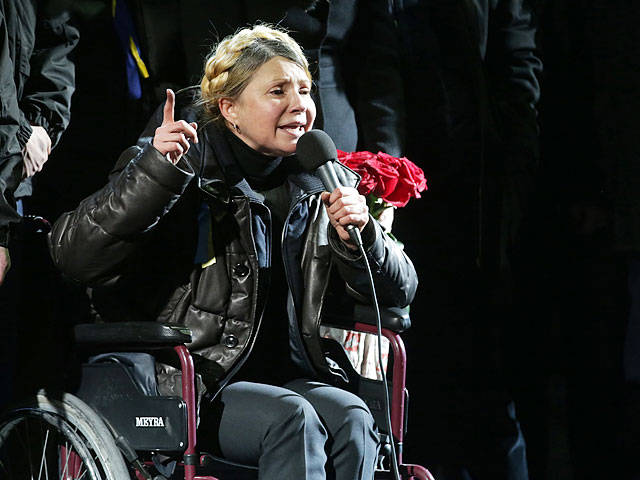 Former Prime Minister of Ukraine Yulia Tymoshenko, the leader of the Batkivshchyna party, is going to run for the presidency of the country. "Yes, I plan to run," she said at a press conference in Kiev today. "I just have to go to the presidency." According to Tymoshenko, on March X at the congress of the Batkivshchyna party, she intends to ask delegates to nominate her for the presidency of Ukraine, transmits ITAR-TASS.
Tymoshenko suggested that other candidates for the position of head of state refuse to advertise in the upcoming campaign and replace it with a transparent fair debate. "The upcoming election campaign should be of a fundamentally different quality: refuse advertising on billboards and on doorways. It is better to buy a couple of armored personnel carriers than to make a couple of stupid commercials," she said.
Earlier, 20 March, Tymoshenko has already said that she will run for this post. Then she came up with a program of preserving a strong presidential power in the country.
Simultaneously with the Batkivshchyna party congress, three more party election congresses will take place on Saturday — the UDAR party, the Party of Regions, and the Svoboda party will be determined. Each candidate must make an electoral pledge in the amount of 2,5 million hryvnia (about 236 thousand dollars). The deadline for making the electoral deposit is noon on March 30, and the deadline for registering the presidential candidate with the CEC is April 4.
The CEC officially registered the former deputy general prosecutor of Ukraine Renat Kuzmin as a candidate for the presidency. Documents for registration with the CEC as self-promoted were also filed by the former head of the Kharkiv region administration Mikhail Dobkin, one of the leaders of the Party of Regions Sergei Tigipko, the leader of the Communist Party of Ukraine Petr Simonenko, the head of the All-Ukrainian Jewish Congress Vadim Rabinovich.
On the eve of the documents for registration by a presidential candidate, filed by former Deputy Prime Minister of Ukraine Yuriy Boyko.
The intention to participate in the struggle for the presidency had previously been announced by the leader of the UDAR party, Vitali Klitschko, and the leader of the Right Sector, Dmitry Yarosh. It is expected that an MP and a major businessman Petro Poroshenko will take part in the election race. According to recent polls, he is the favorite of the pre-election race.
The extraordinary presidential elections in Ukraine are scheduled for 25 May.