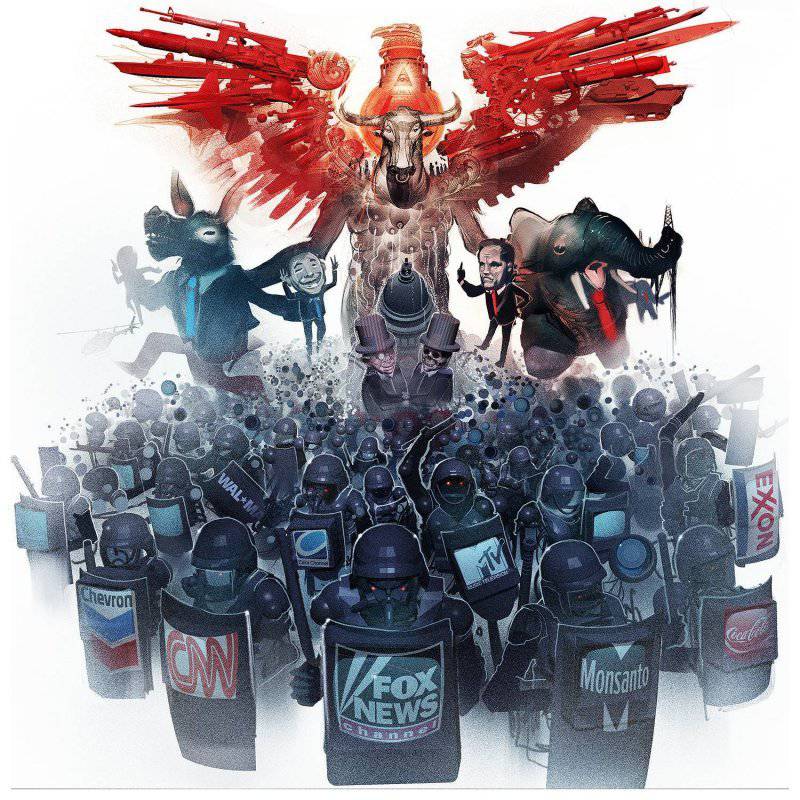 The contrast between the promises of a terrible car, capable of stopping the presumptuous Russian bear, and a genuine list of very careful sanctions has already become the subject of many jokes. Meanwhile, he clearly proves that the countries, still traditionally referred to as the G-7, were ground to a complete separation from reality. For several decades of the unipolar world, they fully believed in their absolute rightness in everything and in their complete omnipotence. Therefore, now they are absolutely sincerely convinced that anyone is obliged to submit to the slightest whim of their Majesties — and at the same time they have absolutely no idea what to do when meeting with someone who is strong enough not to share this conviction.
But now for their omnipotence there is no main reason left - moral. They have already lured themselves to such an extent that it becomes obvious even to their own citizens, whose brains from time immemorial have been reliably swamped by shameless propaganda. And the repetition of mutually exclusive mantras like "you can hold a referendum in Kosovo, you cannot do it in the Crimea" destroyed even the slightest external signs of their moral correctness.
Therefore, now the leaders of the European Union, the United States of America and their satellites in the G-7 - Canada and Japan - have faced a difficult choice. If they retreat and do not show readiness to punish the Russian Federation for disobedience, their opinion will be disregarded by everyone (who counts for their own strength, who hope for the help of the Russian Federation). But if they apply measures that are really painful for us, their own well-being will be affected as well. But the willingness to sacrifice something - not to mention the mobilization of all our internal forces to put pressure on us - can only rely on the feeling of self-righteousness not only by the rulers, but also by ordinary citizens. But with this feeling they have every day, with every loud statement, everything is getting worse.
Winston Leonard Randolphovich Spencer-Churchill led the British government 1940.05.10 - on the day when Germany, after eight months of the "strange war," launched an offensive against France. Three days later, speaking in parliament on the occasion of taking office, he stated, in particular: "I have nothing to offer you, except for hard work, blood, sweat and tears." These words were based on solid facts: it had already become clear that the German offensive was organized so brilliantly that it would not be possible to repel it.
By the way, I will note the results of this offensive. Two weeks after it began, the French army, which before the war was considered to be the best in Europe, turned out to be practically incapable. The British Expeditionary Force from 1940.05.26 to 1940.06.04 was evacuated from the port of Dunkirk back to the Island, leaving almost all the weapons and equipment. 1940.06.22 France capitulated (and over the next four years - until the landing of the Allies in Normandy, 1944.06.06 - faithfully supplied Germany with food, trucks, some types of military equipment: for example, about half of the famous Focke-189 aerial reconnaissance aircraft produced in the Czech Republic third in France).
By the time Churchill spoke in parliament, ordinary Britons did not yet know how events developed at the front. And even more so, even Churchill himself did not know what these events would turn out to be. Nevertheless, he found it necessary to warn the people about future troubles. And the people happily supported him. Because all the British understood: their country is morally right in the conflict that started with Germany - and such rightness can and should be supported by the appropriate efforts of all citizens.
The current countries have Big (once) Sevens are not - and can not be! - a nationwide sense of rightness. It means that their rulers cannot demand from their peoples not so much "hard work, blood, sweat and tears," but in general something even remotely resembling self-restraint. That is why they now behave in such a strange and ridiculous way, writing purely symbolic sanctions that are obviously not capable of seriously hurting us. After all, really serious economic measures would hurt these countries themselves, but they are not ready for this.
And for the same reason, now in the West every political trifle is in sight. Politicians are really big and serious can not appear in the defense of the wrong case. Their business is wrong. That is why we will win.