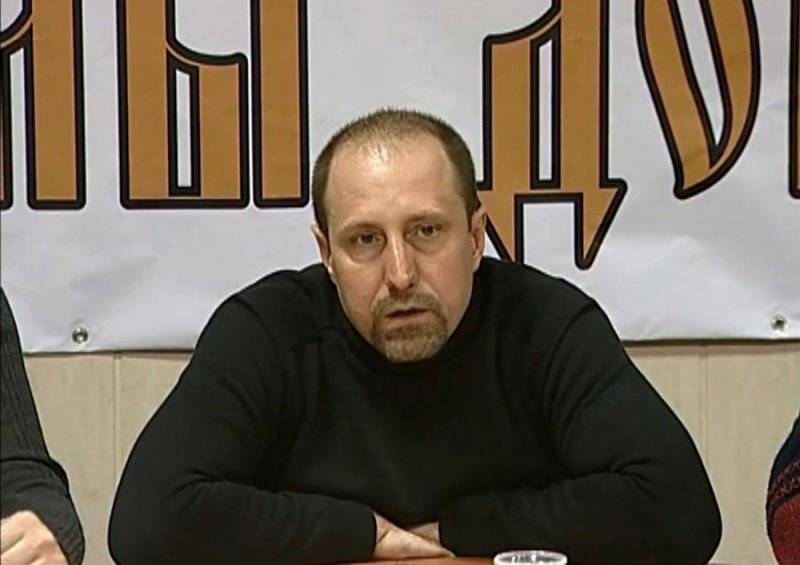 The leader of the Patriotic forces of Donbass, the former commander of the Alpha unit, Alexander Khodakovsky, appealed to the leaders of the Right Sector. He urged the radical participants in the Kiev coup d'état not to aggravate the situation in the region, where dissatisfaction with the actions of the new authorities of Ukraine is ripening. Otherwise, Kiev may receive an "uncontrollable explosion" of the population.
"Show us, residents of Donbass, at least one sign of a reset. In addition to the internal troops, which filled the city in abundance, we see no signs, "said Alexander Khodakovsky, leader of the Donbas Patriotic Forces, in his video message to the Right Sector.
Referring to the reboot of the February change of power in Kiev, he notes that now its only results for the country are the redistribution of power, the division of posts and internal contradictions.
Khodakovsky believes that the country is now more governed by the Right Sector, which has become the engine of forceful seizure of power, rather than politicians who have taken the chair in the capital.
The PSD leader also calls on the new authorities of the country not to intervene in the situation in the Donbas and not to impose on the country entry into the EU and increased cooperation with the United States.
"You yourself are pushing the region with your actions and your slyness on the protest that is taking place today. I talk to many people daily. You still do not know to what degree this protest has come to fire. Thank God that it still manifests itself in these external manifestations - rallies, walking on the streets, breaking glasses. The protest that is driven inside, it will give the effect of a nuclear reactor. You get an explosion that you never dreamed of. Because this explosion will be spontaneous, uncontrollable and unsystematic, "Khodakovsky warned the leaders of the Right Sector.
Recall, February 22 in Ukraine there was a change of power, having signs of a coup. Rada ousted President Viktor Yanukovych from power, changed the constitution and called elections on May 25. Moscow believes that the legitimacy of the decisions of the Rada raises doubts. A number of regions of the east and south of Ukraine, as well as the Crimea, did not recognize the legitimacy of the Rada and decided on the possibility of holding referendums on the future fate of the regions.
The referendum on the status of Crimea was 16 March, the majority of voters voted for the republic to become part of Russia. The relevant agreement was signed and ratified; the federal constitutional law on the adoption of Crimea and the formation of new subjects within the Russian Federation - the Republic of Crimea and the federal city of Sevastopol - has also entered into force.