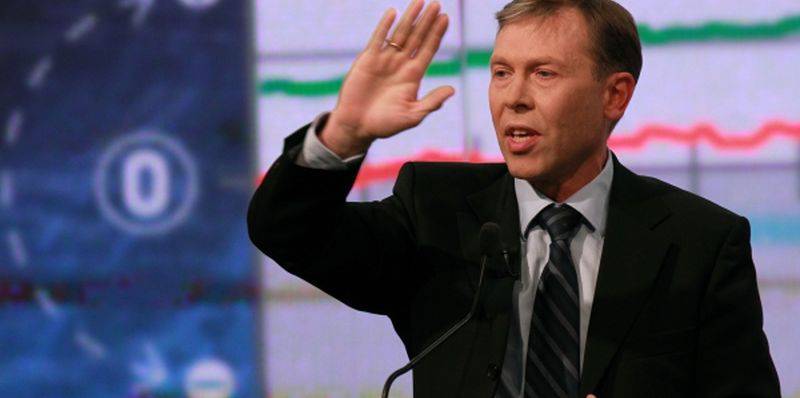 At the same time, when the space ships plow the Universe, namely, tomorrow at 1.17 Moscow time, at the Baikonur cosmodrome, despite the third stage of world sanctions against the Russian Federation, the launch vehicle Soyuz-FG with the Soyuz TMA- 12M ", which will deliver a new crew of Russians to the International Space Station
Alexandra Skvortsova and Oleg Artemyev
and american
Stephen Swanson
, Ukrainian politicians continue to demand sanctions, help in imposing sanctions and just money on sanctions. And from the United States and the European Union.
Today is a global economist
Irina Gerashchenko
decided to further demonstrate to the South-East of Ukraine the care for him of the new government:
"At that time, as the whole world breaks economic relations with Russia, Ukraine still has more than twenty military contracts.

Weaponwhich is produced in the Ukrainian military factories on the request of the aggressor country may be directed against the Ukrainians. At the same time, these plants need to save jobs.

Therefore, the new government should appeal to the countries of the European Union with a request for technical assistance and compensation for enterprises that must terminate their contracts with the Russian Federation
", - said Gerashchenko at a meeting in the Verkhovna Rada.
This call is even more ridiculous than the requirement of a pan of the same level of professionalism,
Anatoly Gritsenko
a few days ago Ukraine to reset all debts from the world community.
It seems that among the people's deputies of the country there is a competition called "Who will utter a big nonsense." It's not for nothing that in the EU they limited themselves to signing the non-binding political part of the association agreement, although in November they were ready to sign everything entirely.
In general, Mrs. Gerashchenko is unusually consistent, just as her next boss -
Vitaliy Klichko
in their actions. Perhaps her today's performance should have demonstrated to the world the importance of the UDAR faction in Ukraine, because after yesterday's friction between
Turchinov
and Klitschko, it became clear that his party is at the very bottom of the food pyramid of the new government.
"We will not allow 2005 to repeat the year when these quotas, some intrigues, so that it would allow us to break not just unity in the team, but that it would destroy democracy, democratic principles"
- said Irina Gerashchenko yesterday.
But it is repeated. All for the same rake, is not it? As in 2005. Quotas, intrigue, division of portfolios. So this is actually a temporary power, do not forget, gentlemen, what will happen to the deriban of posts and warm places in the event of elections, you can already imagine.
In addition, Klitschko's rating as a participant in the announced presidential election fell disastrously after Yulia Tymoshenko's release.
As some analysts predict, at today's congress UDAR, the question of the removal of Herr Klitschko from an attempt to take the presidency in favor of the mayor's chair may be raised ...
And again about sore.
In no way could he ignore the topic of economic sanctions and a great expert in all sectors of the national economy
Sergey Sobolev.
"If Ukraine demands the introduction of sanctions from our European partners, from the United States, then we should also impose sanctions in the same way",
- he said at a briefing in the Verkhovna Rada today. -
This is due to both private and public business. The easiest way to do this is through Ukroboronprom. This issue should be urgently addressed at a government meeting. I think that such a decision will be made, there will be no need for an additional protocol decision. These are companies that produce dual-use or military products. "
According to Sobolev, reorientation should be provided to the markets of Asia, Africa and South America.
In general, it sometimes seems to me that Pan Sobolev is an alien. Well, man can not generate such unearthly delusions. Already the Baltic businessmen began to rush around the world with their milk and sprats, the coordinators cannot sell, but this does not reach some silly heads. Ukraine has recently delivered its production armored vehicles to Iraq, which turned out to be so flawed that even Iraqis who have seen a lot were stunned. Who and what else is going to sell Sobolev? Maybe he thinks that, apart from laughter, he caused some other emotions in Rosoboronexport, which already has the task of creating a closed loop for the production of all defense products in Russia? Or does he think (the verb "thinks" is extremely inappropriate here) that imposing any restrictions against Russia will not boomerang Ukraine?
Well, and at the end of today's review of the speech activity of a group of comrades - the head of the Kiev city state administration
Vladimir Bondarenko.
He is unhappy that for some reason someone continues to live in the KSCA. And it turns out that these people are asocial.
"The city council has only partially been released so far. Some of those who stay there, in my opinion, lead the way of life that should have been the subject of attention of law enforcement agencies. Tonight there were riots for voting in the hall. If it even goes about such mercantile things as the theft of technology (computers, televisions), there is still some elementary logic to sell something, to live for it. And to disrupt the remote controls is to spoil the future property, "
- he told reporters today.
In both. So the technique, it turns out, still dragged and sold "free" people Maidan. And we were told that nobody touched anything. And indeed, to sell is one thing, everything is already national, and why spoil it, the power is already its own, not gangster.
So, judging by the logic of events, Ukraine, with such leaders, needs to take a few more tiny steps and boldly step into the abyss. With such "competent" leaders and deputies with the economic knowledge of rural labor teachers, one has to wait for this from day to day.