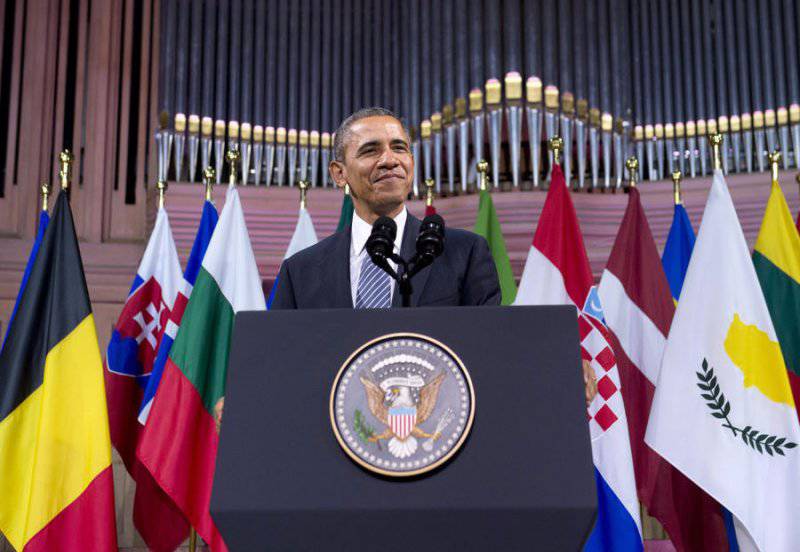 "The United States and NATO do not seek to enter into conflict with Russia. We have been at NATO for years with 60 helping people to become free, "Obama said.
"It is important to understand that we are not talking about another cold war today. In the end, today's Russia, unlike the USSR, does not lead any bloc of states or promote a common ideology around the world. The United States and NATO do not want to clash with Russia, "Obama continued.
However, the NATO countries, against the background of the situation around Ukraine, are ready not to limit themselves to patrolling the airspace over the Baltic countries and strengthening the military presence in Poland to protect the interests of the allies in the alliance, said US President Barack Obama.
"NATO allies are never alone. Today, NATO planes are patrolling the skies over the Baltic, we have strengthened our presence in Poland, and we are ready to do more, "said Obama, speaking in the Belgian Palace of Fine Arts BOZAR.
"None of us knows what awaits the people of Ukraine in the near future. We believe in democracy, free elections, civil society, information without censorship, we believe in an open economy. We believe in human dignity and the fact that all people are created equal, "continued the American president.
A few hours before 26 in March, US President Barack Obama, European Council President Herman Van Rompuy and European Commission President Jose Manuel Barroso held a press conference following the talks in Brussels.
"The EU-US Summit is central to our external relations. We are connected by a unique and irreplaceable strategic partnership, and we cooperate on almost all issues that concern us, "van Rompuy said earlier in his speech.
"Today we have an excellent opportunity to review our relations, chart ways forward and highlight the strength of the transatlantic partnership," Barroso said.