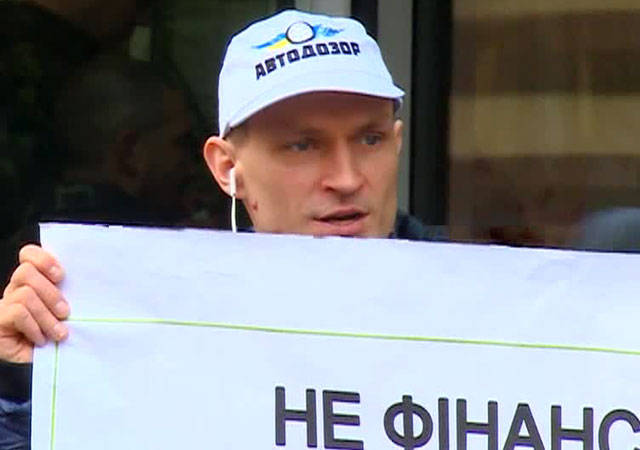 In Kiev, the rally again. At this time, maydanovtsy against Russian banks-they demand to close and nationalize all branches.
Maidan activists declared war on Russian banks. People in camouflage began pickets near VTB, Alpha, Sberbank and Prominvest - this is VEB's daughter. One requirement: the closure of financial institutions.
"If they are really Ukrainian banks, they can remove the inscription" Sberbank of Russia ", call it anything in the Ukrainian manner and fully accumulate all the money in Ukraine," said Anatoliy Cheridnichenko, a representative of the Avtodozor movement.
The premises of "Sberbank" took by storm - several guards at the entrance simply could not stop the flow of people. The blow takes one of the leaders of the bank. "Today, the bank pays huge taxes to the budget of Ukraine, provides many jobs," explains Valery Pidbolyachny, deputy head of Sberbank of Russia in Ukraine.
- To the Russian Federation go pennies from your bank?
- What does it mean - go or not? We earn profits from which we pay taxes in Ukraine.
In addition, in the "Sberbank" - accounts almost 800 thousands of Ukrainians. In general, the share of Russian financial institutions accounts for more than 10 percent of the entire Ukrainian banking system. And in recent months, these banks are the most stable. But activists do not seem to care.
"It is time to cover the banks of Russia. There is nothing for them to work here!" - the fighter of the fourth hundred self-defense of the Maidan Andrey is categorical.
Having staged protest actions at almost all Russian banks operating in Ukraine, Maidan activists came to the National Bank to demand the nationalization of financial institutions whose head offices are in Russia. The crowd demands the head of the National Bank, Igor Prasolov, who eventually goes for explanation. Maidan activists insist: Russian banks should be closed immediately. The head of the Ukrainian central bank replies: this will cause a financial collapse in the country.
"You understand that Ukrainian pensions are there, there are scholarships there. Many have salaries there. Banks work honestly. We cannot introduce the gangster rules of the game into the banking sector today," says Igor Prasolov.
By evening, the pickets were over. The walls of the offices of Russian banks scuffed off inscriptions. They will have to open again so that financial blood continues to flow in the economy of Ukraine. Far from the Maidan, activists simply don't understand the calls.
"To collapse, let's break it up. Why close everything? Let's let down the monuments that were not built with these hands," a local resident is indignant.
"Of course, this will affect the economy, the interbank relations. Residents of our country have deposits there," says another resident of Kiev.
On the Maidan, such residents of the Ukrainian capital are called politically irresponsible and "titushkami" - because they do not call for "take away and divide."